Cyclomundo's Comprehensive Travel Tips
15-02-2019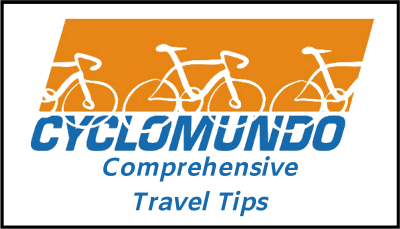 At Cyclomundo, we have put together a basic document of general travel tips for anyone who plans on traveling abroad. For first time international travelers, these tips can help you make sure you have all the necessary arrangements and everything in order before you leave home. For our many seasoned travelers, this list of helpful tips and suggestions can serve as a reminder or checklist before your next adventure. Additionally, please feel free to email us any further tips, suggestions, or questions at info@cyclomundo.com.
TRAVEL DOCUMENTS 
Anyone from countries within the European Union entering France (or our other Cyclomundo regions) need only a national identity card. All other nationalities must possess a valid passport to enter France and our other locations.
If you are a U.S., Canadian, British or Australian citizen, you do not need a visa for a stay of up to 90 days. For other countries, and stays longer than 90 days, check the visa requirements for your country with your local French/Italian/Spanish/Swiss consulate.
You can find more information about visa requirements and consulate/embassy locations at: 
CURRENCY AND MONEY ISSUES
The currency in France, as in Italy and Spain, is the Euro and is easy to get used to. It is a good idea to keep an eye on the exchange rates: at XE.com you can check the current rates or download their app to have an up-to-date calculator on your mobile device. It is recommended that you exchange your currency at your usual bank back home or at the airport you arrive at, as cash currency exchange is harder (but not impossible) to do once you are riding through smaller towns. Another option, instead of cash currency exchange, is to withdraw foreign currency from an ATM.
Note: if you are taking one of our tours in Switzerland, the currency there is Swiss Francs. Some establishments in Switzerland's more metropolitan regions, especially Geneva, may accept euros, but it's recommended to change your currency ahead of time for efficiency and reliability.
The best exchange rate is the one you get when shopping with a credit card. Visa is the most widely accepted, followed by MasterCard. Credit cards are widely accepted in Europe, but you'll sometimes encounter merchants that only accept cash, especially at food markets o small handcraft shops. You'll also make purchases that can be easier to pay for with a credit card, such restaurant bills or hotel accommodations. In general, it's a good idea to carry both cash and credit cards, and ask in advance if they accept your card.
ATMs are open 24/7 and accept all major credit cards or bank cards. However, it is very important to ACTIVATE your debit and credit cards for international use. Most cards will not work abroad until they have been activated. It is important to notify your bank of your travel dates and if you will be visiting multiple countries.
VOLTAGE
The electric current in Europe is 230 volts and a frequency of 50 Hz (in the US it is 120 volts and 60 Hz). You will need a transformer to convert local power down to your standards and an adapter for the European plugs that are different from those in the US, Canada, Australia, and the UK. Type E adapters are perfect for outlets in France. Type C and Type F adapters are also compatible with French outlets. If you are traveling on one of our Italian, Spanish, or Swiss tours, please check out this handy guide to World Outlets and Adapter Compatibility. Each country has a slightly different outlet shape, but type C adapters should be compatible with all of them.
TELEPHONE
When calling abroad from Europe, dial 00 followed by the country code and your correspondent's number. (Australia: 61; Canada: 1; Germany: 49; Ireland: 353; New-Zealand: 64; South Africa: 27; UK: 44; USA: 1). For those who wish to reach you at a European line, they must dial 00 (or +), the country code, then the number. Country Codes: France +33, Italy +39, Spain +34, Switzerland +41.
CELL PHONE OPTIONS
You have many options to stay connected while you travel, including:
Using your own cell phone while you travel, under an international package with your local carrier. Be sure to check your carrier's international coverage and charges before you leave.
Buying a pre-paid or pay-as-you-go French/International SIM card for your cell-phone (or an old phone). Just be sure the phone is unlocked from the original service provider.
Renting a cell phone with a pre-paid or pay-as-you-go calling card.
For more information, check out our blog post on international cell phones. Please let us know if you need assistance with local arrangements.
INTERNET
If you decide to bring your own laptop or tablet and do not activate an international data plan, it is a good idea to check with your hotel to see if it offers wifi access. It has become almost ubiquitous for hotels to provide wifi at least in some part of the hotel, but also check to see if the wifi is complimentary. Some hotels require you to purchase wifi usage in blocks of time. Additionally, with some smaller hotels in rural areas the level of connection can be extremely slow and of low quality. In major cities, as well as smaller "touristy" cities, you can also find Wifi hotspots throughout the city (especially in cafes and coffee shops).
RESTAURANTS & FOOD
A growing number of places have English menus. If not, more and more waiters speak English and will translate the menu for you.
At traditional restaurants, lunch and dinner hours are pretty strict. Some restaurants offer "continuous service," meaning they don't break in the middle of the day, but below will delineate the average time to expect service by country. 
In France, don't expect to be served a lunch after 2:30 pm. Lunch is from 12 to 2:30 pm and dinner is from 7 pm onward. Between lunch and dinner, sandwiches and snacks can be found at cafés and bars.
In Italy, lunch is normally from 1pm-3pm, and dinner won't be until 7pm. Nearly all shops in Italy are closed in the afternoon for three or four hours, so if you want to buy a picnic lunch be sure to do it in the morning! Additionally, Italian restaurants usually close one day a week. This day is typically Sunday or Monday, so if you know where you want to go while on your trip, take a careful look at their hours in advance!
In Spain, lunch is from 1:30pm (2pm to be safe) to 4:30pm and they open again ~8-9pm. To satiate your hunger while you are waiting for the restaurants to open, the Spanish take a snack of tapas. Most tapas bars are open from 10am to 11pm without the siesta, although some will open only in the evening.
In Switzerland, lunch is from 11am-2pm, and they open again for dinner around 7pm.
If you're shopping for a picnic lunch, we recommend our clients to buy local produce in the morning. It is easy to find homemade local products, locally grown produce, and freshly baked bread before you leave your host city for the day. When biking in the countryside, it can be hard to find food in between your start and end destinations. Just keep in mind the packaging/bottles you will need to dispose of! Unless you find trash cans, you will need to bring this along until you reach the day's destination.
TIPPING
In Europe, a gratuity is typically automatically added to hotel and restaurant bills. If this is the case, you do not need to leave an additional tip. However, if you are exceptionally happy with your service, it is customary to round the bill to the nearest whole euro/swiss franc (or leaving your change when paying in cash).
Similarly, taxi drivers appreciate it if you round up the fare to an even amount. (Tip: avoid the extra fee for bags put into the trunk by keeping them with you in the taxi.)
WHAT TO BRING/WEAR
The majority of Europe experiences warm to hot summers with mild winters. However, in mountainous regions, such as the French Alps region, temperatures are milder in the summer and cold in the winter. In general, expect day temperatures to range from the mid-70s to the 90s fahrenheit (23 - 32 degrees celsius), with nights in the 50s-70s (12 - 23 degrees celsius) in the summer. For additional information on European climate, check Meteoblue.com for local weather forecasts. For more specific weather/climate information on the region you will be touring, check out this blog's sidebar and click on your region! Pack according to the expected weather. Clothes that layer easily are always a good idea.
The obvious is what we most often forget! Make sure you pack cycling shorts, cycling shoes, short- and long-sleeved jerseys, a windbreaker (or a light rain jacket), gloves, and sunglasses. Although we do provide helmets, you may choose to bring yours as it may suit you better. To best enjoy your trip, bring what you are most comfortable with, like your own pedals (and some people choose to bring their own saddle).
For off-bike clothing the same applies– bring whatever will make you comfortable. On all of our trips, casual dress for dinner is fine, and in all cities there is always a casual dining option.
Pack as little as possible! Cleaning and laundry services are available everywhere but keep in mind that porter service is not widely available in France. Be sure your luggage is clearly labeled (it is a legal requirement on trains). Do not pack valuables, airline tickets, or passports in checked luggage.
For a more thorough checklist, check out our Suggested Cycling Tour Packing List.
SHOPPING
Shopping hours in France and Switzerland are Monday to Saturday from 9:00 am to 12:00 noon and from 2:00 pm to 7:00 pm. There are a few exceptions to the rules: bakeries and pastry shops are usually open on Sunday mornings; some supermarkets remain open during lunch hours, but not all, and are sometimes open on Sunday mornings. In the countryside of France, many shops are closed on Monday mornings but are open on Saturdays.
Shopping hours in Italy are Monday to Saturday 9:00 am to 1 pm, and from 3:30 pm to 7:30. Oulet stores and huge department stores are usually open on Sundays, other than that it can be pretty hit or miss. Many stores are open one Sunday a month, so you are sure to find at least one store open!
Shopping hours in Spain are Monday to Saturday, from 9:30 am to 1:30 pm, and 4:30 to 8 pm. Major shopping centres and department stores are open all day from 10 am to 9 or 10 pm. With the exception of some bakeries and 'hypermarkets' most stores are closed on Sundays.
Again, we recommend buying locally from family-run stores or open-air markets. Not only are local products generally higher quality, but buying from local shopkeepers also helps keep the villages you visit alive and lively. Craftsmen often sell on a direct basis so it is often easy to find fresh, homemade, produce and products!
EUROPEAN TAXES
The European value-added tax (VAT) is around 20% on most items. There is a reduced tax of 5-10% on hotel accommodations, food, non-alcoholic beverages, books, and cultural events. You can check out a more clear list of VAT rates here: https://www.avalara.com/vatlive/en/vat-rates/european-vat-rates.html
You can get most of your VAT refunded if you spend more than 175€ in any store that participates in the VAT refund program. You'll receive VAT refund papers in the shop. Fill them in before you arrive at the airport and give them to the Customs Refund Desk. You're required to show the goods at the airport, so pack them in your hand luggage or visit the Customs office before you check your luggage. Customs will stamp the form, which must then be mailed. Please note that all refunds are processed at the point of departure from the European Union (EU), so if you're going to another EU country, don't apply for the refund in France. VAT refunds cannot be processed after you arrive back home. And don't forget — Switzerland is not in the EU, so if you buy something in Switzerland (or vice versa), get your documents stamped before you cross the border.
Please note that VAT can be refunded for goods, but not services. For additional information on VAT refund, please check https://www.douane.gouv.fr/fiche/eligibility-vat-refunds
and https://ec.europa.eu/taxation_customs/individuals/travelling/travellers-leaving-eu/guide-vat-refund-visitors-eu_en
TRAVEL INSURANCE/HEALTH
We highly recommend you take out travel insurance for your trip as they generally help cover medical costs and personal accidents, as well as trip cancellations and baggage loss.
We strongly advise riders to opt for an insurance that offers comprehensive coverage as the recipient of medical treatment in European hospitals or clinics must pay the bill. Nationals of non-EU countries should check with their insurance companies about policy limitations. UK citizens should apply for a GHIC card which gives you the right to access state-provided healthcare during a temporary stay in the European Union. 
American travelers should contact their insurance companies to see their international plans. Additionally, american travelers can contact the International Association for Medical Assistance to Travelers for a list of English-speaking doctors throughout Europe. The association can be reached at 716-754-4883.
First aid and medical advice are available from "pharmacies," identified by the green cross sign in Europe.