Things to do in Aix-Les-Bains
19-02-2019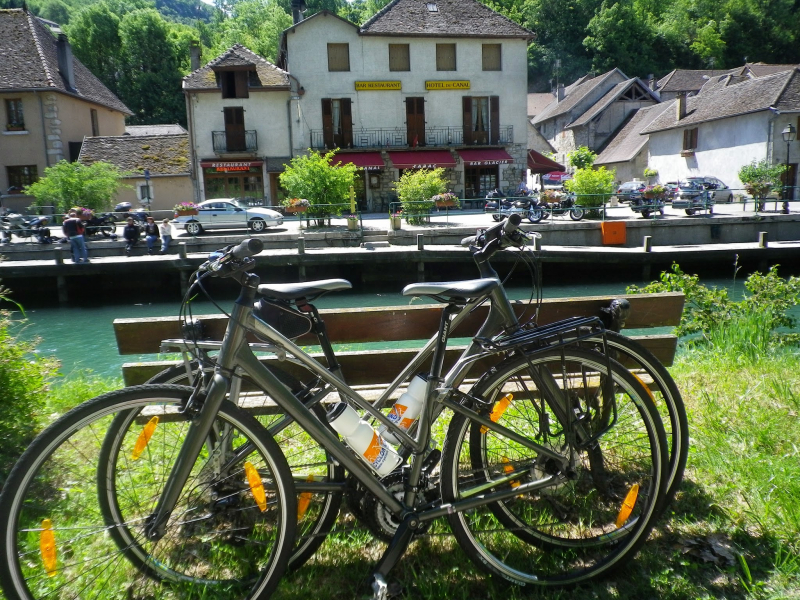 A breathtaking part of our Three Lake Tour, Aix-les-Bains is a town nestled on France's largest natural lake. Well known for its spa treatments, beautiful Lake Bourget views, and adventurous activities, it is a great place to enjoy a vacation of any length. Here are our top ten favorite things to do!
Bike! – An ideal way to spend a day or afternoon, biking in Aix-les-Bains allows you to see the lake and town at your own speed. Biking around Lac du Bourget includes some climbs, along with spectacular views. For a more leisurely ride, you can also ride the extensive network of bikeways. We recommend enjoying a traffic-free, flat ride to the center of Chambery and its scenic old town!
We can organise bike rental and other logistical support services via our sister brand, Geneva Cycling. We have a wide range of rental bikes, including road, electric, gravel and hybrid bikes. Location depending, we can often deliver these right to your accommodation free of charge! Our other logistical support services include luggage transfers and support vehicles.
Mountain Activities – Paraglide, rock climb, hike, or mountain bike! A love for nature is ingrained in the Aix-les-Bains culture so you can do just about any outdoor favorite you can think of!
Relax at a Thermal Spa – The name of Aix-les-Bains derives from the Latin term for "waters" ("aquae") and the French word for "baths" ("bains"). It is the 3rd ranked spa town in France and its' history as a bath dates back to the Roman Empire. The spa center offers a well-being center with a pool, a sauna, a gym, and panoramic views of the lake and the surrounding mountains. In 2000 it was relocated to a new site (Les Thermes Chevalley, 10 route du Revard) which allows for on-demand thermal water and ensures perfect bacteriological quality. Ideal for a relaxing break from cycling!
Visit Historical sites such as Abbaye d'Hautecombe and Town Hall – Abbaye d'Hautecombe is a monastery with gardens, marble carvings, and many sights that will have you using up your camera's battery. It is located on the shores of Lac du Bourget and can be accessed by boat. It was a burial ground for the House of Savoy for centuries. The town hall is also deserving of a visit along with Roman remains such as the well-known Arch de Campanus.
Lac du Bourget Activities – Go on a cruise, waterski, go canyoneering, sail, canoe, fish, row, dive, and much more! You can find cruises on the lake and cruises that will take you to Chanaz or Abbaye de Bellecombe. Not sure what to do? Takamaka is a great source for outdoor lake activity ideas.

Take a quick trip to Chanaz – A town on the northern tip of Lake du Bourget, it is known as the Venice of the region for its friendliness, authenticity, and canal (Canal de Savière which connects Lake Bourget to the Rhône River). For a cruise on the canal check out www.bateaucanal.com.
Admire art in the Musee Faure – An art museum founded in 1949, the Musee Faure gives you a glimpse into the complex and fascinating history of France. Open all year from 10 am to 12 noon and 1.30 pm to 6 pm (Closed on Tuesdays and French Holidays; Closed Mondays and Tuesdays January 11-March 31).
Stroll the Saturday Market – The morning market hosts all of the region's absolute best, including saucisson (sausages), cheeses, and local wines.
Try a Wine Tasting – The Savoie region has a long history with vineyards and excellent wine. You can visit a traditional winery and do wine-tasting of authentic Savoyard wines. For the kids, Aix-les-Bains produces its own mineral water!
Test your luck at the Casino Gran Cercle – Not your average casino, Casino Gran Cercle is spectacular in its luxury and hosts a restaurant, a pub, a disco, gambling, and even historical tours.

Not a "top ten" because it's an annual event as opposed to an activity, the festival MUSILAC is something to look out for! It runs in July every year with pop rock bands well known in France and internationally.