Things to do in Seville
01-07-2019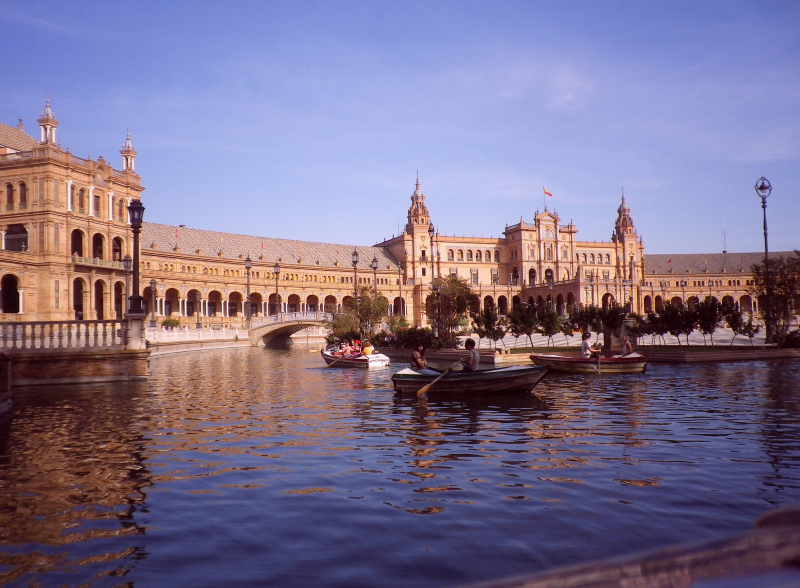 The striking color of painted tiles, the smell of fresh food from the vibrant street markets, the feeling of strolling around a historical city with architectural feats all around you... Seville is a town that will undoubtedly leave you in awe. The capital of southern Spain, it is rich in history, culture, and beauty. Our Essential Andalusia tour starts in Seville and ends in Cádiz, which are wonderful places for a few extra nights of traveling excitement. You truly can't go wrong with a visit to Seville, but here are some ideas to get your eyes, heart, and taste buds excited!
Bike! Seville has an extensive bike network within the city, and it's a great way to travel around and see all of the monuments and sights Seville has to offer! For some ideas on where to cycle in the city, check out Culture Trip's article.


See a Flamenco Show – The heart of Seville can be found in Flamenco dancing. You can find shows all over the city, including at the Flamenco Dance Museum. The museum itself hosts information on the dance's history, styles, and costumes, as well as temporary exhibits celebrating flamenco's impact on other art forms. The museum is open from 10am to 7pm with shows at 5pm, 7pm, 8:45pm, and 10:15pm. Admission to the museum is 10 euros, admission to a show is 22 euros, and a combined ticket is 26 euros. There are student and children discounts.


Explore the Seville Cathedral – Seville's Cathedral is the largest gothic cathedral in the world, and its size and magnificence make it one of the most visited churches in the world as well. Designated as a UNESCO World Heritage site in 1987, Seville's Cathedral is a must-visit! Adult admission is 26 euros and its hours are Monday-Saturday from 9:30am to 5pm.


Enjoy the Guadalquivir River – Whether you bike along the banks, enjoy the romantic Puente de Triana bridge, or go kayaking or paddle boarding, the river is a gorgeous place to spend the day.


Visit the Real Alcázar – Right next to the Cathedral is another UNESCO World Heritage site: the Real Alcázar. It's a colorful and lavish 14th century palace still in use by the Spanish Royal Family today! It was built in the Mudéjar style (Moorish-inspired architecture for non-Islamic buildings) developed by Pedro the Cruel. Adult admission is 11.50 euros and its hours are 9:30am to 5/7pm daily.




Experience the Bullring – While certainly not for everyone, the cultural history and atmosphere cannot be denied. A visit to the bullring and its attached museums is sure to fascinate even those who would never consider attending a bullfight. A tour of the ring and the backstage facilities that sustain it is contrasted by the small fighters' chapel and a museum full of historic artwork and matadors' costumes. Whether you go for just a tour or stay for a fight, you'll leave with a much better understanding of bullfighting's place in the life and culture of Andalusia. The Museum and tours are open from 9:30am to 5/7pm with tours starting every 20 minutes, on bullfighting days the museum and tours close at 3pm. Admission is 8 euros.


Ride in a Hot Air Balloon – See Seville and the surrounding countryside from the air! While the hot air balloon can't actually take off or land within the city, hot air balloon tours come with a transfer from central Seville to the day's launch point (5 to 15 km away) as well as a transfer back into the city after the end of your ride.


Enjoy a Spanish Wine Tasting – What better way to immerse yourself in Spanish culture than to taste famous Spanish wines and local Sevillan favorites? Sherry (Xérès in Spanish) in partiuclar is a must try- it is a nutty, fortified wine that originated in the region! A wine tasting is the perfect way to become a sherry expert.


Walk Down Barrio Santa Cruz – This neighborhood has gorgeous Andalusian streets and architecture, making it the perfect location to wander around and do some window shopping!


Visit Plaza España – Built for the Ibero-American Exhibition (the 1929 World Fair), the Spanish Plaza is an impressive building and square of grandeur. Around the plaza is a 500 meter (1,641 ft) canal crossed by four bridges, and in the centre of it all is the Plaza itself. All along the canal are 48 alcoves with benches, one for every province of Spain, each with a colourful ceramic tile with the province's map. Rowing boats on the canal cost 5 euros for 45 minutes' hire, and Enriqueta, the motor boat, costs 9 euros.


Taste the Tapas! Seville has some of the best tapas in Spain, so a Tapas Crawl is highly recommended. Pata Negra (Iberian ham) is a popular local ingredient, and you'll find lots of delicious seafood in Andalusia as well. Croquetas, spheres stuffed with pretty much any variety of ingredients imaginable, are a must-try local favorite!