Getting to Catalonia
23-04-2016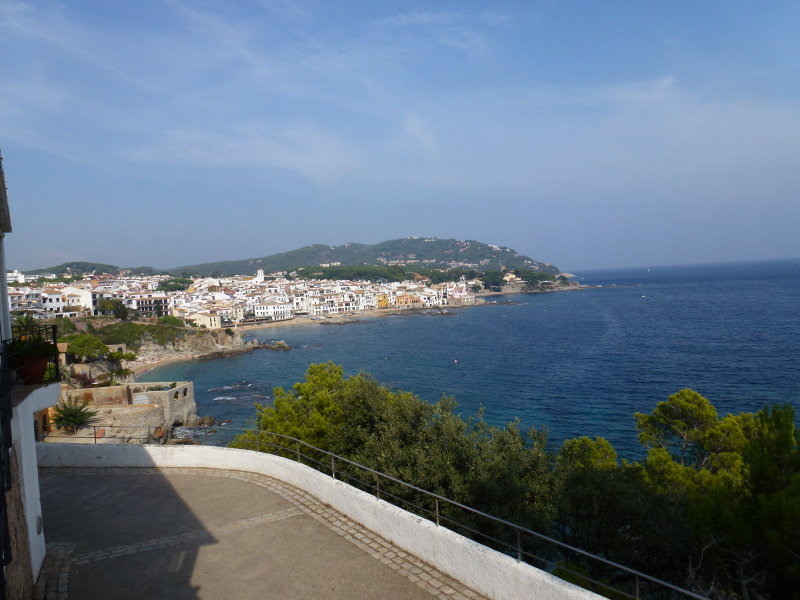 Part of the charm and uniqueness of our cycling tours is that they take you away from many of the typical tourist cities and sights. You get to experience all the beauty of your destination but with a more authentic ambiance. However, the challenge with some of the smaller quaint destinations is their limited access, making them not always as convenient as major hubs. This article will cover the best options you have to get to Girona and other small towns in the heart of Catalonia.


INTRODUCTION TO GIRONA

Girona makes an ideal start to any tour in Catalonia because it typifies the diversity of Catalonia like no other city in the region. Walking along the Roman ramparts, exploring the narrow cobblestone streets of the old Jewish Quarter, shopping the modern stores of the commercial streets, and marveling at 12th-century Moorish architecture, you can get a feel for the true mixture of influences that Catalonia has inherited throughout the ages. Our Catalonia Bike and Beach tour, Catalonia Pedal and Pamper tour, Catalonia Green and Blue tour and our two gravel tours Cycling the gravel backroads of Girona and Sandy Beaches and Gravel Roads all start and end in this beautiful city. Girona is located in Spain's northeast corner just an hour north of Barcelona and about 30 km from the coast, Girona is easily accessible by train, plane, car, and of course, bike.
Girona Travel Options
Located about 8 miles from the city center, Girona has its own local hub: the Girona-Costa Brava Airport (GRO). This airport is serviced by Ryanair with flights from many destinations in Europe, including several airports in the UK. From Aeroport de Girona Station to the city center (Estació d'Autobusos de Girona), there are a couple of buses that take about 25 minutes. There are also taxis that can take you directly to your hotel for around 20 – 25 euros. If you are a group of four or more that can split the cost, this may be a better option than waiting for the bus.


For travelers coming from outside of Europe or those whose home airport is not serviced by Ryanair, flying into Barcelona's El Prat International Airport (BCN) is the best option. The airport has flights operated by a host of different airlines including major international airlines like KLM, Iberia, and British Airways and budget airlines within Europe such as EasyJet. The airport is located about 8 miles southwest of the Barcelona city center. From the airport you have several options for travel to Girona:
– Train There are numerous trains each day from Barcelona to Girona. The Ave (fast train) takes about 40 minutes and the regional train takes about 1 hour 40 minutes. You can check the times of trains for your travel dates online at Renfe.com, and tickets can be purchased easily upon arrival at the station for about 31 euros for the Ave or 11 to 16 euros for the regional train. It is important to note that these trains depart from the Barcelona-Sants train station which is in the city center. From the airport, you can catch a short train, bus, or taxi into the city to catch your train to Girona.
– Bus Barcelona Bus, owned by Sagalés, provides about 5 buses each day from both terminals of the Barcelona Airport direct to Girona's city center. These buses take just about 2 hours to Girona center, and a one-way ticket costs 19 euros per person. Single tickets can be bought on board the bus or online.
– Taxi It is possible to take a taxi all the way to Girona, but for a solo traveler or just one couple, this is an expensive option. However, depending on the type of traveler you are, the convenience of landing at the airport and being dropped off right at your hotel may outweigh the expense. This may also be a preferred option if you are traveling in a group that can split the cost. Depending on your arrival time, there may be some companies available for transfers without a reservation; however, an advanced reservation generally makes for a smoother (and cheaper) transfer. There are several companies such as Catalonia Transfer and Barcelona Airport transfers that offer online quotes and reservations.
INTRODUCTION TO OLOT


Olot is the starting point of our Railways, Bikeways, and Greenways tour. The city is known for its natural landscape, including four volcanoes scattered around the city center. These volcanoes are called Bisaroques, Garrinada, Montolivet, and Montsacopa. Barcelona and Girona are still the best airports for this city, so we will be discussing how to get to Olot from these airports. There is no rail service in Olot, so the only way to get there is by bus or by rental cars/taxis.


Olot Travel Options
-From Barcelona Teisa bus company offers buses from both Barcelona and Girona to Olot. In Barcelona, a local Renfe train (the R2) will take you from Barcelona's Airport station to Barcelona Passeig de Gràcia Station. This train station is a 3-minute walk from the TEISA Autobusos station, that will take you to Olot. This bus is about 2 hours and costs 17 euros.
-From Girona The same Teisa bus company also offers trips from Girona to Olot. This takes about an hour and costs 8 euros. For this line, there are many Girona stops and Olot stops the bus services, so be aware of which station you want! (Girona local buses)
By Cyclomundo
An optional transfer from Girona is available by request
By Taxi


It is recommended to travel to Girona from Barcelona before taking a taxi. Taxis can be found at the Girona Airport, the ADIF Girona railway station, the bus station, and in the city center in Plaça Independència and Carrer Joan Maragall. Taxis from Girona Airport to Olot take about an hour and start at 50 euros (depends on the date/time of day).

Gitaxi: phone +34 972 222 323 and +34 972 203 377 (wheelchair adapted taxis available)
GetTransfer: https://gettransfer.com/en
INTRODUCTION TO TORROELLA DE MONTGRI


Torroella de Montgri is the start and end point of our Surreal Catalonia tour. This coastal city is 22 km east of Girona, and lies on the bank of the Ter River, right before it flows into the Mediterranean. On the northern side, the Montgri (a lone mountain range) towers over the town. Again, Barcelona and Girona are still the best airports for this city, so we will be discussing how to get to Torroella de Montgri from these airports. There is no rail service in Torroella de Montgri, so the only way to get there is by bus or by rental cars/taxis.


Torroella de Montgri Travel Options

By Bus
-From Barcelona From the Barcelona Airport, there is a bus directly to Torroella de Montgri which is serviced by SARFA. This ride takes about 3 hours and costs 24 euros.
-From Girona From the Girona bus station (Estació d'Autobusos), the bus company AMPSA runs to Torroella de Montgri. The trip takes 50 minutes and costs about 6 euros. (See above on getting from Girona Airport to Girona Bus Station)
By Taxi


It is recommended to travel to Girona from Barcelona before taking a taxi. Taxis can be found at Girona Airport, the ADIF Girona railway station, the bus station, and in the city center in Plaça Independència and Carrer Joan Maragall. Taxis from Girona Airport to Torroella de Montgrí, take about 40 minutes and start at 60 euros (depends on the date/time of day).

Gitaxi: phone +34 972 222 323 and +34 972 203 377 (wheelchair adapted taxis available)
GetTransfer: https://gettransfer.com/en
Catalonia Car Rentals

You may choose to rent a car in Spain for part of your journey. Dealers can be found at most Spanish airports and in the downtown area of towns. You can find the best deals by comparing rental companies online: Avis (www.avis.com/), Europcar (www.europcar.com/), Budget (www.budget.com), SIXT (www.sixt.com/), Hertz Espagne (www.hertz.com), and Enterprise Espagne (www.enterprise.com/). Note that drivers must be over 21 to rent a car (21-25 year olds may face extra fees) and they must possess a valid driver's license. (An international driver's license would help.)



RESOURCES
• RENFE Spain's national train operator https://venta.renfe.com/vol/inicioCompra.do
• Catalonia Bus SARFA https://compras.moventis.es/online/ 
• Catalonia Bus Sagalés http://www.sagales.com/
• Shuttle Direct http://www.shuttledirect.com/

Barcelona
• Airport http://www.aena.es/en/barcelona-airport/index.html
• Public Transportation http://www.tmb.cat/en/home
• Taxis http://taxi.amb.cat/s/en/home.html
• Barcelona Tourists Guide http://www.barcelona-tourist-guide.com/
Girona
• Airport http://www.girona-airport.net/index.html
• Public Transportation http://www.teisa-bus.com/en/index.html
• Taxi http://www.girona-tourist-guide.com/en/airport/girona-airport-taxi.html
• Girona Tourist Guide http://www.girona-tourist-guide.com/