Burgundy Regional Information
31-01-2019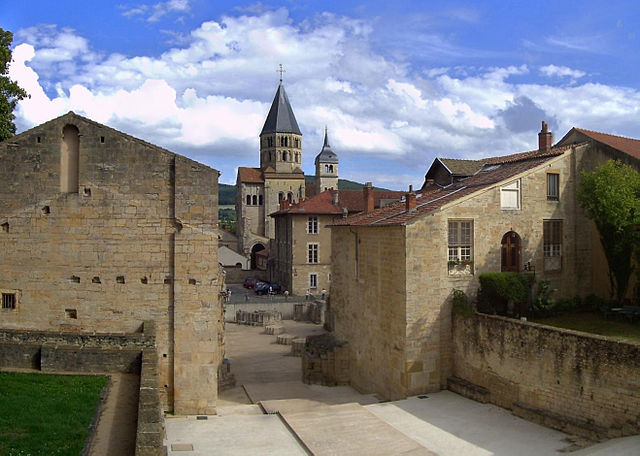 In this article, we cover the "basics" you need to know before traveling/cycling to Burgundy. Among other topics, you'll learn about the various ways to travel to Burgundy, things to see and do, and more… 
For general travel tips to France, we recommend you check:
How to get there: Airports
Depending on where you're stationed, you can pick one of five larger international airports that are within about a three hours' trip to Burgundy. The first is Paris' Charles de Gaulle (CDG), France's major airport; you can also fly into Orly (ORY) generally from European destinations. Lyon Saint Exupery (LYS), to the south of Burgundy, is another great hub from which you can easily reach Burgundy. The other two options are Geneva International Airport (GVA) in Switzerland and EuroAirport Basel-Mulhouse-Freiburg, which is shared between the Swiss-French-German area.
From these airports, you can either rent a car or take the train (See below).
How to get there: Trains
Europe is known for its excellent train system, and France is particularly known for its high-speed TGV trains. There's more good news: the train system is fairly friendly to bicycle owners. 


If you wish to travel by train with your bike to Bordeaux, do read the following pieces:

Trains a Grande Vitesse (TGV)
Burgundy is pretty well-covered by the TGV, with main hubs at Le Creusot Montceau Montchanin and at Macon Loché. The TGV serves the following towns: Montbard, Dijon, Beaune, and Chalon-sur-Saone. So how can you get to these stations from the airport?


From Charles de Gaulle Airport, you can take the TGV directly from the airport at Terminal 2 for a daily connection to Dijon or Le Creusot Montceau Montchanin. For nonstop trains, you can take the RER (a Paris-based train) or a cab to Gare de Lyon (also to Gare de Bercy if you want to go to Dijon).
From Paris Orly Airport, take the metro or shuttle to Gare de Lyon (there may not be a direct connection), and from Gare de Lyon take a train south to your destination in Burgundy.
From Lyon St. Exupery Airport, take a cab or the Rhone Express airport shuttle to Lyon Part-Dieu station and take a train to your destination in Burgundy.
From Geneva Airport, you will have to take a train to Lausanne, and from there take a train to Dijon. If you choose to go to Macon, take the train from Geneva airport to the downtown Gare Genève Cornavin. From here you can catch a train to Macon.

From Basel-Mulhouse-Freiburg airport, take the local 50 bus to Basel SBB station. This should cost about 3 euros. From here, you can take a train to Dijon and Beaune.
Car Rental
You may choose to rent a car in France for part of your journey. Dealers can be found at all French airports and at the TGV stations. You can find the best deals by comparing rental companies online: Avis France (www.avis.fr), Europcar (www.europcar.com), Budget (www.budget.com), Hertz France (www.hertz.com), SIXT France (www.sixt.com), and Enterprise France (www.enterprise.fr). Note that drivers must be over 21 to rent a car (21-25 year olds may face extra fees) and they must possess a valid driver's license. (An international driver's license would help.)
When is the best time to travel to Burgundy?
We recommend visiting at any time between Mid-April and the end of September. Grape harvest time in autumn is one of the sunniest, most beautiful seasons in Burgundy, which would provide a pleasant backdrop for a cycling trip.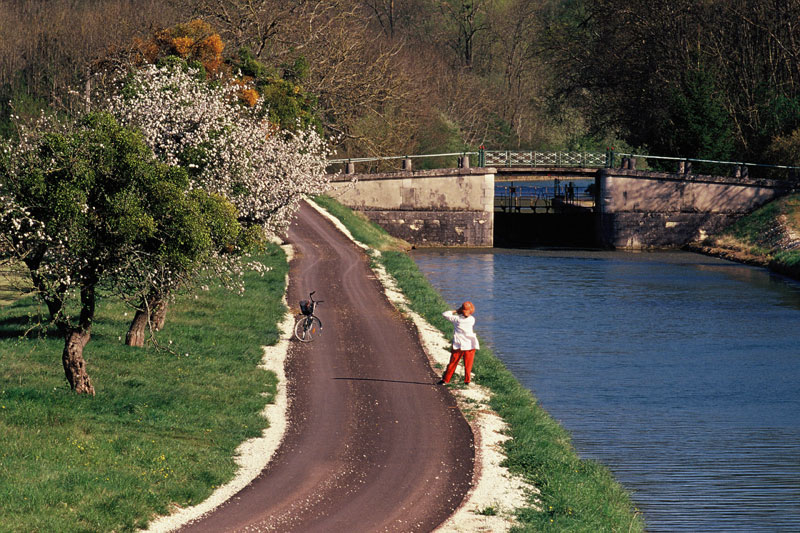 What is there to see and do in Burgundy?
Wine lover's paradise! Burgundy is one of France's best wine regions. You'll notice that as soon as you look at our tour descriptions, which mention famous vineyards and wine cellars along all the routes. We also suggest visiting www.beaune-tourism.com to learn about the Pass Beaune discount card for attractions in the area.
To learn more about some things to do and to see in Burgundy:
The Terrain
When you picture wine country, you envision rolling hills draped with leafy, luscious vines. In Burgundy, the area where our tours take place is fairly flat and easy. However, straying away from the Route des Vins and the Canal de Bourgogne will involve some climbs on your ride.

Burgundy Weather and Climate
Burgundy usually has warm or hot summers typical of continental climates. The climate in the spring and autumn is a mixture of sun and scattered showers with pleasant temperatures – but we suggest wearing layers of clothing so that you are ready for cooler mornings and hotter afternoons. Waterproof outer layers are wise on longer day trips if the weather forecast is changeable.

Local produce/shopping
It might seem a bit repetitive to mention wine as a local product, but we suggest leaving a little room in your backpack or panniers each day, in case you want to bring home a favorite wine you've sampled. (Just make sure there's room in your suitcase later!)
If you visit the Abbey of Citeaux, consider bringing home some delicious Cîteaux cheese, honey sweets, or caramels hand-made by the monks.
Gastronomy: Food
You'll find an excellent gastronomical selection in Burgundy – to be paired with excellent wines, undoubtedly. Familiar with escargots, commonly associated with French cuisine? Similarly, many dishes from Burgundy have made their way to "mainstream" French cuisine, but there are many different – and we mean different – items available here. You can find Dijon mustard, gingerbread, mushrooms, truffles, cheeses like Epoisses, Delices de Pommard, and Citeaux, and meat cuts such as beef tongue (langue), calf's head (tete de veau), kidneys (rognons), pork feet (pieds), braised jowls (joues), blood sausage (boudin) and pork intestine sausage (andouillette).
Gastronomy: Favorite Burgundy dishes
On a menu, look out for Coq au vin, the famous French dish of rooster bathed in wine, lardons, and mushrooms; also try beef bourguignon, a stew made from beef braised in regional red wine.
Gastronomy: Wine
We at Cyclomundo cannot claim to be wine experts (unfortunately), and the French naming system is a bit difficult to explain. However, since you're in Burgundy, you can't go wrong with any wine from this region. Burgundy is known worldwide for its high-class Chardonnay and Pinot Noir wines from the Cote d'Or area (look for bottles marked Beaune, Meursault, Pommard). Other sections of Burgundy lend their names to popular wine labels: Cote Chalonnaise, Beaujolais, Chablis, and Macon. We recommend wine tastings and/or tours from the professionals while you're in Burgundy!
Tourism information 
List of markets
We've organized some notable markets by location, date and time. If you happen to be in the area, stop by to check out the local produce! You never know what you'll find.
Beaune
Saturday & Wednesday from 8:00 to 12:00: Place de la Halle.
Cluny
Saturday, from 8:00 to 13:00
Mersault
Friday morning from 8:00 to 13:00: Place de l'Hotel de Ville
Nuits-Saint-Georges
Friday, from 8:00 to 13:00