Anyone who has taken their bike on a cycling holiday understands the many complexities and hassles that you can encounter along the way. This is not to say that renting a bicycle once you arrive is not without its problems. The best solution we have found at Cyclomundo is to determine which option is best for you, commit to that option, and research what you can expect. In the following post, we have compiled a few resources that can help you work your way through this process so you can have the relaxing cycling holiday you deserve.

RENTING VS BRINGING YOUR OWN BIKE
There are several factors to consider when deciding if you should rent a bike or if traveling with your bike is the best option. With all of our self-guided tours, we provide you with rental bike specs before you book and will help you get fitted once you arrive, but there are still some key factors to consider before making a decision:
If you have surveyed your destination, logistics, and rental options and are still undecided, this chart may be able to lead you to a conclusion.
If you've decided that traveling with your bike is the best option, continue reading to get helpful information on how you can get yourself and your bike to your destination with the least amount of headaches.
PACKING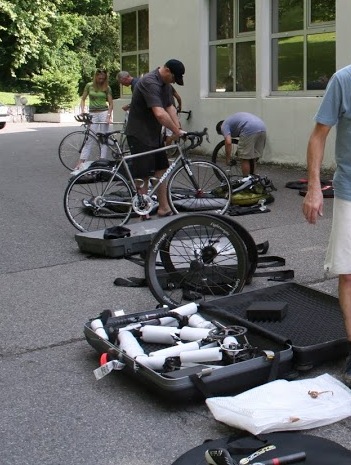 Properly packing your bike can make a huge difference when you are bringing your own bike along. Whether you fly with your bike or ship it ahead of time, making sure that it is properly disassembled, padded and packaged will help reduce any bumps or bruises that it may encounter during the journey. It is critical that you check out any airline or shipping restrictions on size, weight, and packing material because there would be nothing more annoying than getting to the airport and having your bike rejected over a few inches or pounds.
Options for Packing Material:
Cardboard Box
Bike Bag
Hard Bike Case
Below are a couple resources that explain methods for how to properly dismantle and pack your bike:
If it is your first time shipping your bike and you have questions about dismantling or need help gathering packing materials, it is a good idea to visit your local bike shop. They should be able to provide you with more specific suggestions and resources.
FLYING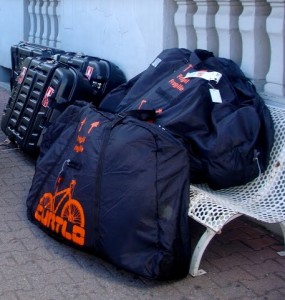 Many of our clients choose to take their bicycle on the flight with them. This is generally done by properly packaging your bike in a hard case or box, and checking the bike as an extra piece of luggage at the airport. These days with the skyrocketing prices and intense restrictions on air travel, it is very important to check your airline's policy about bikes. In some cases, it is necessary to make arrangements with the carrier prior to check-in while others charge large fees if you do not meet the size and weight of baggage restrictions. With a little research and maybe a polite email or phone call, you will find that most airlines are very understanding and accommodating for bike travel. Below are some resources for common airlines, but we encourage you to do further research for your specific itinerary.
Airline Resources:
*If your trip has multiple legs, make sure to check the bike policies of all of the airline operators you will have.
SHIPPING
International
Many of our clients find it more convenient to have their bicycle shipped in advance to their destination. If you plan on traveling before or after your cycling trip, we suggest that you ship your bike one way. For example, you can ship your bike before you leave home, sending it to the location you plan on starting your cycling; you then have the freedom to travel before without the extra luggage of a bike. When shipping your bike you have two options: you can use a general shipping company like FedEx or UPS or you can use a company that specializes in shipping bicycles. While shipping your bike with a specialized bike shipping company is likely the most expensive option, many of our clients have found that the ease and convenience it provides outweighs the costs. Several of the specialized companies offer door to door service and can provide bike-specific packing materials. Many local bike shops also have relationships with specific shipping companies and will allow you to drop your bike off with them to be packed and shipped.
Within Europe
If you are leaving from the UK or just need to get your bike from one place to another within Europe, your best option is to ship your bike. Shipping within Europe or from the UK is generally much cheaper and faster than from the US, making it a better option for those who don't want the hassle of extra luggage. You also have more options when going through the general post system. In this case, proper packing is essential for not only protecting your bike but it could possibly save you some money. (Most carriers within Europe base their prices on the size of the package.) Within Europe, you may have the option of traveling by train which in the past has been the cheaper option for cyclists. If you are traveling from the UK, there is also a bus company call Bike Express that has routes in France, Northern Spain and into Germany and Switzerland. Passage with them includes a coach bus ride to many destinations and a slot for your bike in their custom-made trailer.
Shipping Resources:
*10% Discount for USA Cycling members on their website.
BOTTOM LINE: Do your research! There are a plethora of resources out there to help you get a clearer picture of what to expect and how to proceed. Before you get bogged down looking through endless forums and blogs, a simple trip to your local bike shop could provide the most valuable resource.