Things To Do In Geneva
27-02-2019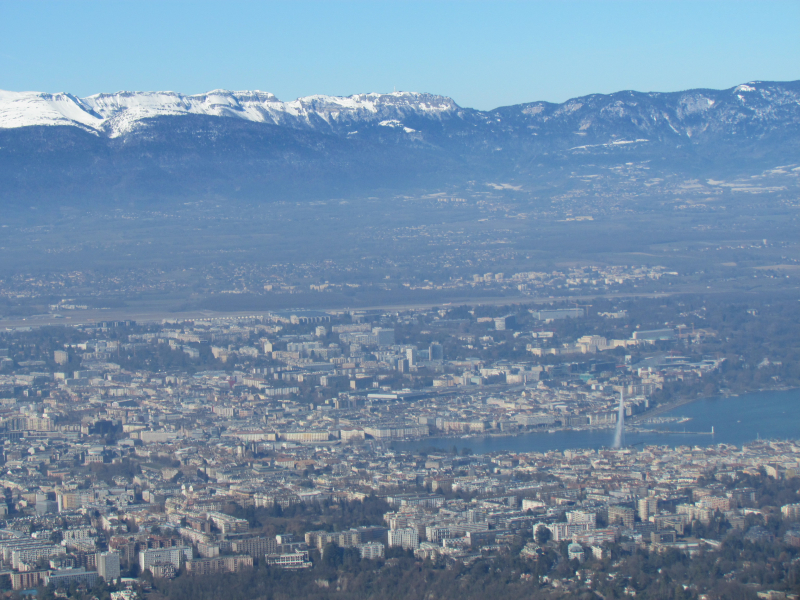 Geneva is very close to home for us at Cyclomundo (literally). Our office is located in Gaillard, France, so we are just across the Swiss-French border. Needless to say, we love the city. Walk down any street in Geneva and you are bound to hear at least two if not four languages being spoken. An international hub, the city is well known for being home to the United Nations headquarters as well as for the diversity of its inhabitants and visitors. The beauty in this diversity is also complemented by traditions you will find unique to Geneva. From having a rich cheese fondue in the winter in the Old Town, to watching a modern French film at the cinema, you will find an incredible mix of Swiss and French culture and activites to do in the city and its surroundings.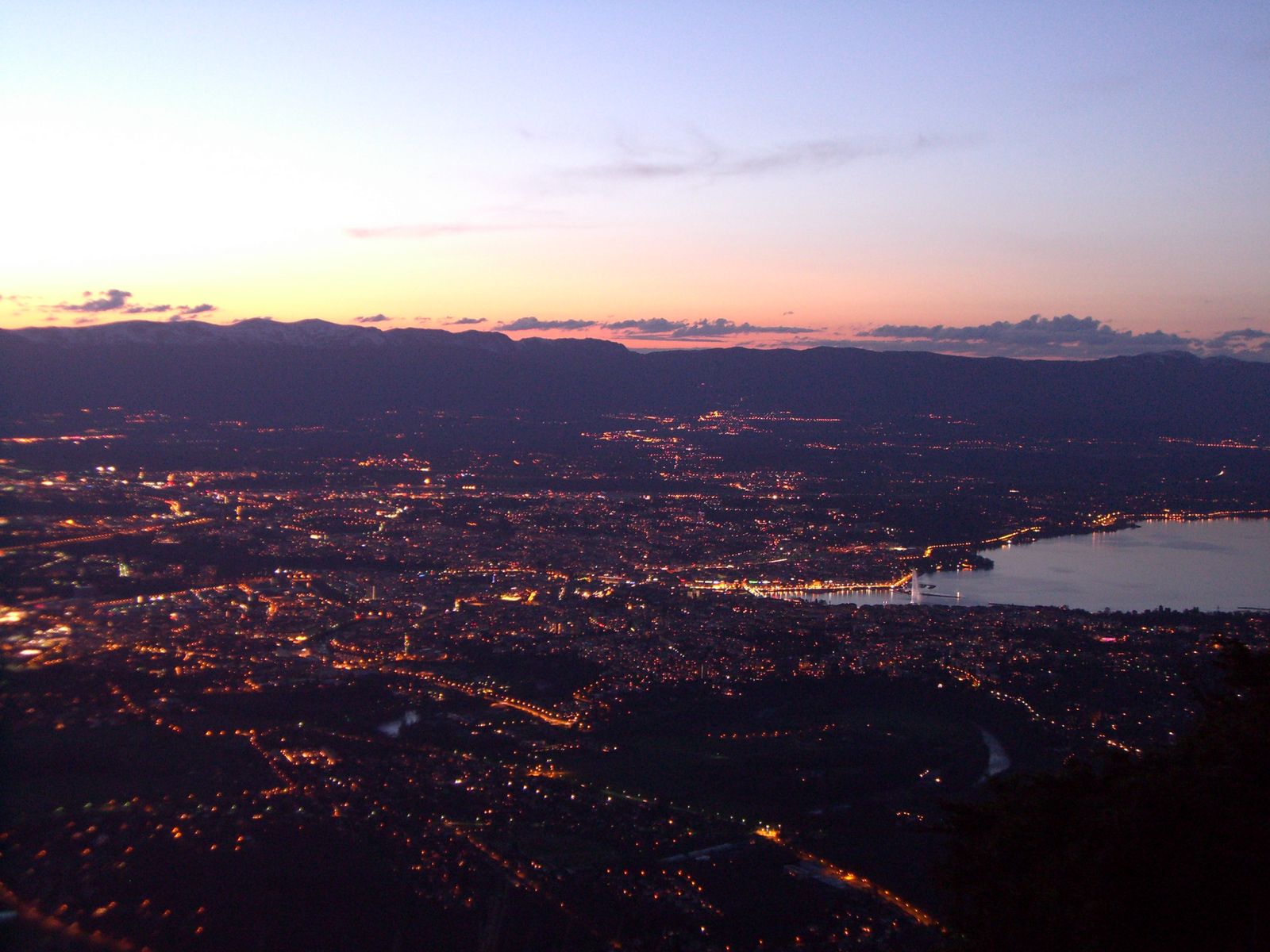 One of these traditions is a true respect for nature. Upon arrival in the city, you will quickly start using the Rhône River and Lake Leman as your "north star". The right bank of the river Rhône (on your right when facing downstream) is likely where you will start a trip to Geneva as it includes the train station and the airport. It also has a large number of hotels, the tourist office, and a more modern feeling (in our opinion). The left bank includes one of our favorite areas– the Old Town–and a number of attractions such as the well-known shopping street Rue du Rhône. From the Mont Blanc Bridge, which links the two banks, you can see Mont Salève, Mont Blanc, and the Jet d'Eau (Geneva's famous high rise geyser). Head towards Mont Salève and you can visit our office on your way! Whether you want to enjoy the natural surrounings, eat the cuisine, or spend your time visiting museums, we are pleased to share our favorite things to do in Geneva with you.

But first, you have to get here!
Things to do in Geneva
Bike the lake! – You have a great deal of options when it comes to biking with Geneva as your starting point. If you are interested in just biking around the city you can cover a lot of ground fairly quickly. You can bike along the lake, to the UN, or into the Old Town. One of our favorite sources for rides, Pro Velo, offers the "L'Arc lémanique à vélo", a route that includes all three sites in a 6km loop (Gèneve historique). Geneva also has an excellent free bike map that will keep you on streets that are traffic-free or have little traffic. For longer routes and sources, please look below under "Biking from Geneva".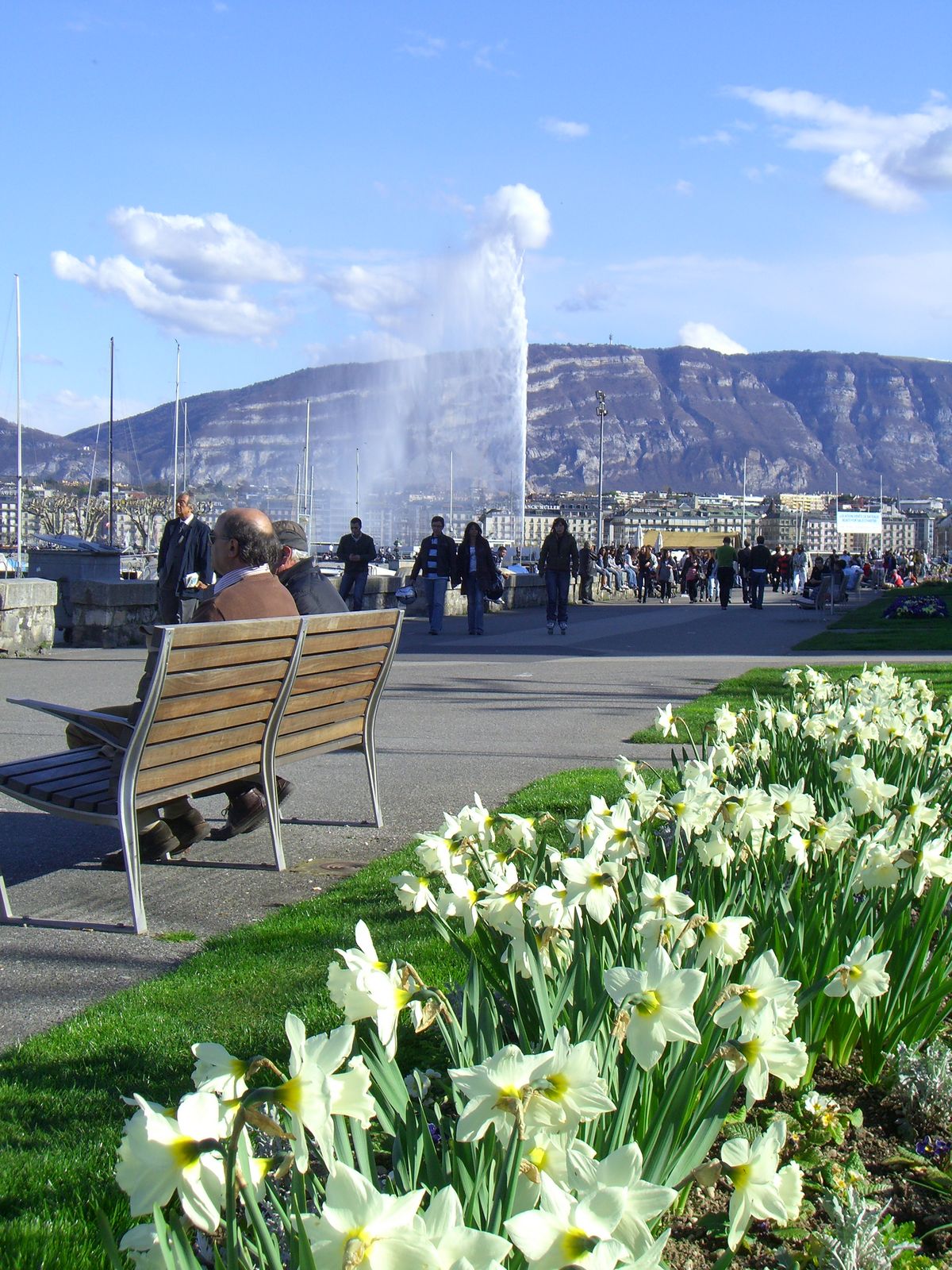 Walk around the Old Town – Rich in character and full of great restaurants and shops, the Old Town is one of our favorite ways to see Geneva. You can visit St. Peter's Cathedral, its highest point. It is open every day from 10.00 am to 5.00 pm and admission ranges from 8 to 18 CHF.


Visit the UN– The United Nations has four major office sites including one in Geneva, which ranks as the second largest. Originally built for the League of Nations, The Palais des Nations now hosts the UN administration and a list of other organizations and funds. Take a tour and you will see a film, The Council Chamber, The Human Rights and Alliance of Civilizations Room, and more. Tours start at 10, 12, 2, and 4 Monday-Friday (and Saturdays April through September). Admission is 15 CHF.


Learn a thing or two about watches with a visit to the Patek Philippe Museum – Founded in 1839, the Geneva-based Patek Philippe is famous for its exquisite timepieces. This museum highlights its history with plenty of eye candy. Admission is 10 CHF and opening hours are Tuesday to Friday 2-6, Saturday 10-6 with an English guided tour every Saturday at 2:30pm).


Enjoy the city parks – Geneva hosts a number of breathtaking parks. You can sit and enjoy a view of the lake (maybe with a baguette and some cheese in hand!) from La Perle-du-Lac and Parc Moynier or just across the lake you can see the popular "flower clock" at the English Garden. With life size chess boards, a restaurant, and the historical Reformation Wall (Mur de la Reformation) Bastions Park is another beautiful park to add to your list. And we can't forget Eaux Vives Park, a favorite!


Soak up the sun on a lake-side beach – In the summertime you will find sunbathing spots all along the lake and we highly recommend going for a swim in the water (it is safe and tested regularly). Baby Plage (Baby Beach) is easy to access and located right in front of Parc de la Grange on the left bank. Best of all, it's free! But as you would expect, it can get crowded during summer months. Genève Plage is further down the left bank but still very easy to reach by walking, bike, or bus (lines 2, 6, E, and G). It is open May 14th through September 11th from 10am to 8pm for a price of 3.50 to 7 Swiss Francs. As you'll see on the website, it hosts a huge high dive as well as food service and more. Bain des Paquis is on the right bank and for only 2 CHF you can use a changing room and secure locker for your things. As mentioned, it's common to find people sunbathing or swimming all along the lake. If you are looking for a less popular way to relax by the water you can follow the left bank for a while where you will see a bike path, a great grassy greenway, and some larger rocks right against the water.


Swiss fondue, don't mind if we do! – While in Geneva, we highly recommend you try a regional and incredible Swiss raclette (melted cheese and potatoes) or fondue. Swiss fondues are called "moitie – moitie" and made with Gruyere and Abondance cheeses. One of our favorite places for fondue is Les Amures in the old town. You walk in and are immediately embraced by the smell of melted cheese!


Spend a night or day on the lake – You can take a cruise including dinner, or a destination cruise, to breathe in the fresh air from the lake and catch a view of the mountains and the city from a different angle.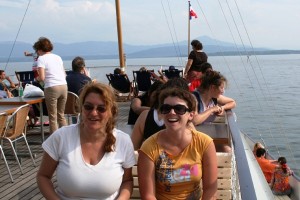 Explore the Flea Market of Plainpalais – Records, antiques, bikes, clothing, books, and jewelry; it is impossible to list or even predict exactly what you will find at the market in Plainpalais. The market is open on Tuesday, Wednesdays, Saturdays, and the first Sunday of each month, though the times vary so make sure to check opening hours for each day. Even if you are not much of a shopper, each unique item gives the market character you won't find elsewhere.


Museum hop – While we mentioned the Patek Philippe Museum, there are a number of museums we cannot leave out. There are a total of 36 museums with permanent collections and around 50 commercial galleries in Geneva! Some of the must-see museums are the Maison Tavel, the Museum of Modern and Contemporary Art, the Museum of Art and History, the Musee Ariana, the Museum of Natural History, the Barbier-Mueller Museum, and The Espace Rousseau. No matter what your interests are, you are bound to find a museum to get lost in! 


Visit the Balcony of Geneva - One of the best views can conveniently be found at the end of the Veyrier-Douane 8 bus. Mont Salève can be hiked, biked, or even cable car-ed. The Cable Car is currently under maintenance and will re-open in May 2023. Whether you exercise or cruise your way up and down, the relaxing atmosphere, mountain-top restaurant, and views of Geneva and the surrounding mountains are a must-see! 

If you want to combine cycling, hiking and cable car-ing, our excursion Panoramic sunset over Geneva and Lake Geneva is the perfect way to spend an afternoon/evening. With the possibility of starting from Geneva and Annemasse and riding along the banks of the Arve river, in the space of a few hours you will experience three modes of transport (cycling, cable car and hiking), two countries (Switzerland and France) and countless breathtaking views. At the top of the Salève you can admire the sunset over Geneva and Lake Geneva whilst enjoying a typical Savoyard meal at L'Observatoire. 
Swiss chocolate… need we say more? – We highly recommend you enjoy some Swiss chocolate while in Geneva. You can find small shops selling artisan chocolates, purchase some Swiss brands, or if you are a true chocolate lover you can visit factories. Some of our favorite Swiss chocolate brands include Frey and Favarger. While Frey is located in northern Switzerland, you could take a trip to Favarger for a visit. Favarger is located in Versoix (about a 9km bike ride from the center). You must register in advance for a tour and your taste buds will thank you.
Famous Events
Hot Air Balloon Festival – Usually held at the end of January, the festival in Château-d'Oex, Switzerland includes a diverse arrangement of balloons. You may even see a pig fly!
Les Caves Ouvertes – "Open Cellars" is a day at the end of May dedicated to wine. This is when Geneva's 90+ wineries are free to the public. Wine tastings are usually at a fee of 5 CHF. As the wineries are not in the city center, you can travel to and from each by bike, car, or the shuttle bus provided by TPG.
Fête de l'Escalade – In December, Geneva honors the defeat of the 1602 surprise attack sent by Charles Emmanuel I, Duke of Savoy with a race (l'Escalade) and celebrations. The celebrations include a parade, historical costumes, and a visit to the secret passage of Monetier. Traditions also include mulled wine, soup, and a large cauldron (marmite) full of chocolate, marzipan vegetables, and candies which is smashed by the old and young. 


Biking from Geneva
We can organise bike rental and other logistical support services via our sister brand, Geneva Cycling. We have a wide range of rental bikes, including road, electric, gravel and hybrid bikes. Location depending, we can often deliver these right to your accommodation free of charge! Our other logistical support services include luggage transfers and support vehicles.
For some route ideas you can check out our Komoot page, which has a collection of itineraries which we often run as free social evening rides.
For more route ideas, check out Cyclévasion's brochures with marked cycling maps available for pick-up at l'Espace Ville de Genève. While it is in French, the maps are detailed and can be a great start for a plan.
As mentioned before, one resource we highly recommend is Pro Velo's "L'Arc lémanique à vélo" available for purchase online. Even without the book in hand, the suggested routes can give you an idea for a ride and an approximate distance. Some trips from Geneva include:
"L'Etournel, La Champagne genevoise", a ride from central Geneva to Chancy and back (43km).
"Parc naturel du Haut Jura, une immersion forestiere", a ride from central Geneva to La Haute Chaine du Jura, and back (50km) La Haute Chaine du Jura is a natural reservation with 950 different species of plants/flowers and 209 different animal species.
"Le Salève", for a more challenging ride you can bike from Geneva center to la Salève (where the first two pictures were taken) and back (54km)