Sicily Regional Information
07-05-2019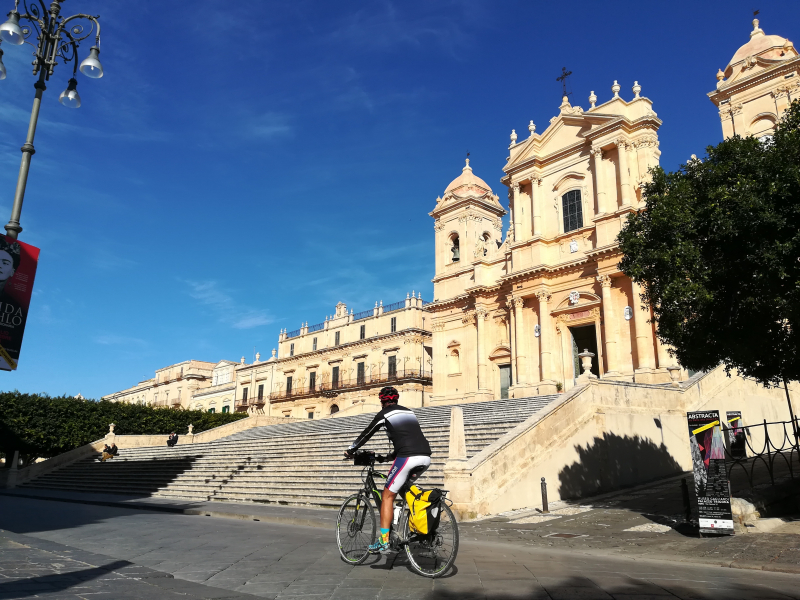 In this article, we cover the basics you need to know before traveling/cycling to Sicily. Among other topics, you'll learn about the various ways to travel to Sicily, things to see and do, and more…


For general travel tips to Italy, we recommend you check:
How to get there: Airports
Our two tours in this region start in Catania ("the Milan of the South" ) and Piazza Armerina. Regardless of your destination, the best airport for this region is the Catania International Airport (CTA), also known as the Vincenzo Bellini Airport. This airport is connected to most European airports, so you may need flight transfers in London Gatwick, Dublin, Rome, Turin, Istanbul, Paris etc. if coming from outside of Europe. For those starting their cycling tour in Catania, you're all set. For those headed to Piazza Armerina, you have several options from Catania Airport.
How to get there: Trains
Europe is known for its excellent train system, and Italy's Trentalia system is known for its high-speed Frecce trains. If you're coming from Europe, taking the train to Catania might be the best way to travel! There is a ferry crossing included in your Trentalia ticket purchase if you start on the mainland of Italy. There's more good news: the train system is fairly friendly to bicycle owners. That being said, there is unfortunately no train station in Piazza Armerina.


If you wish to travel by train with your bike in Sicily, do read the following pieces:
If you're taking a train and the ticket costs you less than 3.50 Euros, Trenitalia suggests that you buy another second-class ticket for your bicycle from the self-service machine, and you can take your bicycle with you. Another option for longer train rides is a separate 3.50 Euro ticket that is valid for 24 hours of train time (which cannot be purchased from a self-service machine). The rate may be increased on some night trains. For full details, please see Trenitalia's website: www.trenitalia.com/tcom-en/Services/Travelling-with-your-bike

As in France, all bicycles can be carried on board for free if they are dismantled and in a box or covered.


Here's the makeup of the Italian rail network:

Alta Velocità (AV): The fastest trains, named in descending order of speed, the Frecciarossa ("Red Arrow"), Frecciargento ("Silver Arrow"), and Frecciabianca ("White Arrow"). These only connect a short list of Italian cities, including Turin, Milan, Bologna, Florence, Rome, Naples, and Salerno. Reservations are required on AV trains.
Intercity (IC): Day trains to and from Italy's major cities and towns.
Intercity Night (ICN): Overnight trains to and from Italy's major cities and towns.
Eurocity (EC): Day trains that link major Italian cities to major European cities.
EuroNight (EN): Overnight trains that usually travel long distances.
Regionale: more local trains that stop at every station.

Please see www.trenitalia.com/tcom-en or www.raileurope.com for more details or to book train tickets online.
How to get there: Piazza Armerina
As Piazza Armerina doesn't have a train station, you're most likely going to need a bus connection or a taxi. The good news is that Cyclomundo can arrange private transfers to Piazza Armerina for our clients at the rate of 130 euros (only 65 euros per person if there are two travelers) one-way. This applies only if you book one of our bicycle tours in Sicily.
If the bus is more your speed, from Catania Airport SAIS Autolinee offers the A19 bus to Enna Bassa. This takes about an hour and costs around 10 euros. From here, you can take the 3 bus (also by SAIS) from Enna Bassa to Piazza Armerina which takes about 30 minutes and costs about 10 euros - a total of 20 euros and about 90 minutes for the whole trip. Alternatively, there is also a bus run by AST SpA that transfers through Santa Michele di Ganzaria. This trip takes about 3 hours, but costs only around 10 euros for both buses combined.
How to get there: Car Rental
You may choose to rent a car in Italy for part of your journey. Dealers can be found at the Catania Airport, as well as in Ragusa, and Syracuse. Some of the smaller towns such as Modica and Scicli do have rental agencies, but they are few and far between. You can find the best deals by comparing rental companies online: Catania Airport Car Rentals. Note that drivers must be over 21 to rent a car (21-25 year olds may face extra fees) and they must possess a valid driver's license. (An international driver's license would help.)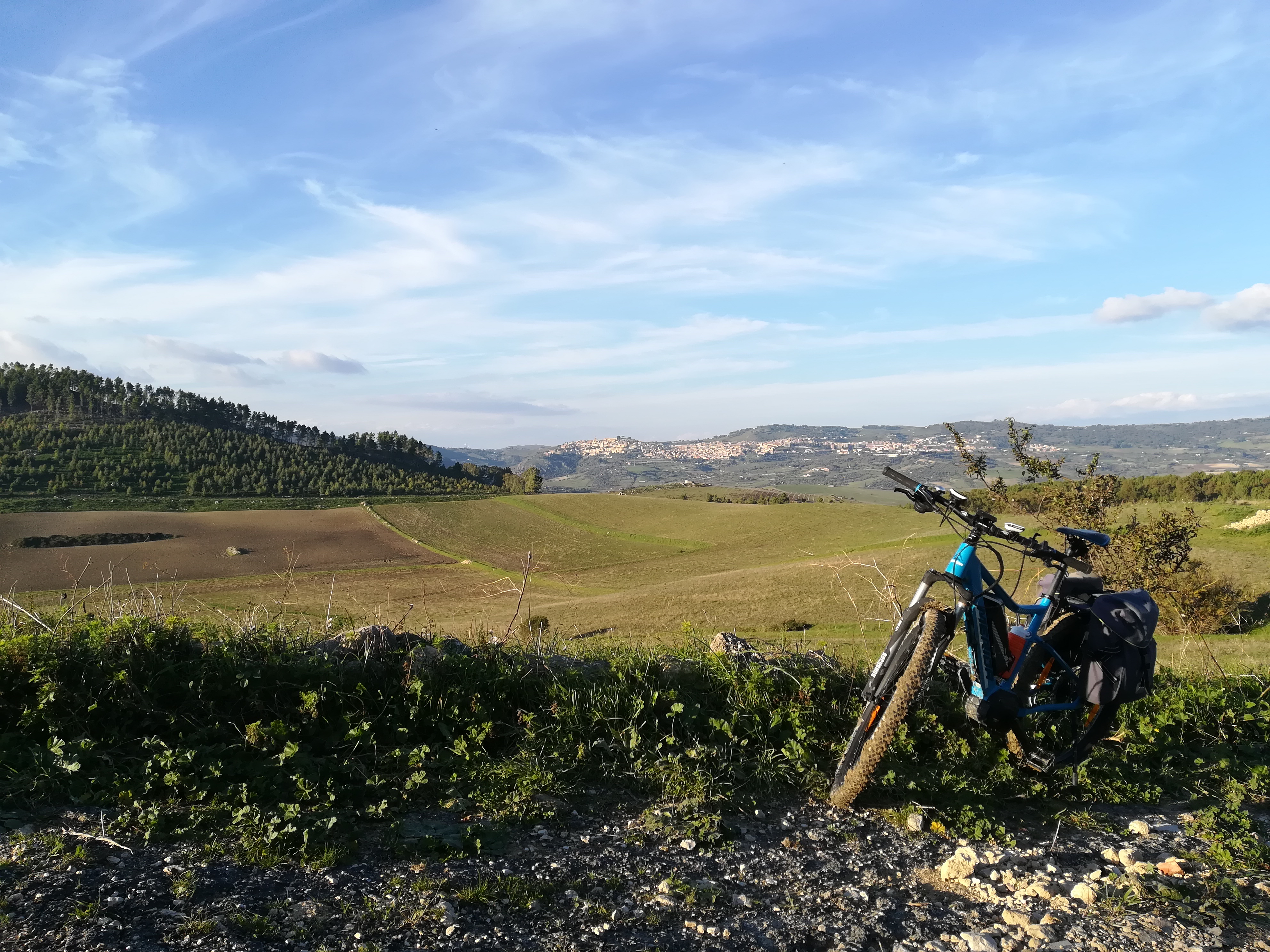 When is the best time to travel to Sicily?
All the time! Sicily is an island off of Italy's southwestern coast and has a gentle Mediterranean climate. This means it is a perfect winter cycling destination! That being said, early spring and late fall see sunny days in the 70's (Fahrenheit) which makes them both ideal for church going, beach lazing, hiking, and of course, cycling! All year round, rain is quite rare in Sicily which makes it an ideal destination to explore baroque towns, hidden caves, and sandy beaches by bike.
What is there to see and do in Sicily?
Sicily has a unique mix of architecture and culture, which means there are lots of amazing palaces and museums in the area. Just in Catania you'll have access to the Biscari Palace, the Manganelli Palace, and Ursino Castle! This region is also home to olive groves, baroque towns, and ancient cathedrals. Highlights of this region are the Caltagirone ceramic shops, Modica's fantastic chocolate, Syracuse's Greek and Roman ruins, and the towering Mt. Etna! The Southeast corner where our tours are located boasts agricultural riches such as quality wines, olives, fruits, and the flavoursome tomatoes of Pachino. This agricultural abundance is equally matched by the fishing fleets of Sicily's many coastal towns.
To learn more about some things to do and to see in Sicily:
The Terrain
As the largest island in the Mediterranean, Sicily's terrain is surprisingly varied. Indeed, Sicily is home to mountain ranges, fields, beaches, and even a volcano. Our tours take place in the southeast corner of the island where it is less mountainous. In fact, the area south of Catania (the starting point of one of our tours) is called "The Plain of Catania." Where our tours take place you can expect rolling hills of olive and orange groves, and a coastline mix of sandy beaches and cliffs parted by gullies.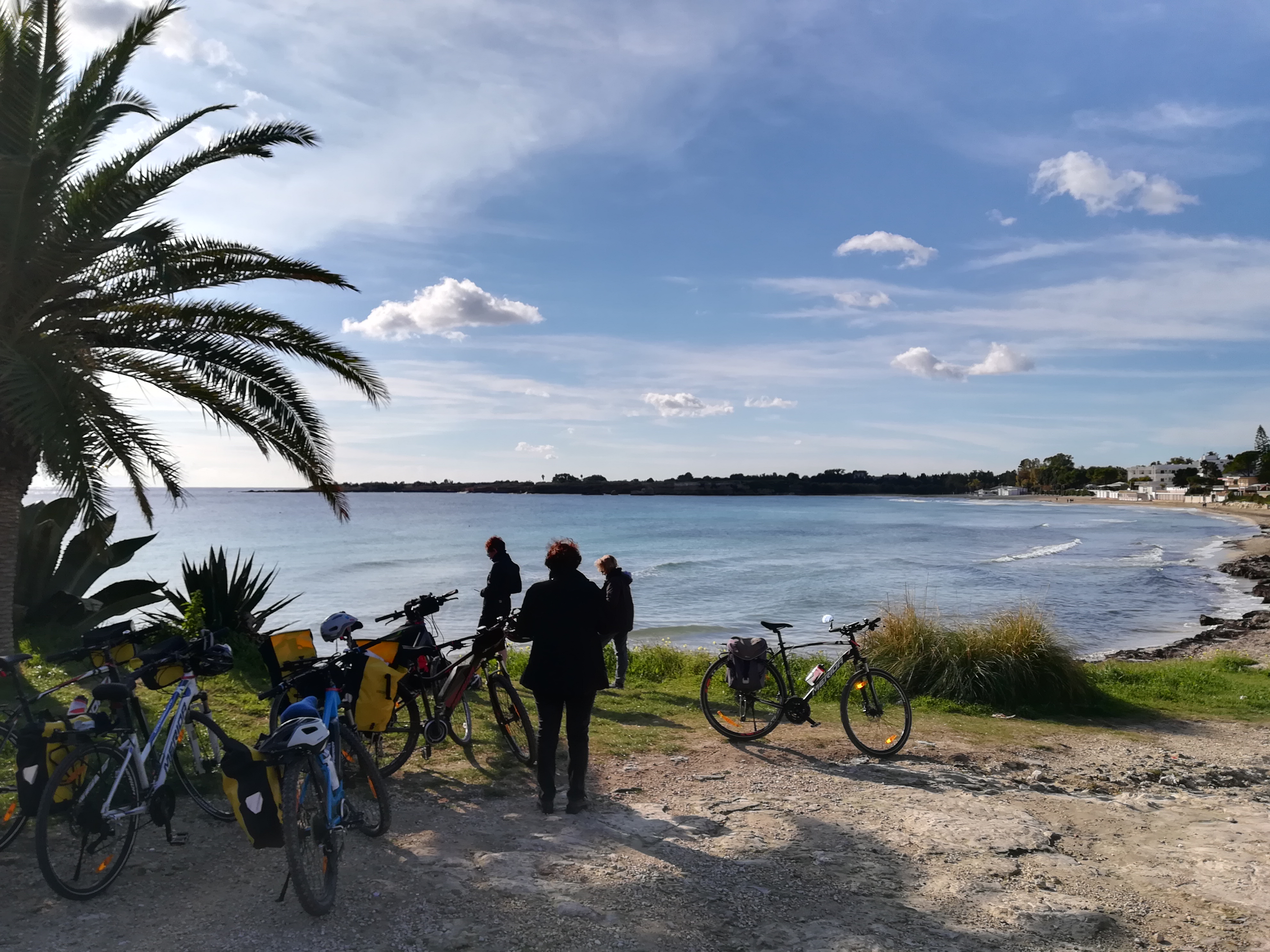 Sicily Weather and Climate
Sicily usually has warm or hot summers typical of mediterranean climates. The climate in the spring and autumn is sunny with few showers and pleasant temperatures, but during these seasons, we suggest wearing layers of clothing so that you are ready for cooler mornings and hotter afternoons. Sea temperatures near Sicily range from around 15 degrees Celsius (60 degrees Fahrenheit) in the winter to approximately 26 degrees Celsius (80 degrees Fahrenheit) in the summer.
Temperature and Rainfall

Local produce/shopping
In Caltagirone, ceramics is a huge deal - one star attraction is a 142-step staircase where each step has its own unique tile design! Of course, there are plenty of ceramics to take home as souvenirs too! For the food inclined, Modica is famous for its chocolate.
For more on local products: http://www.visitsicily.info/en/shopping-handcrafts-in-sicily/
Gastronomy: Food
Some food products local to Sicily are red garlic, fresh or smoked provola (cheese from cow milk), yellow plums, and vastedda del Belice (cheese made by kneading sheep curds). Other products common in Sicilian cuisine are sardines, eggplant, olives, capers, and almonds.
Gastronomy: Favorite Sicilian Dishes
Arancini- fried stuffed rice balls
Caponata- a cooked vegetable salad and capers dish
Cassata- a sponge cake stuffed with sheep's milk and ricotta cheese, decorated with candied fruits
Pasticceria- sicilian almond cookies
Pasta alla Norma- pasta with tomatoes, fried eggplant, ricotta and basil.
Pasta con le sarde- pasta with sardines and anchovies.
Scaccia- a thin flatbread layered with vegetables, cheese and meats and rolled up.
Gastronomy: Wine
The key native grape varieties are Nero d'Avola and Catarratto. A large proportion of produced wine is Marsala, joined by the white varieties Grillo and Inzolia. Although less famous than Marsala, another sweet wine of significance to the island is Moscato di Pantelleria, made from Muscat of Alexandria grapes.
For more information on Sicilian wines: http://www.visitsicily.info/en/the-wine-in-sicily/
List of links
Tourism
-http://www.visitsicily.info/en/
Airports
-http://www.aeroporto.catania.it/?lang=en
Trains
-https://www.trenitalia.com/tcom-en
Buses
-http://saisautolineetpl.ecubing.it/ticket_sais.php
-http://www.aziendasicilianatrasporti.it:8080/default.aspx
Car Rental
-Avis (www.avis.com/)
-Europcar (www.europcar.com/)
-Budget (www.budget.com)
-SIXT (www.sixt.com/)
-Hertz Italie (www.hertz.com)
-Enterprise Italie (www.enterprise.com/)
List of markets
We've organized some notable markets by location, date and time. If you happen to be in the area, stop by to check out the local produce! You never know what you'll find...


Caltagirone
Antique Market, every third Sunday of the month held in the historic centre.
Produce Market, every Saturday, in the city center.
Catania
La Pescheria (fish market), every morning.
Piazza Carlo Alberto Market, household items, jewelry, and produce, every morning.
Noto
Produce Market, every Friday 3pm to 8pm at the Noto Gardens (La Villa comunale).
Modica
Produce and Clothing Market, Thursdays 8am to 1 pm.
Antique Market, last Sunday of the month along Corso Umberto.
Piazza Armerina
Produce Market, every Thursday in the city center.
Palazzolo Acreide
Produce Market, The 1st and 15th of each month, along Viale Dante Alighieri.
Ragusa
Produce Market, every Wednesday from 7 am to 1 pm along Via Psaumida.
Scicli
Produce Market, every Tuesday on Via Saffi.
Syracuse
Produce and Clothing Market, daily (except Sunday) from 5 am to 2 pm.