La Rioja Regional Information
15-02-2019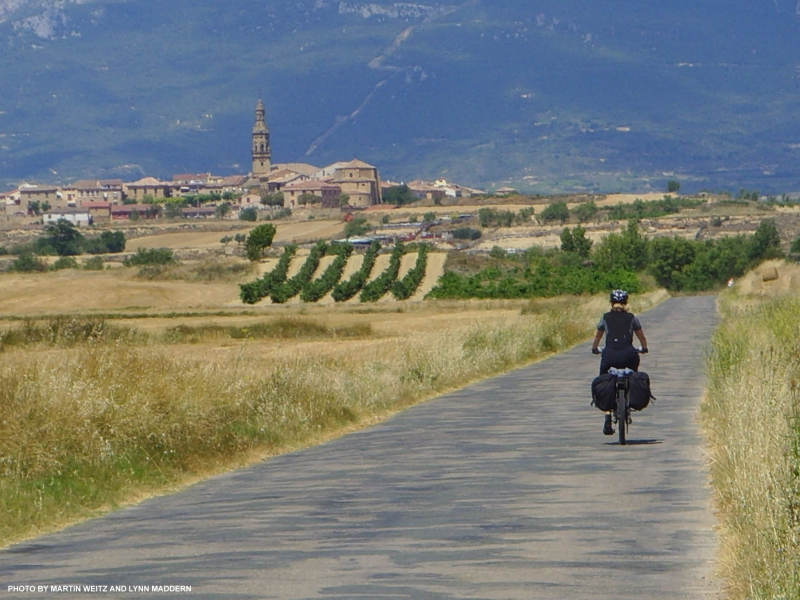 In this article, we cover the "basics" you need to know before traveling/cycling to La Rioja. Among other topics, you'll learn about the various ways to travel to La Rioja, things to see and do, and more…
For general travel tips to Spain, we recommend you check:
How to get there: Airports
We have two tours in this region, one starting in Burgos and one starting in Logroño. For those traveling to Burgos, the town has a local airport called Villafría (RGS) that you can fly into. That being said, it is a very small airport that only flies to and from Barcelona, so you will probably need a connecting flight first!
For those traveling to Logroño, this town also has an airport called Logroño–Agoncillo Airport (RJL). Again, this airport is very small and only flies to and from Madrid, so you will probably need a connecting flight first.
One can also make their way to Burgos/Logroño from larger airports in the region such as Bilbao and Madrid.
From these airports, you can either rent a car or take the train (See below).
How to get there: Trains
Europe is known for its excellent train system, and Spain's Rail system (owned by Renfe) is known for its high-speed AVE trains. However, please read the following information below about traveling SpainRail with a bike. Depending on the type of train, you may need to fold/case your bicycle in order to travel with it.
If you wish to travel by train with your bike to La Rioja, do read the following articles:
Spain Rail
La Rioja is not very well-covered by SpainRail, but it is a great way to travel to Spain's main cities. In this region, SpainRail does serve the following towns: Burgos, Haro, Logroño, Agoncillo, Alcanadre, and Calahorra. However, you are more likely to find a more direct route by bus.
To Burgos
From Adolfo Suárez Madrid-Barajas (MAD) you will need to take the Madrid Commuter line from Aeroporto T4 station to Madrid Chamartin Station. From there, it is a 2h30m train ride to Burgos Rosa de Lima Station. There is also an ALSA bus directly from Madrid's airport terminal to Burgos that takes about 2h30m.
From Bilbao Airport (BIO), you will need to take the local BizkaiaBus route A3247 to the Termibus stop. Unfortunately, their website is not easy to navigate. From here, you can switch to an ALSA bus. Expected travel time is 2 hours. For those who want an easier ticket-purchasing experience, there is also a train line in the area (From Bilbao-Abando station to Burgos), but expected travel time is 4 hours.
To Logroño
Car Rental
You may choose to rent a car in Spain for part of your journey. Dealers can be found at most Spanish airports and in the downtown area of towns (for Burgos and Logroño double-check to see if the pick up location is the airport or the train station). You can find the best deals by comparing rental companies online: Avis (www.avis.com/), Europcar (www.europcar.com/), Budget (www.budget.com), SIXT (www.sixt.com/), Hertz Espagne (www.hertz.com), and Enterprise Espagne (www.enterprise.com/). Note that drivers must be over 21 to rent a car (21-25 year olds may face extra fees) and they must possess a valid driver's license. (An international driver's license would help.)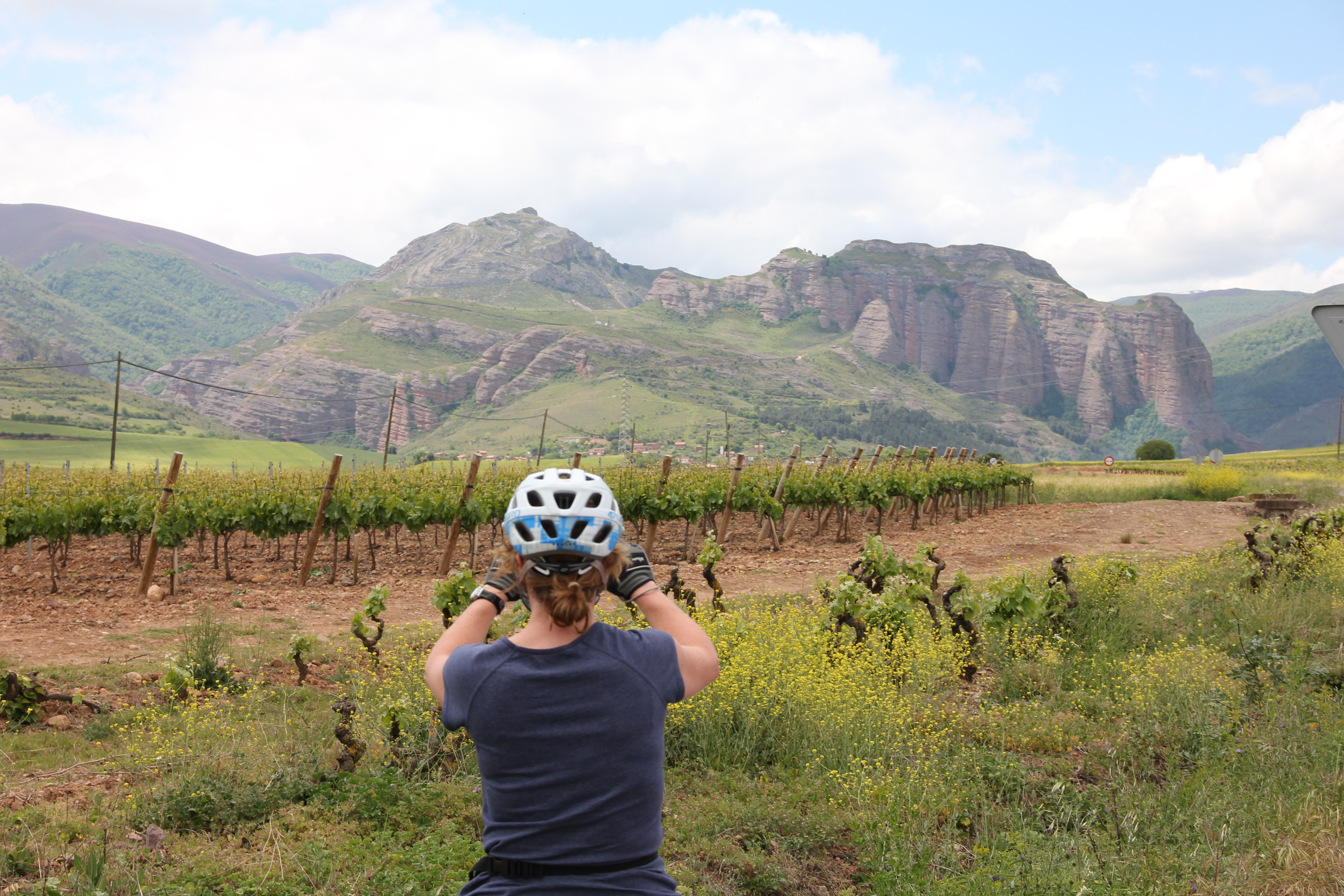 When is the best time to travel to La Rioja?
The best time to visit is May through October. The summer is relatively dry, both in terms of rain and humidity, and the autumn months are when the vineyards pick their grapes and start the wine making process.
What is there to see and do in La Rioja?
Museums, Monasteries, and Monuments- oh my! When not enjoying the local cuisine, La Rioja has lots to see and do. There are plenty of museums, 11 monasteries, and beautiful architecture in local churches and castles. La Rioja has over 500 wineries (called bodegas), though Haro in particular is this region's 'wine capital'. Many tasting rooms don't even require appointments! If you're looking for an educational experience, Bodegas Vivanco just outside of Haro also has a historical wine museum.
To learn more about some things to do and to see in La Rioja:
The Terrain
This region is home to rolling hills, glittering with the silver and green of olive groves and vineyards. While we won't be doing any tough climbs, you'll be able to see the gorgeous mountain range that borders La Rioja to the north. La Rioja also boasts seven rivers that decorate the landscape.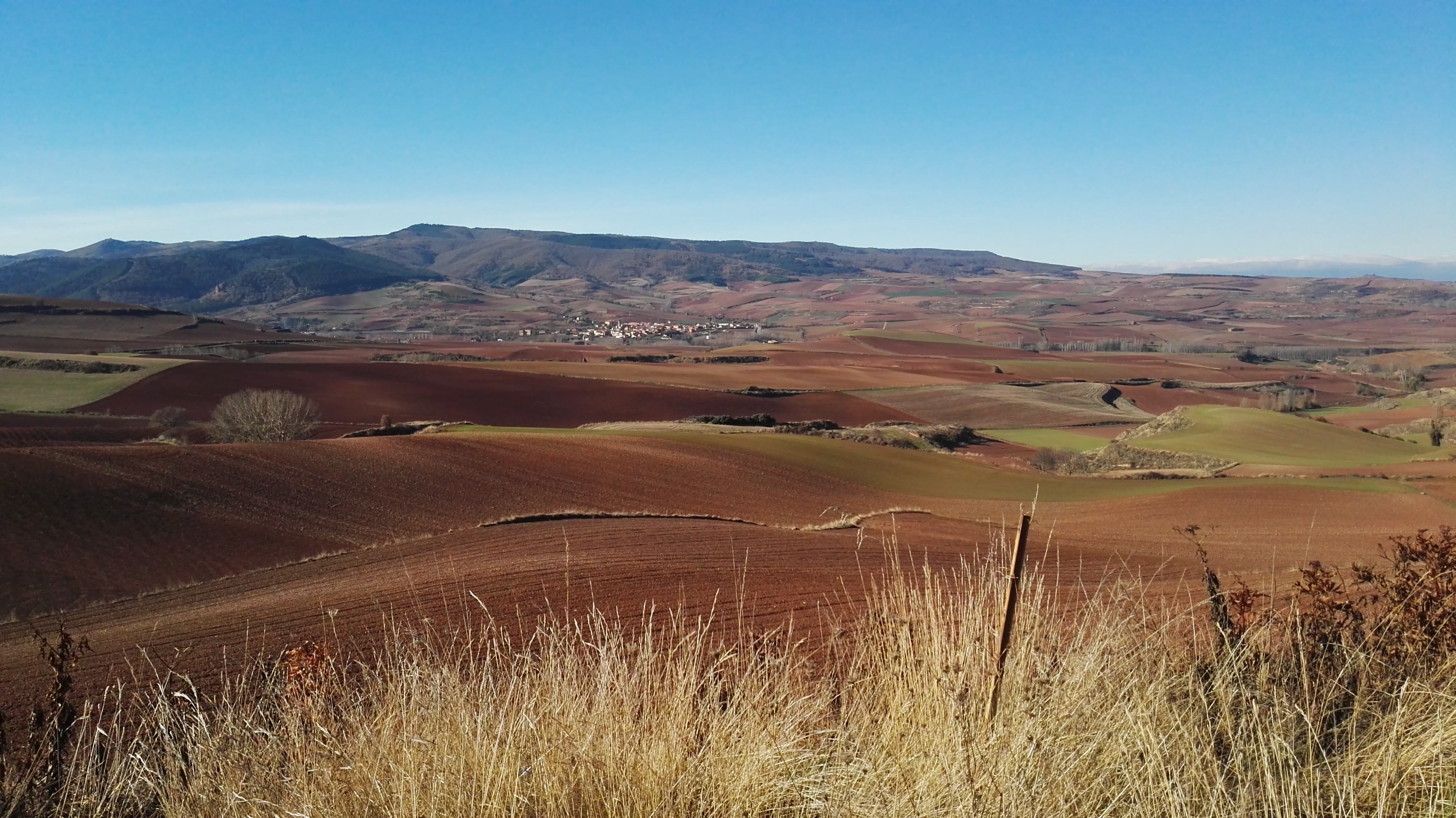 La Rioja Weather and Climate
La Rioja usually has warm and dry summers typical of continental climates. It only rains about 1-4 days a month - but we suggest wearing layers of clothing so that you are ready for cooler, foggy, mornings and hotter afternoons.
Temperature and Rainfall

Local produce/shopping
La Rioja is world famous for its' wines. It might be repetitive to say it, but check out the local winery tastings and leave some space in your suitcase to bring a favorite bottle home. Wine is so popular here, you can even order Rioja Wine Sorbet! La Rioja is also known for artichokes, cardoons, and borage, as well as beef and lamb delicacies. Be sure to try some tasty fresh produce when stopping for lunch.
Gastronomy and wine: Wine
La Rioja is Spain's most popular wine region. In addition to Spain's indigenous Tempranillo grapes, the region grows Garnacha, Graciano, Mazuelo, Viura, Malvasia, Granacha Blanca, and Tempranillo Blanco (white), meaning that everything from aged red wines to young whites to delicate rosados (rosés) can be found in La Rioja!
Gastronomy and wine: Food products
Despite being a land-locked area, La Rioja is well known for its fish dishes, especially trout and cod. Go-to desserts include fardalejos (an almond pastry cake) and marzipan. The cheese of this region (Camerano cheese) is also a sweet desert-like dish, typically consumed with honey. Common dishes include Patatas a la Riojana (a stew of potatoes, chorizo, and paprika) and Caparrones con sus Sacramentos (pygmy red kidney beans stewed in meat and onions).
List of links
Tourism
https://vivancoculturadevino.es/en/ 
Airports
Burgos: www.aena.es/en/burgos-airport/index.html
Logroño: www.aena.es/en/logrono-agoncillo-airport/index.html
Madrid: www.aeropuertomadrid-barajas.com/eng/home.html
Bilbao: www.aena.es/en/bilbao-airport/index.html
Trains
Madrid Commuter line: https://www.renfe.com/es/en/suburban/suburban-madrid/maps 
Renfe: www.renfe.com/EN/viajeros/index.html
Buses
ALSA: www.alsa.com/en/web/bus/home
CuadraBus: https://cuadra.ingeniacom.com/venta/selection
BizkaiBus: http://apli.bizkaia.net/apps/danok/tq/index.html?Idioma=EU
Car Rental
List of markets
We've organized some notable markets by location, date and time. If you happen to be in the area, stop by to check out the local produce! You never know what you'll find.
Burgos
Wednesdays & Saturdays, 9am-2pm: Mercadillo de Frutas y Verduras
Wednesdays, 9am-2pm: Mercadillo del Parque de los Poetas
Fridays, 9am-2pm: Mercadillo del Paseo del Empecinado
Saturdays, 9am-2pm: Mercadillo de San Pedro De La Fuente
Sundays, 9am-2pm: Mercadillo Plantío
Sundays, 10am-2pm: Mercadillo de la Plaza de España
Ezcaray
Saturdays: Triumphal Arch
Haro
Tuesdays & Saturdays, morning: Calle Siervas de Jesús
Laguardia
Tuesdays & Fridays, 8am-2pm: Calle Santa Engracia Kalea
Logroño
Sundays, morning: Camino de las Norias
Mondays-Fridays 7:30am-2pm, 4:30pm- 8pm, Saturdays 7:30am-2pm: Mercado de San Blas