Normandy Regional Information
01-02-2019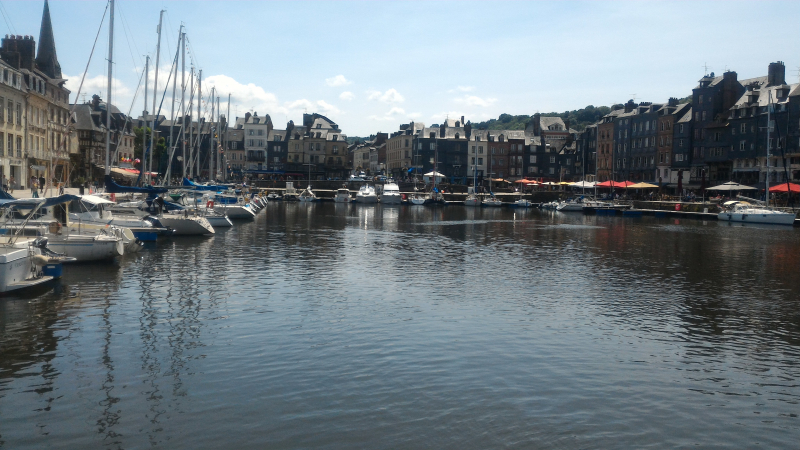 In this article, we cover the "basics" you need to know before traveling/cycling to Normandy. Among other topics, you'll learn about the various ways to travel to Normandy, things to see and do, and more…
For general travel tips to France, we recommend you check:
How to get there: Air, train & bus service to Normandy
Whether you arrive by air or by land, Normandy is easy to get to and is well serviced by train and by international airlines. To learn more about travel to/from Normandy, do make sure to check the following articles:
If you wish to travel by train with your bike to Normandy, do read the following pieces:

If you're coming from the UK or Ireland, you can take a ferry over to France – from Portsmouth directly to Caen, Saint-Malo, Le Havre or Cherbourg (from Portsmouth or Poole).


Cyclists bringing their bikes over may have to pay a one-way fee, or they may have to dismantle their bikes and carry them in boxes (similar to Thalys/Eurostar trains). Please check with your preferred ferry company for regulations. Drivers bringing their UK vehicles over should remember that in France, we drive on the right side of the road!


Car Rental
You may choose to rent a car in France for part of your journey. Dealers can be found at all French airports and at the train stations in Paris, Rouen, and Caen. You can find the best deals by comparing rental companies online: Avis France (www.avis.fr), Europcar (www.europcar.com), Budget (www.budget.com), Hertz France (www.hertz.com), SIXT France (www.sixt.com), and Enterprise France (www.enterprise.fr/en). Note that drivers must be over 21 to rent a car (21-25 year olds may face extra fees) and they must possess a valid driver's license. (An international driver's license would help.)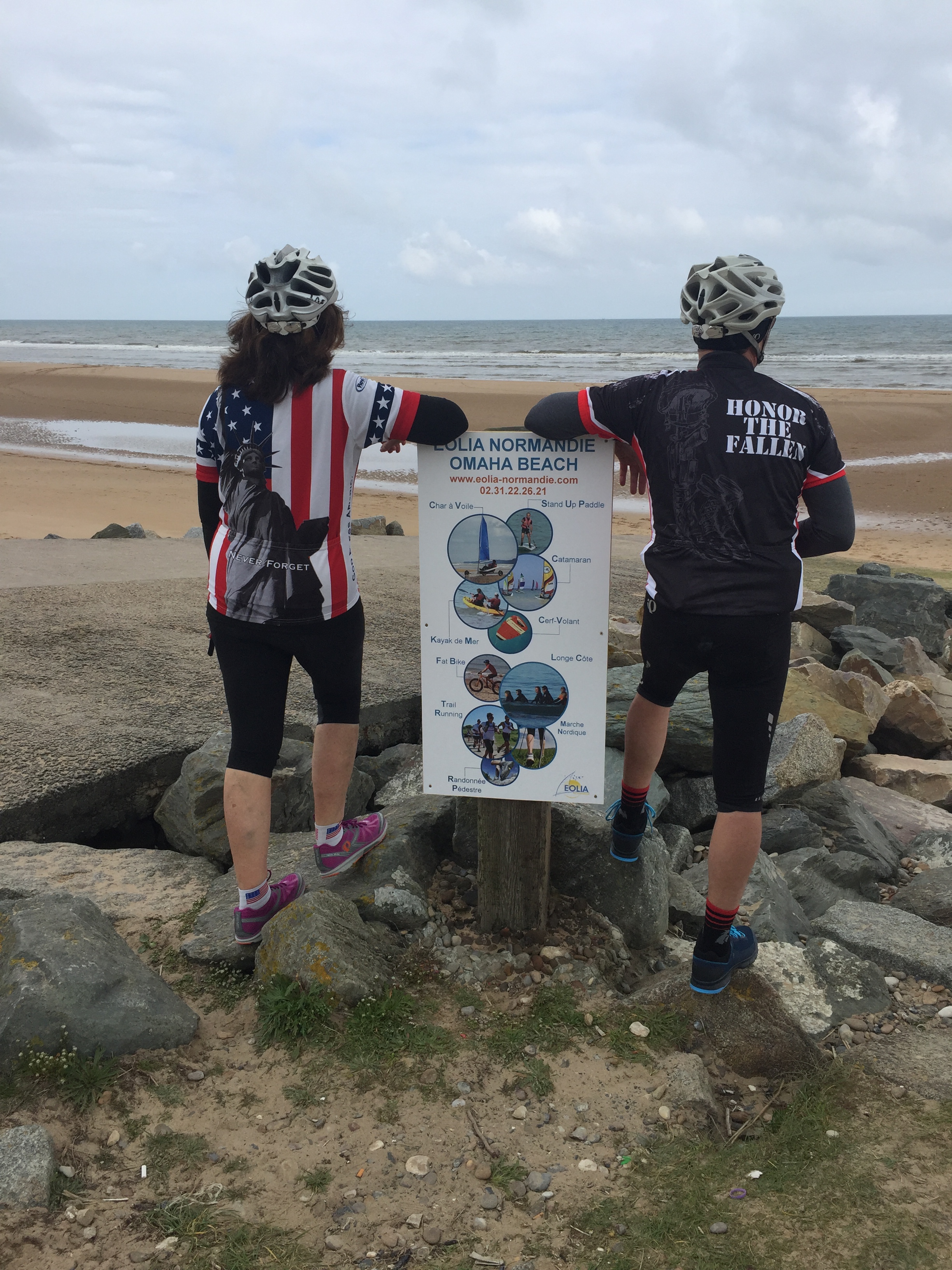 When is the best time to travel to Normandy?
July and August is the holiday season in France, meaning that French citizens will take to the roads and cause traffic jams in their mad dash to coastal resorts. If Normandy in the warm, mild summer is the best option for you, we suggest reserving spots (if necessary) on a train well in advance! Spring and Autumn are also lovely times to visit Normandy.
What is there to see and do in Normandy?
In the part of Normandy that our tours are located in, many tourists come to visit and pay their respects at the D-Day beaches, other places connected to the invasion, and the World War II cemeteries. You'll discover that Normandy has a rich history extending back throughout the centuries, and present-day Normandy is a peaceful place to explore. Visit the Bayeux Tapestry, which depicts the 1066 invasion of England by William the Conqueror, or cathedrals and castles lining the countryside. You can ride along the beach (depending on the time of year, you might consider going swimming) or through natural parks with stunning scenery.
To learn more about what to do and see in Normandy, we recommend the following piece:
If you are looking for bikeways and cycle tracks, read about the new Veloscenie bikeway connecting Paris to Normandy at:
The Terrain
What makes riding in Normandy a little bit difficult is not mountains, but the wind! The terrain is a mix of rolling hills (ranging from easy to challenging) to some flat areas, especially along rivers.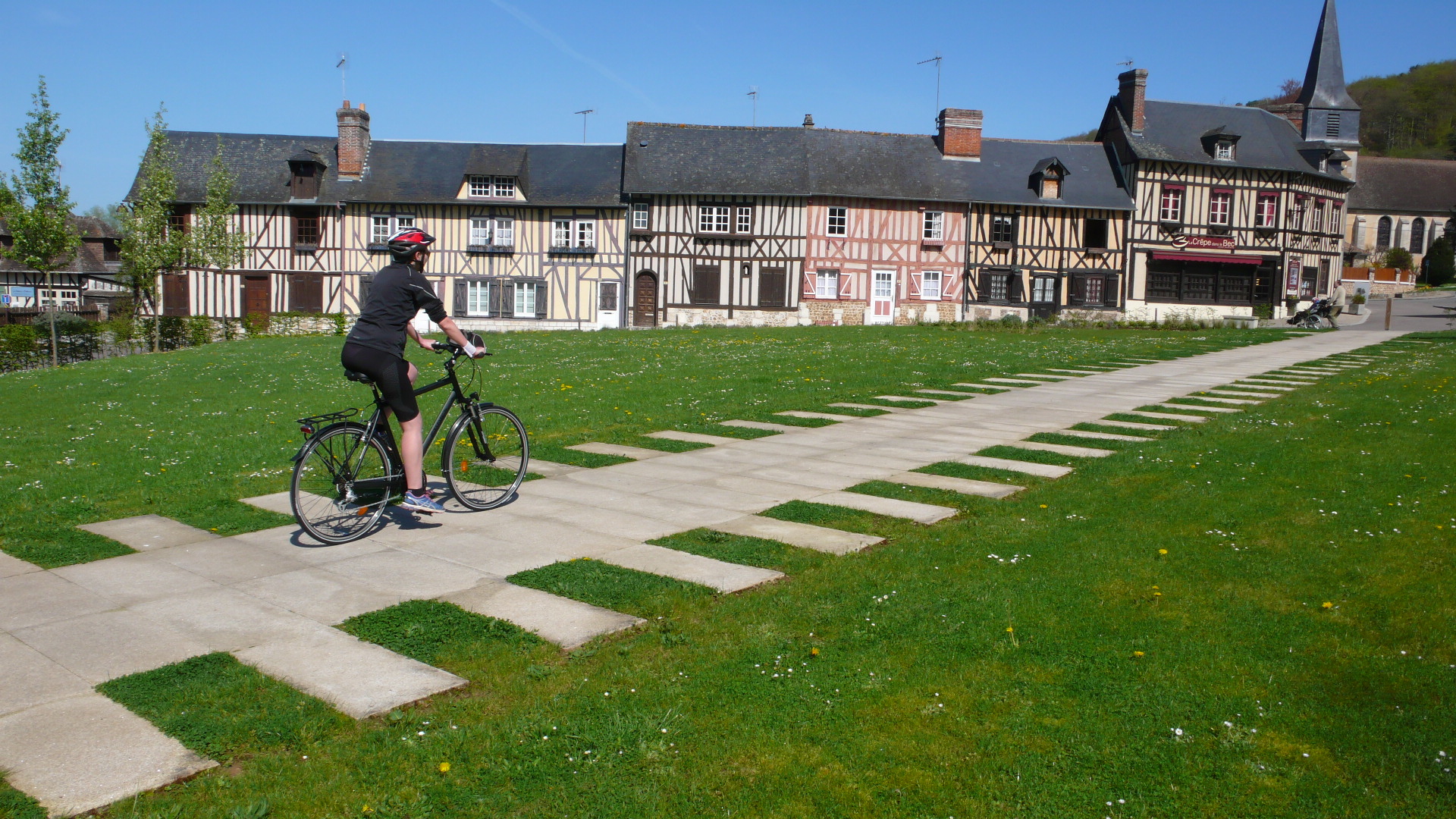 Normandy Weather and Climate
Normandy's weather is influenced by the Atlantic, resulting in pleasant and mild summers. Winters, on the other hand, are cold and damp.
Temperature and Rainfall

Local produce/shopping
Look for World War II memorabilia, especially in Sainte-Mere-Eglise. Normandy is also known for its pottery, roof finials, lace, and wooden toys.
Gastronomy and wine: Food
The staples of Norman food are famous worldwide: Camembert cheese, butter, rich cream, Livarot cheese, Pont-Leveque cheese, apples, and seafood. The French pastry-bread, brioche, was supposedly invented in Normandy.
Favorite products and dishes
Don't leave Normandy without trying the dessert 'tarte Normande' (apple and custard in a shortbread crust). If seafood is your thing, taste moules a la crème Normande (mussels) or any other seafood, really.
Gastronomy and wine: Wine
Drinks in Normandy are produced from apples: Cidre, Calvados (apple brandy), and Pommeau (a mixture of cider and Calvados).
List of links
https://en.normandie-tourisme.fr/ 
www.britannica.com/event/Normandy-Invasion
List of markets
We've organized some notable markets by type: location, date and time. If you happen to be in the area, stop by to check out the local produce! You never know what you'll find.


Carentan
Monday: Place Valnoble
Sainte-Mere-Eglise
Thursday: Town center
Courseulles
Tuesday & Friday (& Sunday in July and August): Place du marché & Rue de la Mer (Quai des Alliés on Sundays)
Saturday night (July & August): Quai des Alliés, from 18:30
Fish market every morning: Quai des alliés
Bayeux
Wednesday: Rue St. Jean
Thursday ("marché du terroir et de l'artisanat normand"): Hôtel de Ville, July & August only
Saturday: Place St. Patrice
Creully
Wednesday: Town center
Isigny
Wednesday & Saturday: Place du Marché
Caen
Tuesday: rue de Bayeux; Grace de Dieu
Wednesday: Calvaire St. Pierre
Thursday: Chemin Very, Gueriniere
Saturday: Blvd Leroy
Friday: Place St. Sauveur (local produce)
Sunday (Grand Marché): next to the Marina (Port de plaisance), Place Courtonne & quai Vendeuvre
Ouistreham
Fish market: Every morning, hall