Getting to Dordogne
18-04-2016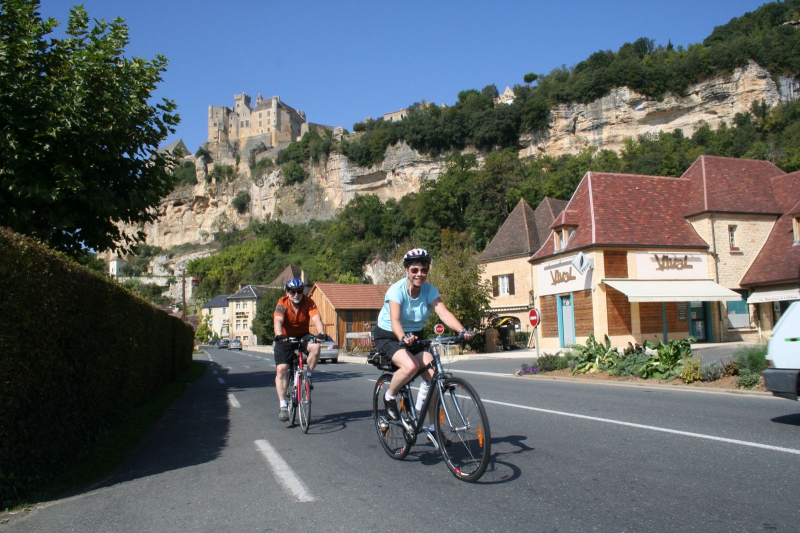 Our Dordogne tours start in Souillac and Sarlat, these historic towns are great places to start a tour once you figure out how you will get there. In the following article, we will cover the different options you have for arriving in Souillac and Sarlat.


Dordogne by plane
Dordogne can sound far away, but with air service from some European hubs to Brive Airport (BVE) and to Toulouse Airport (TLS), travelers now have more time-saving choices than ever! Paris and Bordeaux are also airports you can fly into if you want to explore more of France's gastronomy, but the train rides to Souillac and Sarlat will be long.


Soulliac by train
Sarlat by train
From Toulouse's Matabiau train station to Sarlat, SNCF will recommend a 5 hour train ride with 2 transfers. Instead, take the ~2 hour SNCF train to Souillac and then take the local 6 bus 45 minutes to Sarlat.
From the Brive airport, is a 50 minute drive to Sarlat (there are no trains or buses). The good news is that Cyclomundo can arrange private transfers to Sarlat for our clients at the rate of 90 euros (only 45 euros per person if there are two travelers) one-way. This applies only if you book one of our bicycle tours in Dordogne.
From Paris Gare Montparnasse, it is a 6-9 hour train ride with transfers in Bordeaux and Perigueux (or other towns depending on your selection!). Again, it is recommended to take the direct train to Souillac and then the local 6 bus Sarlat.
From Bordeaux Saint-Jean station, it is a 3-4 hour train ride to Souillac, with one transfer.

Whatever your choice is, the reward is huge… you'll explore an area that is like no place else: medieval castles, prehistoric caves, and quiet roads will all contribute to making your stay a once-in-a-lifetime experience.