Apulia Regional Information
12-02-2019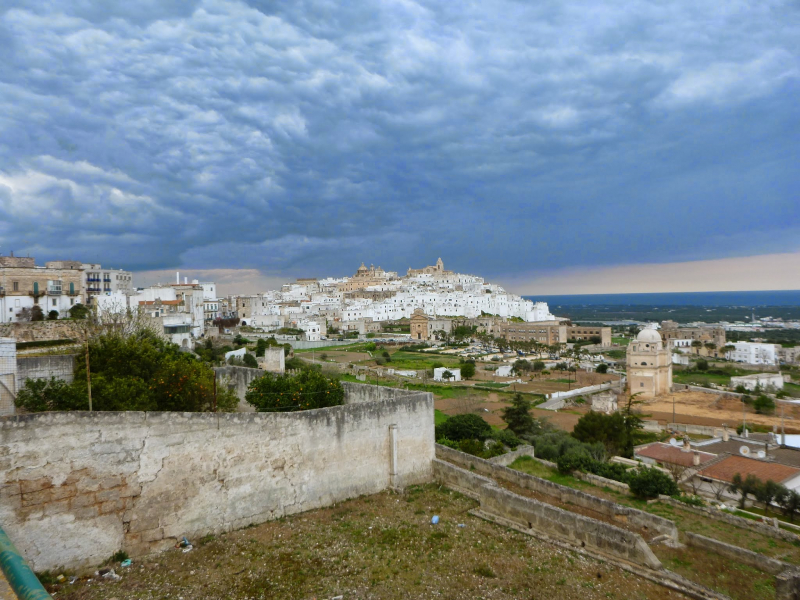 In this article, we cover the "basics" you need to know before traveling/cycling to Apulia (Puglia in Italian). Among other topics, you'll learn about the various ways to travel to Apulia, things to see and do, and more…
For general travel tips to Italy, we recommend you check:
How to get there:
Air, train & bus service to Apulia
Whether you arrive by air or by land, Granada and Sevilla, where most of our tours start from, are very easy to get to and are very well serviced by train and by international airlines.  To learn more about travel to/from Andalusia, do make sure to check the following article:
If you wish to travel by train with your bike to Andalusia, please read the following articles:
If you're taking a train and the ticket costs you less than 3.50 Euros, Trenitalia suggests that you buy another second-class ticket for your bicycle from the self-service machine, and you can take your bicycle with you. Another option for longer train rides is a separate 3.50 Euro ticket that is valid for 24 hours of train time (which cannot be purchased from a self-service machine). The rate may be increased on some night trains. For full details, please see Trenitalia's website: https://www.trenitalia.com/en/services/travelling_with_yourbike.html

As in France, all bicycles can be carried on board for free if they are dismantled and in a box or covered.
Here's the makeup of the Italian rail network:
Alta Velocità (AV): The fastest trains, named in descending order of speed, the Frecciarossa ("Red Arrow"), Frecciargento ("Silver Arrow"), and Frecciabianca ("White Arrow"). These only connect a short list of Italian cities, including Turin, Milan, Bologna, Florence, Rome, Naples, and Salerno. Reservations are required on AV trains.
Intercity (IC): Day trains to and from Italy's major cities and towns.
Intercity Night (ICN): Overnight trains to and from Italy's major cities and towns.Eurocity (EC): Day trains that link major Italian cities to major European cities.
EuroNight (EN): Overnight trains that usually travel long distances.
Regionale: more local trains that stop at every station.
Please see www.trenitalia.com/en for more details or to book train tickets online.
Car Rental
You may choose to rent a car in Italy for part of your journey. Dealers can be found at all Italian airports and at the ItaliaRail stations. You can find the best deals by comparing rental companies online: Avis Italie (www.avis.com), Europcar (www.europcar.com), Budget (www.budget.com), SIXT (www.sixt.com), Hertz Italie (www.hertz.com), Enterprise Italie (www.enterprise.com), and Alamo (www.alamo.com). Note that drivers must be over 21 to rent a car (21-25 year olds may face extra fees) and they must possess a valid driver's license. An International Drivers License is required for rentals in Italy.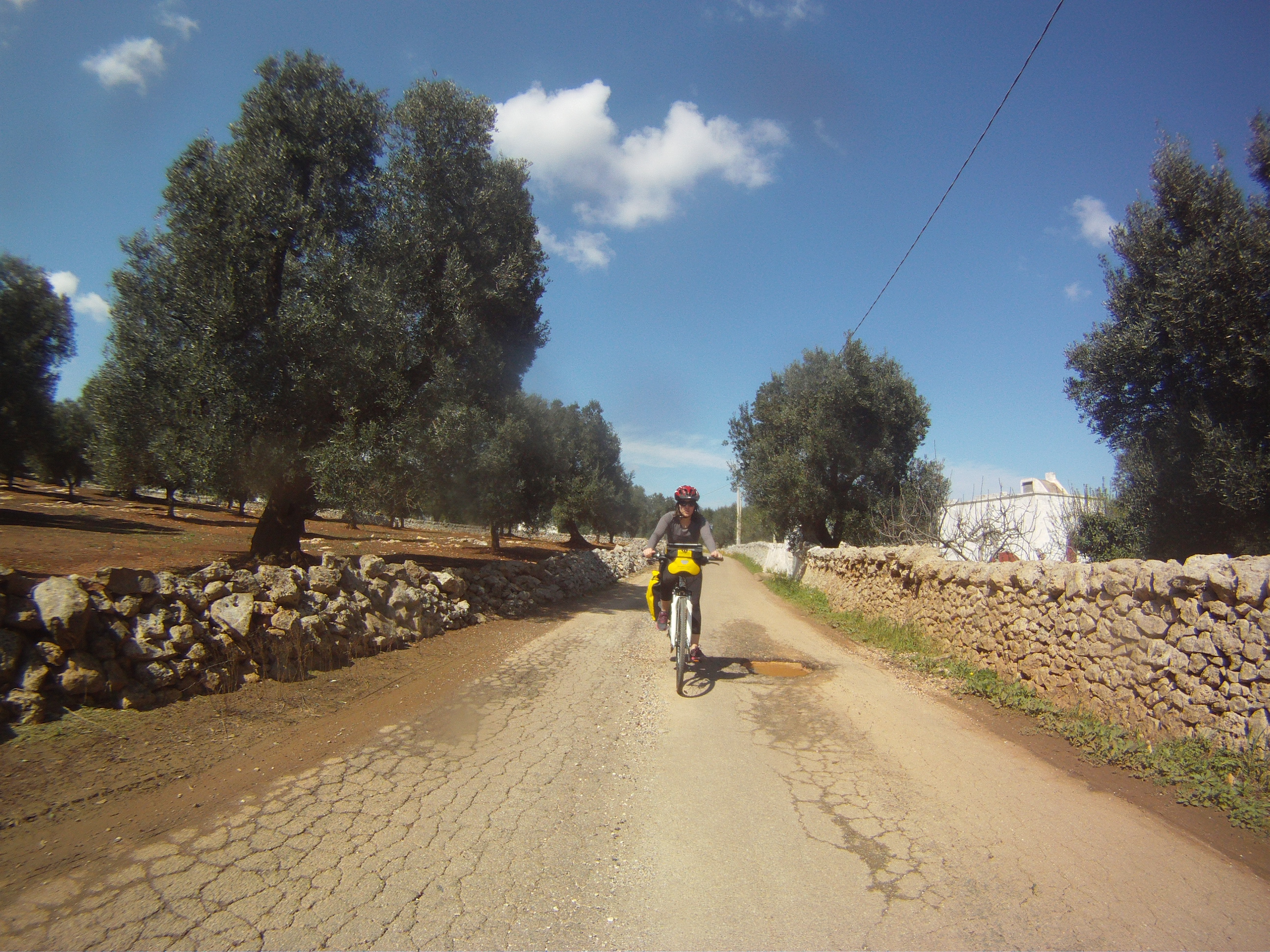 When is the best time to travel to Apulia?
The answer is easy: all year round! Apulia is a delightful travel destination all year-round because of its gentle Mediterranean climate. That being said, Autumn is the perfect period for cycling in Apulia, since this season boasts plenty of sunny days and warmth even through early November. Rain and tourists are both quite rare in Puglia all year round, which makes it an ideal destination to explore charming towns, rocky coasts, and white sandy beaches by bike.
What is there to see and do in Apulia?
This region has a great variety of natural, cultural, and historical sights to explore. By exploring the Pugliese countryside by bicycle, you will fall in love with the breathtaking landscapes featuring endless groves of olive and citrus trees as well as stunning sea coasts. If you are keen on history and art, Apulia has beautiful streets and incredible local architecture (Arab, Byzantine, Spanish and Norman). The Otranto Cathedral has one of the largest floor mosaics in Europe. In autumn, you can take part in grape harvesting to see how wine is prepared from the beginning! Apulia produces more wine than any other region in Italy, Pugliese grapes are known for their broad, flavorsome variety, contributing to around 17% of Italy's wine production. We suggest visiting www.viaggiareinpuglia.it/hp/en to learn more about attractions in the area.
To learn more about some things to do and to see in Apulia:
The Terrain
Apulia is a relatively flat plain, home to gently rolling Arcadian hills. Surrounding you is an active agricultural region (olives, oranges, grapes, tomatoes etc.). You are also rarely far from the sea!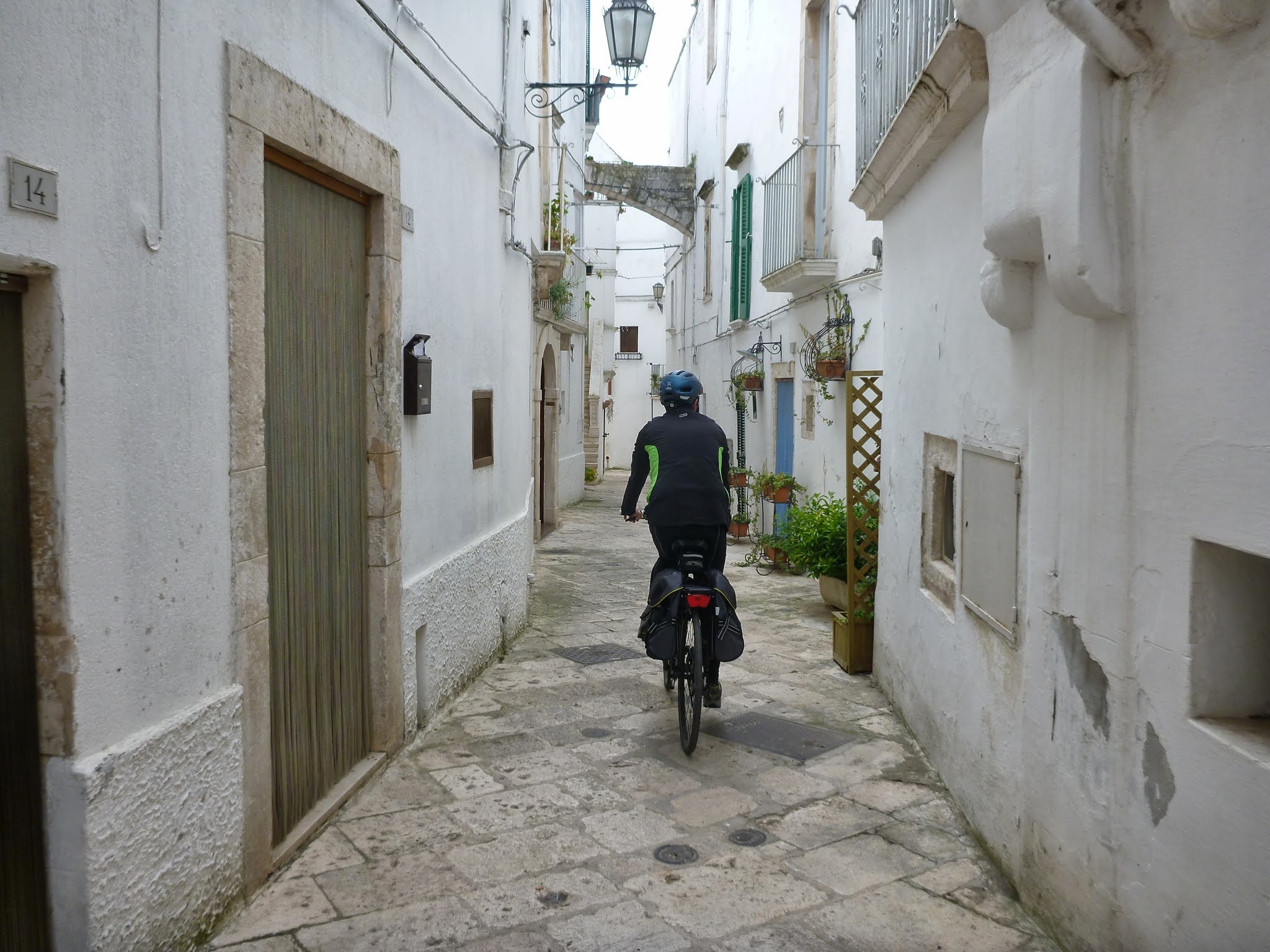 Apulia Weather and Climate
Apulia usually has warm or hot summers typical of Mediterranean climates. The climate in the spring and autumn is usually sunny with few showers and pleasant temperatures – but we suggest wearing layers of clothing so that you are ready for cooler mornings and hotter afternoons.
Temperature and Rainfall

Local produce/shopping
It might seem a bit repetitive to mention wine as a local product, but we suggest leaving a little room in your backpack or panniers each day, in case you want to bring home a favorite wine you've sampled. (Just make sure there's room in your suitcase later!)
If you visit Lecce, consider bringing home Papier-Mâché artwork- you'll be able to browse the works of professional artists who make lots of different works, from religious icons to modern shapes.
Gastronomy: Favorite Apulian products and dishes
You'll find an excellent gastronomical selection in Apulia–they are fans of appetizers! But don't fill up on antipasti! Expect the freshest seafood, homemade pasta, and extra virgin olive oil, in main courses. Apulia has some delicious regional specialties like fresh mozzarella, Pasticciotto (a custard pastry), Bombette (rolls with pork meat), and Tiella (rice, potatoes, and mussels) in main.
Gastronomy: Wine
Apulia is a leader in red wine production, so you can't go wrong with any red wine from this region. Their most popular wines are Salice Salentino and Primitivo di Manduria.
White Wine is also starting to flourish in this region. Local grapes such as Verdeca, Bombino Bianco and Bianco d'Alessano are gaining popularity and now sit comfortably alongside international favorites such as Chardonnay and Sauvignon. We recommend wine tastings and/or tours from the professionals while you're in Apulia!
List of links
Tourism
- www.viaggiareinpuglia.it/hp/en
Airports
Trains
- www.ferrovienordbarese.it/times
Buses
- www.aeroportidipuglia.it/bus-pugliairbus-
- https://booking.marinobus.it/
- https://www.busmiccolis.it/en/ 
- www.stpbrindisi.it/index.php/servizi/bus-aeroporto-stazione-fs-costa-morena
- www.napoliunplugged.com/naples-alibus-airport-shuttle
Car Rental
Avis (www.avis.com/)
Europcar (www.europcar.com/)
Budget (www.budget.com)
SIXT (www.sixt.com/)
Hertz Italie (www.hertz.com)
Enterprise Italie (www.enterprise.com/).
List of markets
We've organized some notable markets by location, date and time. If you happen to be in the area, stop by to check out the local produce! You never know what you'll find.
Alberobello
Thursdays: Largo Martellotta
Bari
Monday-Saturday, 7am-3pm: Mercato Coperto Santa Scolastica
Third Weekend every month: Basilica San Nicola
Brindisi
1st Sunday of the month: Piazza Teresa
Gallipoli
Wednesdays, Via Vittorio Alfieri 20
1st Sunday of the month: Outdoor Market
2ns Sunday of the month: Via Udine
Leece
Mondays & Fridays: Viale Roma
Monday Mornings: Viale dello Stadio
Last Sunday of the month: Piazza Libertini
Osutni
Saturdays, 8am-1pm: Via Gabbriele D'Annunzio
2nd Sunday of the month: Via Martiri di Kindu