A Cycling Trip To Italy: Choosing The Perfect Region
15-03-2019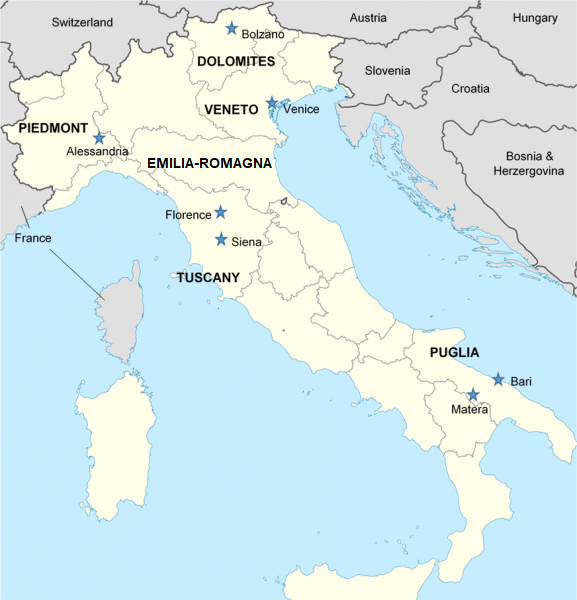 When you think of Italy, food probably comes to mind first. Pizza, pasta, truffles, wine…it's hard not to feel hungry! But we can assure you that Italy has even more to offer than gastronomic delights. It's the home of bygone masters (Da Vinci, Michelangelo, Vivaldi, and Dante, to name a few); the landscape is as varied as its wines, transforming from gently rolling hills into towering peaks; and hidden rural villages are as much a treat to explore as the famous metropolises of Venice, Florence, and Rome. All these aspects come together in creating a vibrant, rich, and sensual experience for anyone who visits this country and its diverse regions. And as far as we're concerned, there's no better way to visit Italy than on a bike!
We operate tours in six regions in Italy: Piedmont, the Dolomites, Veneto, Emilia-Romagna, Tuscany, and Puglia. As is the case in France, the terrain, cuisine, and architecture vary by region…so how will you choose where to explore? Well, we've put together snapshots of each region which may help you in narrowing down your choice:
The Dolomites
 
The Dolomites are an Alpine mountain range separating Italy from Austria, so it should come as no surprise that some of our itineraries feature mountain climbs (like those in the Giro d'Italia). Most, however, are easy-to-moderate level, and speeding downhill on a designated cycling path provides quite a rush! Nestled in these majestic mountains are small charming villages, 13th-century castles, lush valleys, and even a nearly 5,000-year-old mummy (he's in a museum). While you cycle through, you'll be sure to notice the German influence on regional language, food and architecture — especially in the cities of Bolzano and Trento, where Renaissance paintings reside in Gothic buildings and spaghetti might be served with Gröstl! This unique blend of cultures makes the Dolomites a great region for those who want something other than the typical trip to Italy. Our most comprehensive tour of the region is The Dolomites' Not-So-Secret Uphills: from Dobbiaco to Venice, though it is a fairly challenging tour. For leisurely riders, The Old Dolomites Railway: Dobbiaco to Venice provides an easier ride while still taking you through the most famous spots of the Dolomites (e.g. Cortina)—without the strenuous climbs. We've also organized more Dolomites-focused tours for private groups (6 or more) on a guided/supported basis if that suits your interests more.
Pros: The geography of the region means you'll get to cycle through and experience a variety of landscapes and cultures
Cons: Climbing the Dolomites is not for everyone…which is why we also offer more leisurely itineraries for our non-avid riders!
Emilia-Romagna

Emilia Romagna lies between the River Po to its north, the Apennine Mountains to its south, and the Adriatic sea to the east. Picturesque rivers, diverse forests and hills, craggy limestone mountains, and wide sandy beaches offer plenty of scenic diversity! Emilia-Romagna is known for its medieval cities, rich with history. These cities have arched porticos lining the streets and squares, and are home to brightly colored mosaics! This is also the perfect region for those looking for the best food in Italy. Emilia-Romagna contains Parma, Modena, and Bologna- known for Parmesan Cheese, Modena Balsamic Vinegar, and Bolognese sauce. Our Gastronomic Cycling from Parma to Bologna tour will take you through all the important stops in this food-lover's paradise.
Pros: The region is easily accessible by plane or train. The flat Italian landscape makes the area easy to explore at a leisurely pace. Plus the region is home to some of Italy's best pasta and sauces.
Cons: For those looking for a more challenging ride, you may find this area too flat.
Piedmont

One of our new favorite Italian regions is incredibly underrated, so if you're looking to escape throngs of tourists, consider Piedmont in northwest Italy. Surrounded on three sides by the Alps, Piedmont aptly translates as "foothills". Its unique situation means you can expect hilly terrain (some more challenging than others) as well as breathtaking views of the surrounding peaks and valleys as you cycle through. Although Torino (Turin) is the best-known city in this region, we think the real stars are its smaller towns. These include Alessandria, Asti, and Alba—the latter, home to such gastronomic decadence as the white truffle…and Nutella! And with the region being a top producer of rice, wine, and dairy products, you'll also have treats like Gorgonzola cheese, creamy risotto, and the velvety Barolo red tempting you off your bike. With such a combination of natural and cultural delights, we doubt Piedmont will fly under the radar for much longer! Our most comprehensive tours of the region are Gastronomic Piedmont: From Torino to Alba and Turin to Milan : From the Alps, via Lakes to Fashionable Milan.
Pros: In this lesser-known region of Italy, you're unlikely to encounter hordes of tourists as you might in the Veneto or Tuscany
Cons: You'll encounter some short sections of busy traffic and gravel roads on the way in and out of some cities…but from our clients' feedback, this has never been an issue.
Puglia

Although on the rise as a tourist destination, Puglia (also known as Apulia) is still for the most part undiscovered. We can't help but wonder why—after all, the region boasts pristine beaches, colorful landscapes, and an enviable Mediterranean climate! As it is though, you can expect very quiet roads all year-round, winding through beautiful farmland and along the Italian coast. And although some of the villages you'll visit have been built on hilltops, the rides themselves don't involve much climbing. The leisurely cycling means you'll have more energy to discover the rich history of Puglia: ancient cave dwellings in Matera, towering coastal citadels, grand palaces, and the unique Trulli of Alberobello are sure to make your jaw drop! However, we recommend picking it back up if you want to taste the region's popular rustic cuisine. Puglia's warm weather and coastal location produce a bevy of sun-ripened vegetables, golden olive oil, and fresh seafood that are the perfect sustenance for the hungry cyclist. Our most comprehensive tour of the region is Jewels of Southern Italy: Matera to Lecce.
Pros: The terrain in Puglia is fairly flat and traffic is light, providing a leisurely cycle
Cons: It can be extremely hot during the summer months; luckily, our tours here run all year-round so you can cycle in more pleasant temperatures. Furthermore, a lack of road signs can make navigating tricky—because of this, we provide all riders with a GPS device.
Sicily


An autonomous region of Italy just off the country's coast, Sicily is the largest island in the Mediterranean. This region has a rich and unique culture due to the various civilizations that have called this island their home, such as the Sicani, the Phoenicians, the Greeks, the Vandals, the Ostrogoths, the Byzantine Empire, the Normans, and even the Spanish. This mix of backgrounds comes through in local arts, music, literature, cuisine, and architecture. You can expect very quiet roads all year-round, winding through olive and citrus farms, as well as fields, baroque towns, and aqua beaches. This region has both leisurely and avid tours, so there's something for everyone. Like Puglia, Sicily's warm weather and coastal location means their gastronomy includes sun-ripened vegetables, golden olive oil, and amazing seafood! Our most comprehensive tour of the region is Sicilian Crossroads.
Pros: The terrain in Sicily is fairly varied and has a beautiful coastline, providing for a scenic cycle
Cons: It can be extremely hot during the summer months; luckily, our tours here run all year-round so you can cycle in more pleasant temperatures.
 Tuscany

Home to some of Italy's most beloved scenery, flavorful wines, and iconic art, it's easy to see why Tuscany is a favorite among travelers. On our tours in this region, you'll be riding between major cities (e.g. Florence, Siena, and Pisa) and tiny villages alike, along rolling countryside roads and surrounded by sunflower fields, olive groves, and lush vineyards. As the birthplace of the Renaissance, there's endless architecture and artwork to admire, in museums and town squares alike. And of course, you'll probably want to enjoy a wine tasting at a winery or two. To fuel you for each day's ride and exploration, you'll be supping on hearty Tuscan fare: Florentine steak, ribolita soup, and rich cavallucci biscuits. Our most comprehensive tours of the region are Tuscany's Jewels and Treasures (for leisure riders) and the Giro of Tuscany (for avid riders).
Pros: As the closest Cyclomundo region to Rome and with two busy airports, it's perhaps the most accessible region.
Cons: Cycling Tuscany requires a good fitness level to make it over the rolling hills. However, places like Florence, Pisa, San Gimignano, and Siena certainly make it worth the effort!
Veneto

The Veneto region sprawls inland from the Adriatic Sea and the Venetian Lagoon, and is an area well-served by air and train. The star, of course, is Venice, and extra nights can be arranged here post-tour if you so wish. But you're sure to fall in love with the rest of the region too as you cycle through—there's beautiful Verona, of Romeo & Juliet fame; more World Heritage Sites than you have space for in your camera; and on our tours that cross into the Dolomites region, you'll ride along and overnight by the stunning Lake Garda. The Veneto's relatively flat landscape and defined bikeways make for leisurely cycling…giving you plenty of time to enjoy the region's fresh seafood! Our most comprehensive tours of the region are Treasures of the Veneto and Across Lake Garda to Venice.
Pros: The region is easily accessible by plane or train. The flat landscape and occasional bike paths make the area easy to explore.
Cons: Some of the roads can have busy traffic. And Venice at the height of the tourist season can be quite crowded…but then again…it's Venice!
For more information on our cycling tours in Italy, feel free to contact us or visit our website. A presto!