A Cyclomundo Favorite: "Cycling Through Lavender"
12-04-2016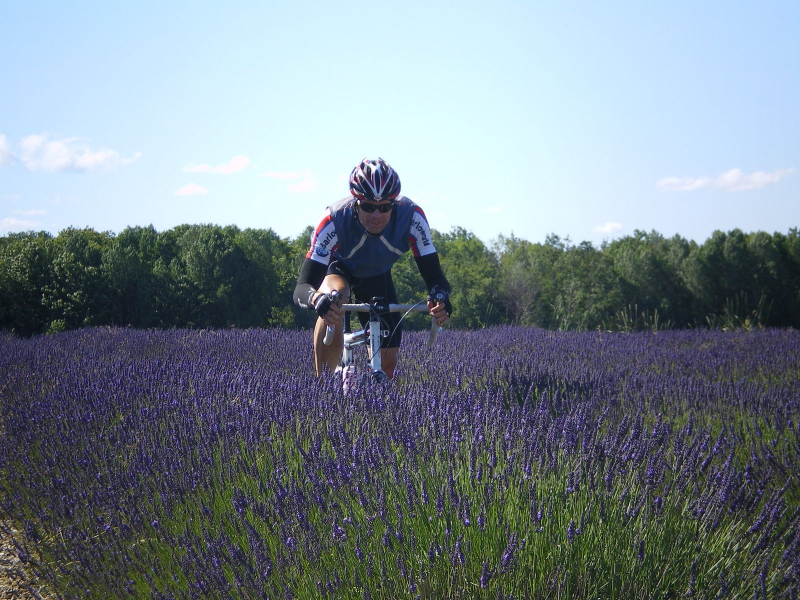 It's that time of year when the vibrant purple hues of French lavender overtake your field of vision and the air is filled with their intoxicating fragrance. There's a lot to take in when you're cycling through lavender in Provence! And even in the off-season, there's much to do in Upper Provence, such as visiting the Gorges du Verdon and a myriad of pretty villages.


But first — you must get to Manosque to begin your tour.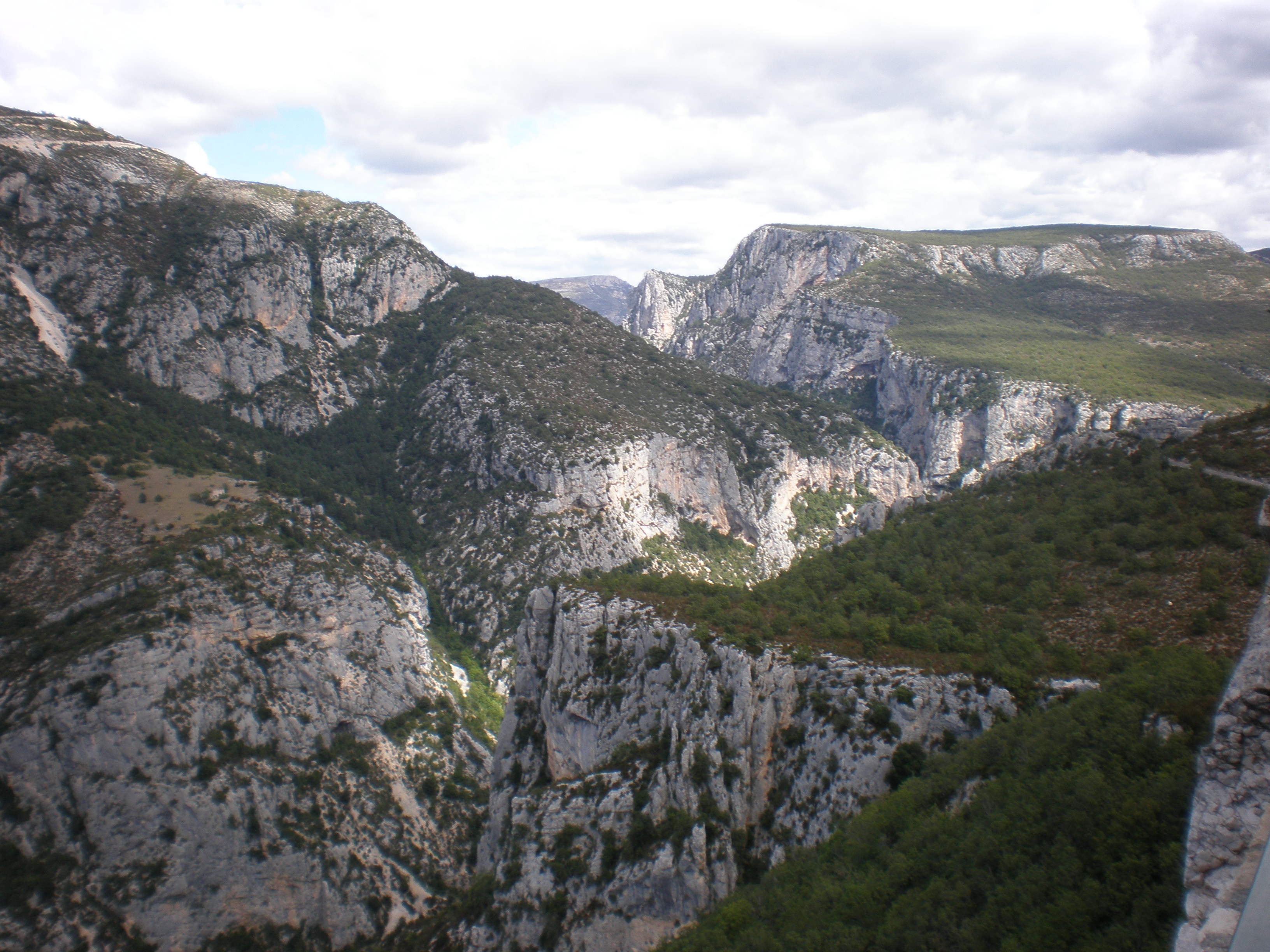 GETTING TO MANOSQUE AND FROM THERE, TO FORCALQUIER
Your first hotel of "Cycling Through Lavender" is in Forcalquier. The closest train station is in nearby Manosque, so you must arrive there first. Here's what we recommend:
If you haven't bought your plane tickets yet, we suggest flying to Marseille, as you can take a bus to Manosque directly from the Marseille Airport (MRS). Alternatively, you can take a train from the downtown train station, Marseille Saint Charles, to Manosque. Note that there's a shuttle from the airport to the train station every 20 minutes.
You can still reach Manosque from Paris if it's better for you to fly there. In fact, it's quick to head from Charles de Gaulle Airport to Paris' train station, Gare de Lyon. From Gare de Lyon, take a train to Manosque via Aix-les-Bains or Marseille; the ride will last approximately 4.5 hours.
Once you've arrived in Manosque, Cyclomundo makes it much simpler to get to your hotel in Forcalquier. We will arrange an included transfer from Manosque (either the train station or bus station) directly to your hotel!


Your hotel in Forcalquier is located 1 mile from the center of town and about 17 miles from Manosque. You couldn't ask for a more charming environment, but it means that you are a bit removed from civilization. (This is why we will arrange your transport from Manosque — it cuts down the time and number of transfers!)


If your bus or train arrives in Manosque before or by lunchtime, we recommend bringing some snacks, as your hotel in Forcalquier does not have a restaurant. (You'll have the option to enjoy a light "country platter" at the hotel.) If time allows and you'd like to visit Manosque before you go to Forcalquier, we can delay the transfer to your hotel (just inform us of your preferred pick-up time). Be aware, however, that there is nowhere to store your luggage while you wander through Manosque.
IN FORCALQUIER
Upon check-in at your hotel, be sure to have a chat with the staff at the reception. They will arrange for your transfer to the town center for dinner that will be served at one of the hotel's restaurant partners.


While you're in town, spend some time strolling around, as you may not have much time to explore it before you ride to Digne the next day!


If you have to spare, you can take a dip in the hotel pool or wander the grounds… and of course, unwind before your cycling tour begins.


ATTRACTIONS WHILE ON TOUR
You'll find a number of local attractions in the route notes provided by our local representative, but we figure you might want to choose your travel dates by knowing in advance what there is to see and do. (And also, of course, to see the lavender in bloom in July…)
Lavender
L'Occitane en Provence Factory and Museum
If your goal is to immerse yourself in the land of lavender, olive oil, and herbs, don't leave Manosque without a visit to the L'Occitane factory and museum! Get the inside scoop on their world-renowned fragrances and skincare products —and grab a few souvenirs at the store.
The factory is open from Monday to Friday for tours; however, you must make reservations in advance for guided tours in English. Please note that the website is actually out-of-date as we've learned the tourist information desks in Manosque and Gréoux-les-Bains no longer take reservations. Please call L'Occitane directly at +33 4 92 70 32 08 to make a reservation. You can visit the museum and store from Monday to Saturday, 10 am to 7 pm, at will; prices at the factory store are 10% lower than you'll find elsewhere!
The factory is located outside of the town center, so you will need to take a taxi there. Before your cycling tour, you could take a taxi directly there (at your own expense) from Manosque and we'll arrange your included transfer to Forcalquier after your visit, Or, to visit after your cycling tour, we can arrange your included transfer from your final hotel to L'Occitane, and from there you could arrange your own transfer to Manosque's train station.
Learn more about lavender distillation on this organic farm in Thoard. Free visits are possible from 10:00 am to noon and from 2:00 to 5:00 pm every day in the summer; in the winter, you must make an appointment. We recommend calling to check availability in advance!
Lavandes Angelvin Distillery
Meet the owners of this distillery during a store visit in July and August, from 9:00 am to 7:00 pm. In the off-season, call ahead at +33 4 92 74 80 53. Their website is in French only.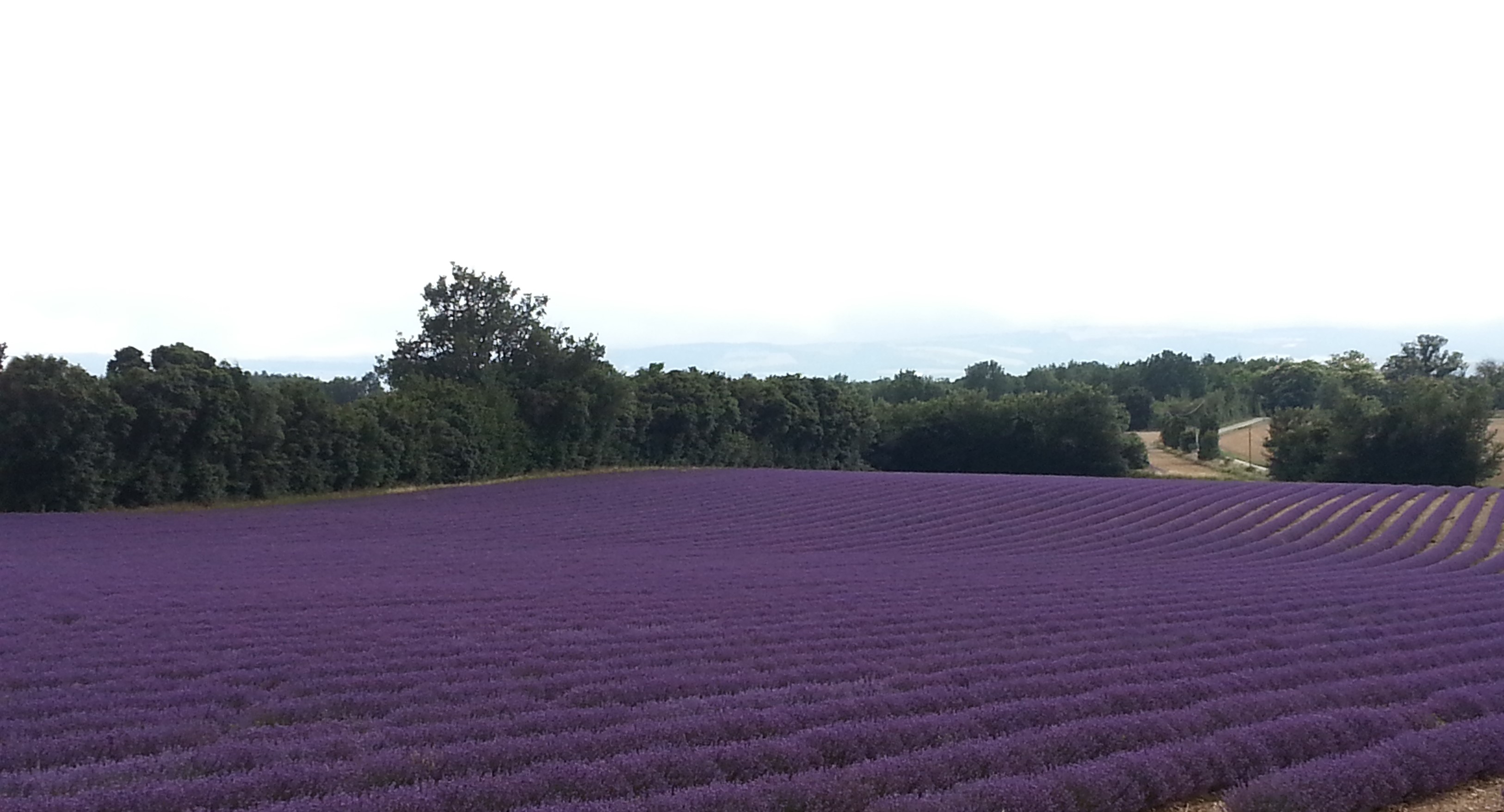 Olive Oil
Moulin Fortuné Arizzi, an olive oil mill in Les Mées (between Forcalquier and Digne), is open during weekdays from 8:00 am to noon and from 2:00 to 6:00 pm. You can tour their facility and grounds for free, and sample some of their extra virgin olive oil. An extensive tasting can be arranged for a fee.

Ceramics
Discover the history and tradition of Provençal ceramics at the Musée de la Faïence in Moustiers-Sainte-Marie. Visits are 3 euros per person and hours vary by season, but it's always closed on Tuesdays. 
Spas, Thermal Baths, and Massages
There are thermal baths open to the public in both Digne and Gréoux-les-Bains. In France, healthcare will often cover "cures" for arthritis and respiratory issues at thermal spas, and so some treatments offered at local spas require prescriptions and take place over the course of a few days. These are not the types of services you should look at, but rather, consider massages, aromatherapy, and of course, a chance to relax in the baths.


In Digne-les-Bains, you can access the swimming pool, hammam, and sauna for 20 euros. On Saturdays, the thermal pool is closed, but you can enjoy the sauna and hammam in the morning. The resort website is in French, so we recommend you speak to your hotel reception if you have any questions or want to book a specific treatment.
You'll also find relaxing spa options in Gréoux-les-Bains, which is open every day except Sunday, from 2:00 to 6:30 pm from May through November. Their "Spa & Fitness" website is in French only, but a quick run through Google Translate makes the meaning apparent. Hotel staff can help you out, too.
WEEKLY MARKETS AND SPECIAL EVENTS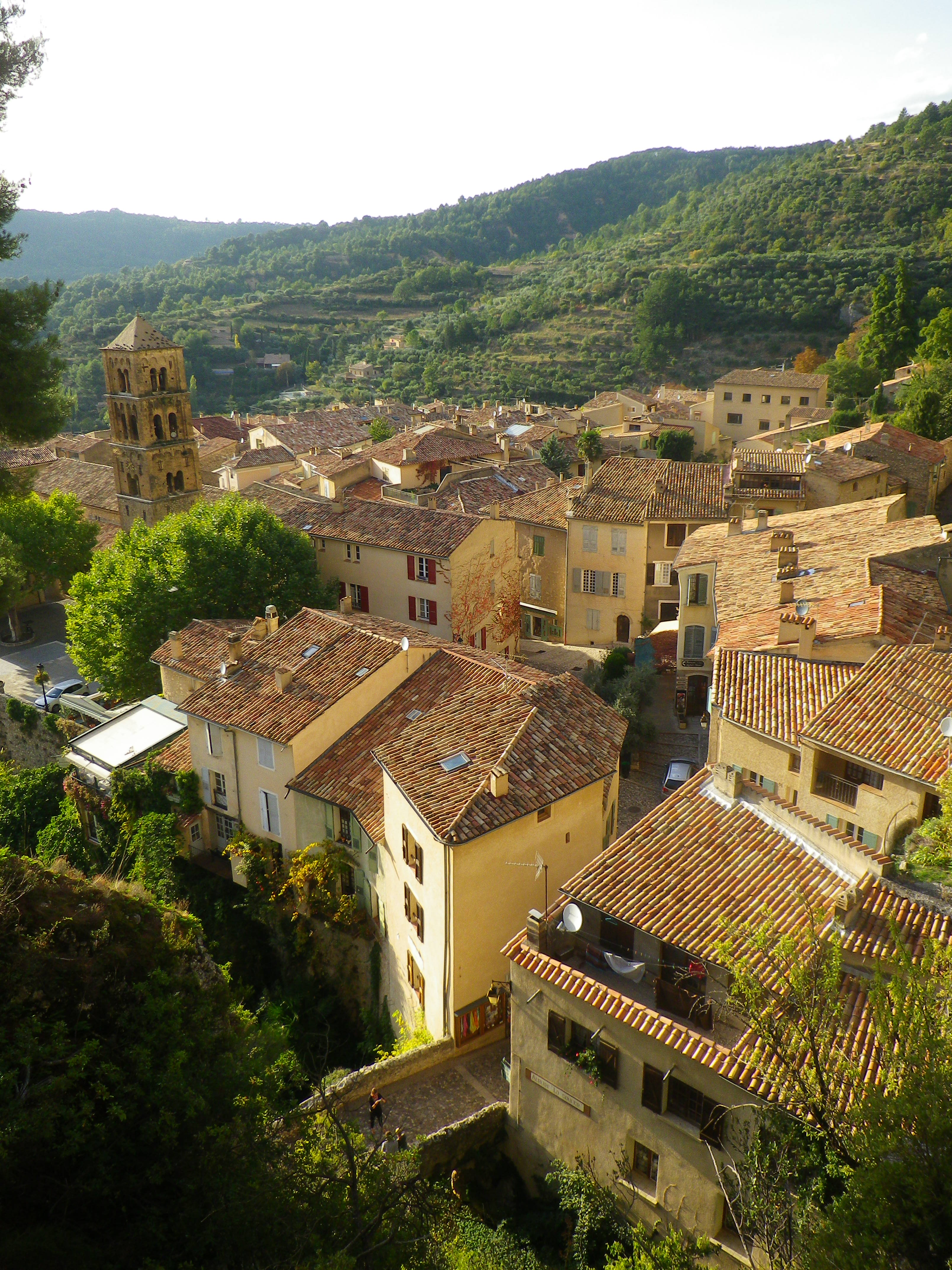 Manosque: Saturday morning, Place du Terreau; Wednesday morning, Promenade Aubert Millot
Forcalquier: The region's biggest market is on Monday morning in the town center; Another one happens Thursday afternoon at the Place du Bourguet; Flea markets on Sundays in July and August
Saint-Etienne-les-Orgues (between Forcalquier and Digne-les-Bains): Wednesday morning, Place Pasteur, Rue Grande, Place des Ormeaux
Digne-les-Bains: Wednesday and Saturday mornings, Esplanade Charles de Gaulle
Moustiers-Sainte-Marie: Friday morning, Place de la Mairie; farmers' market Sunday afternoons, Saint-Jean roundabout
Gréoux-les-Bains: Tuesday morning, Place de la Mairie; the Grand Marché Provençal on Thursday mornings, Parking des Marronniers
Valensole: Wednesday and Saturday mornings, Place Frédéric Mistral
Festivals and Special Events
In many cases, these special events can only be found online en français, or not at all. If you're in town, look for posted signs saying "Fête" or "Festival" de la / du [name of event] and the dates — that's how you know an event is going on. Also, check with the local tourist office and your local representative!
Forcalquier

Sundays year-round: Carillon bell concert at Notre-Dame-de-Provence chapel

Digne-les-Bains

June 18, 2016: Jazz Festival ("Jazz sous les arbres")
June 21, 2016: Music Festival
August 5-9, 2016: Corso de la Lavande, a colorful festival devoted to lavender (in its 70th year!)
August 24-28, 2016: Foire de la Lavande (more lavender!), a lavender fair in its 95th year

Manosque

June: Biennual Medieval Festival (every 2 years)
July: Musiks à Manosque festival in the Parc de Drouille
August: International Festival of the Luberon in Theatre Jean le Bleu and Parc de Drouille
September: Journées du Patrimoine (includes free visits to the Centre Jean Giono and the Carzou Foundation)

Valensole (between Moustiers-Sainte-Marie and Gréoux-les-Bains)

July 17, 2016: Lavender Fair with parades, performances, and lavender field tours, all over town

Moustiers-Sainte-Marie 

July 8-26: Outdoor cinema on Fridays at 9:30 pm at the schoolyard
REFERENCES
Buses
Trains
Tourist Information