Traveling with a bike on trains in France
20-03-2019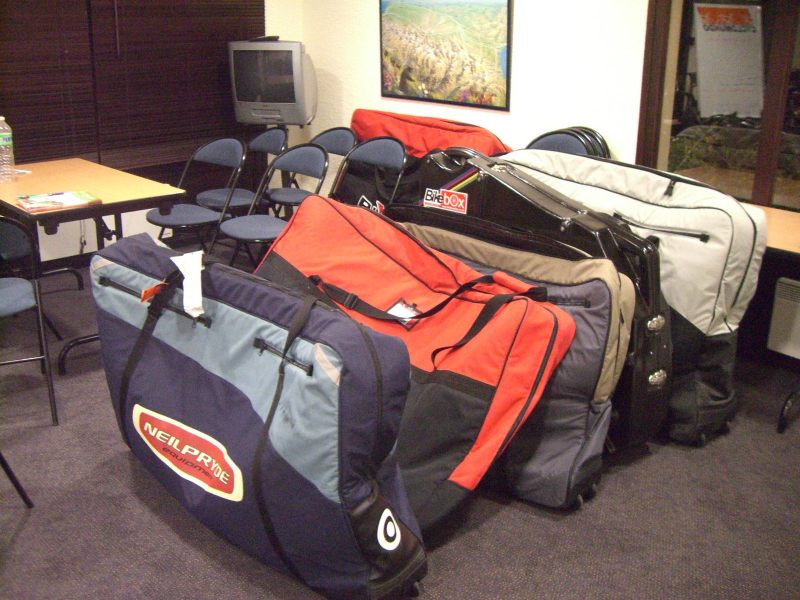 First of all, you should ask yourself if you should rent or bring your own bike.
If you plan to do some riding in one small area for a couple of days, chances are that you'll be better off renting a bike–we offer bicycles for all of our tours in France. In most areas, leisurely riders can easily rent aluminum hybrid bikes or racing bikes. In a few areas such as Provence and the French Alps, we also offer high-end carbon fiber racing bikes.


If, on the other hand, you plan on some serious riding and are very specific about your bike… you should not think twice about bringing your own bike! (Provided you don't have to go down 10 flights of stairs, take 3 buses, and 4 flights before getting to your departure train station in France!)


If your travel plans involve a flight, we highly recommend that you fly into an airport that is connected to a train station. Flying to Paris Charles de Gaulle Airport, Lyon Saint-Exupery Airport, or Marseille Airport, for instance, will make your trip much easier as these three airports are each connected to a train station. You don't want t be lugging your bike on public transport/a bus in order to get to your train station!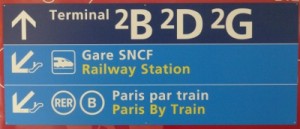 How to Buy Your Train Ticket
Two options are possible:
But at the station, either from the counter or from self-service machines
Buy online from SNCF's website

We recommend the last option as you're more likely to secure special deals that way (in some cases, you can really save a considerable amount!) If you are planning on traveling a lot around Europe, keep in mind that you can purchase a Eurail pass. Eurail passes cover one country (that you choose upon purchasing) or you can get a Global Eurail pass that covers 31 countries. Eurail offers the ease of selecting a day to use it and being able to hop on as many trains as you need for a 24 hour period. For more information on French Eurail passes, check out: https://www.eurail.com/en/eurail-passes/one-country-pass/france.


Types of Trains and Bike Space Reservations
Regardless of the way you buy your ticket, and depending on your location, your train ride in France will be done on three different types of trains:
High-speed TGV trains (the major lines in France)
"Intercités" trains (Transregional lines which are not served by TGV trains)
TER trains (Regional trains)


If your bike is disassembled and fits SNCF's 120 cm x 90 cm luggage maximum, then it is considered luggage on all trains. This means your bike will travel with you for free! Please note that this means your bike must be placed in designated luggage spaces which are first-come, first-served.


Assembled bikes are a little trickier. TGV trains and some Intercités trains require ticket reservations for your seats/beds. If you need a space reservation for yourself on your train ticket, your bike also needs a space reservation, which costs 10 euros. This bike space can be purchased with your ticket online, or with your ticket at the train station. Trains with no reservations (day-time Intercités trains and all TER regional trains) let you travel with your assembled bike for free, but bike spaces are available on a first-come, first-served basis.

Exceptions: The Quimper-Nantes-Bordeaux-Toulouse Intercités line, Bordeaux-Nantes Intercités line, and Lyon-Nantes Intercités line require bike bookings, for a 5 euro fee.


 Bicycle logo = space for bikes
Train Summary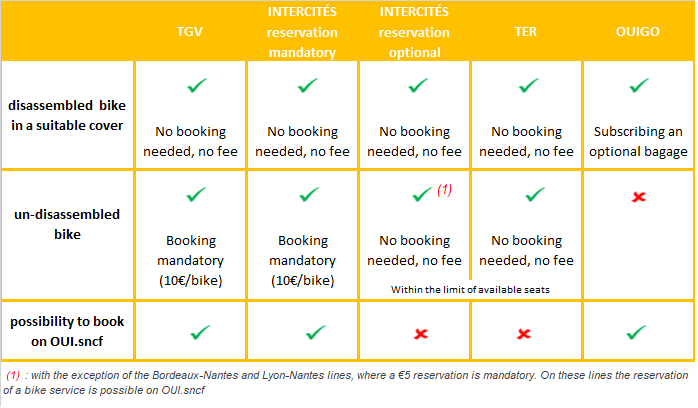 Do keep in mind the following when buying/traveling by train:
– You need identification: a passport and/or visa for non-EU citizens.
– Your luggage should be tagged
– The difference between first and second class seats: First class has more spacious and adjustable seats with headrest, footrest and fold-down tables. This section also has individual reading lamps and is a quiet space. Both classes have power sockets at every seat for all your technology needs, as well as a bar/buffet car. 
-There is a small bench seat outside each main seating area to make mobile calls. The option of WiFi is also given on some trains.


For more travel information, we recommend:
You may also contact us. When scouting areas for our tours, we most often travel by train!