Organizing Your Own Trip To Mont Ventoux
15-04-2016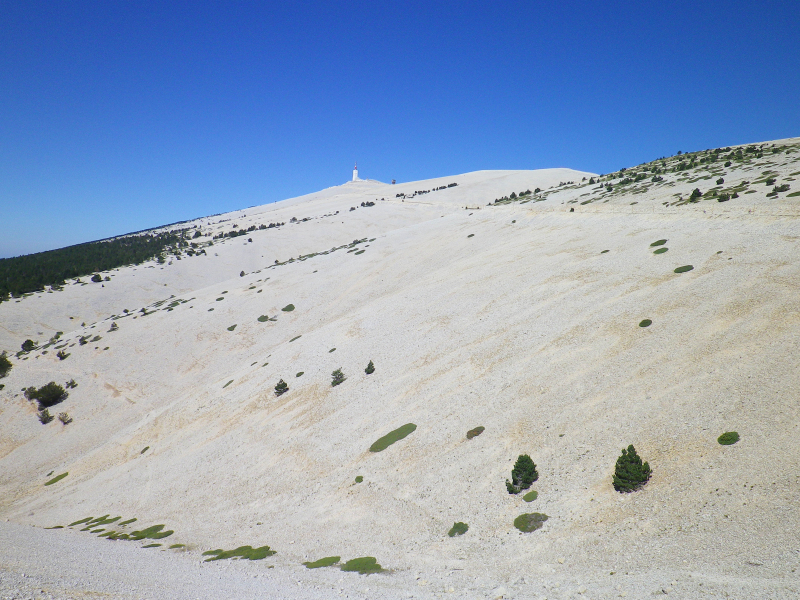 Philosopher and bicycle racing fanatic Roland Barthes once said,


"Physically, the Ventoux is dreadful. Bald, it's the spirit of Dry: Its climate – it is much more an essence of climate than a geographic place – makes it a damned terrain, a testing place for heroes, something like a higher hell."


Why on earth would you use your limited time in Provence— a region of France famed for incredible scenery and warm, sunny weather — to cycle through "hell"? You might be crazy, but it's the kind of crazy we at Cyclomundo applaud. If you're familiar with our tours in Provence and the Alps, you've no doubt noticed that a few (such as Cycling Jaunt through Upper Provence and Luberon, Tour of Provence, Upper Provence, Ventoux and Luberon, and Ventoux to Alpe d'Huez) include routes featuring Mont Ventoux. (Whether one ascends the "Giant of Provence" or merely views it in the distance is a different matter!) Perhaps you don't have time for a full cycling tour, but you're willing to give Mont Ventoux your best- we're here to offer advice on planning your own trip to Mont Ventoux.


Cycling Mont Ventoux
Mont Ventoux earns one of its many nicknames — "the bald mountain" — thanks to its deforested summit, the result of which is an eerily empty, moon-like landscape. Elsewhere on the mountain, a variety of plants and animals live in a UNESCO-protected biosphere.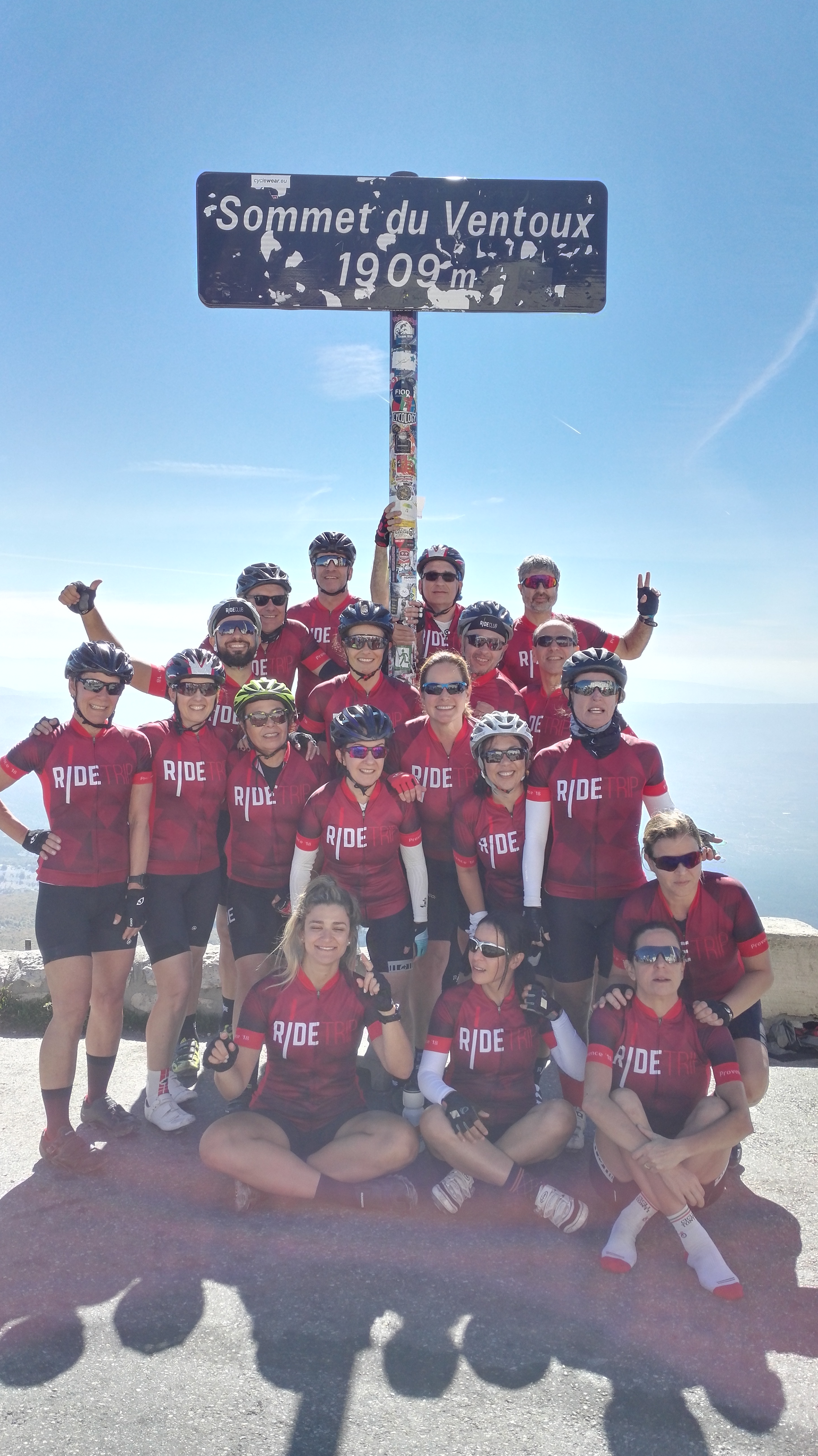 Of course, the most likely reason you want to climb Mont Ventoux is that it's one of the mythic Tour de France climbs! It was first featured in a stage called the "Chaudron de l'Enfer" or "Hell's Cauldron" in 1951, a ride from Montpellier to Avignon; and is still included frequently. In some years, like in 2009, the summit (1910 m) was even the stage finish line. Iban Mayo still holds the record for the fastest ascent, recorded during the 2004 Dauphiné Libéré, clocking in at 55 minutes and 51 seconds (at a speed of 23.10 km per hour).


Ventoux is one of the most challenging climbs of the Tour, thanks to its ever-changing gradients, high winds, and sometimes, extreme heat. In 1967, Tour de France cyclist Tom Simpson collapsed near the top. Many serious cyclists stop to pay their respects at his memorial on their way up, about 2 km from the top — but do note you'll only pass it on the route from Bédoin or Sault, not Malaucène.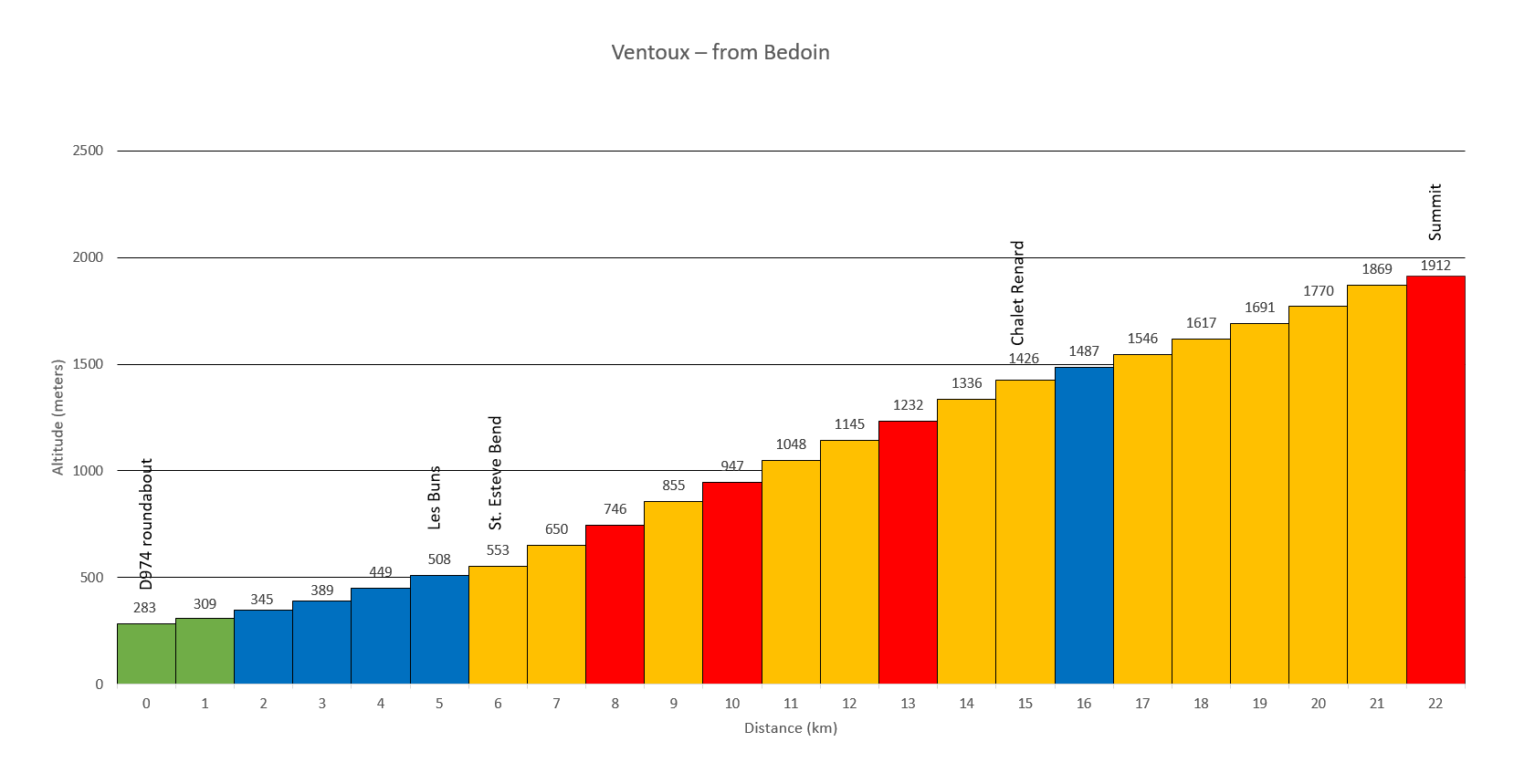 There are three classic routes* to the summit (at 1912 m or 6,273 ft above sea level):
Southern Ascent via Bédoin
The classic route most often used in the Tour de France begins in Bédoin, at 300 m above sea level. From Bédoin, cyclists ride 21.5 km (up 1612 m, at an average gradient of 7.5%) to the top. The first .5 km are an easy ride, but through 9.5 km of forest from St. Esteve, cyclists encounter a gradient of anywhere from 7% to 12%. Upon emerging from the forest at Chalet Reynard, the final 6 km of the ride are exposed to the elements; the wind could hinder you or help push you to the top!


Northern Ascent via Malaucène
Another challenging route begins in Malaucène about 360 m above sea level. This ride is tricky because just when you think you've got it easy, the gradient changes to 9% or higher, or you're faced with a hairpin turn. The upside of the Malaucène route is that on a clear day, you'll enjoy unmatched views over the Alps!


Eastern Ascent via Sault
The longest route —but the least difficult — begins among the lavender fields in Sault. The advantage of a Sault ride is the starting elevation of about 694 km. The first 20 km of this ride are gentle, even nearly flat, at an average gradient of only 3.6%. However, once you reach Chalet Reynard, your easy ride is over — you must follow the Bédoin route to the top.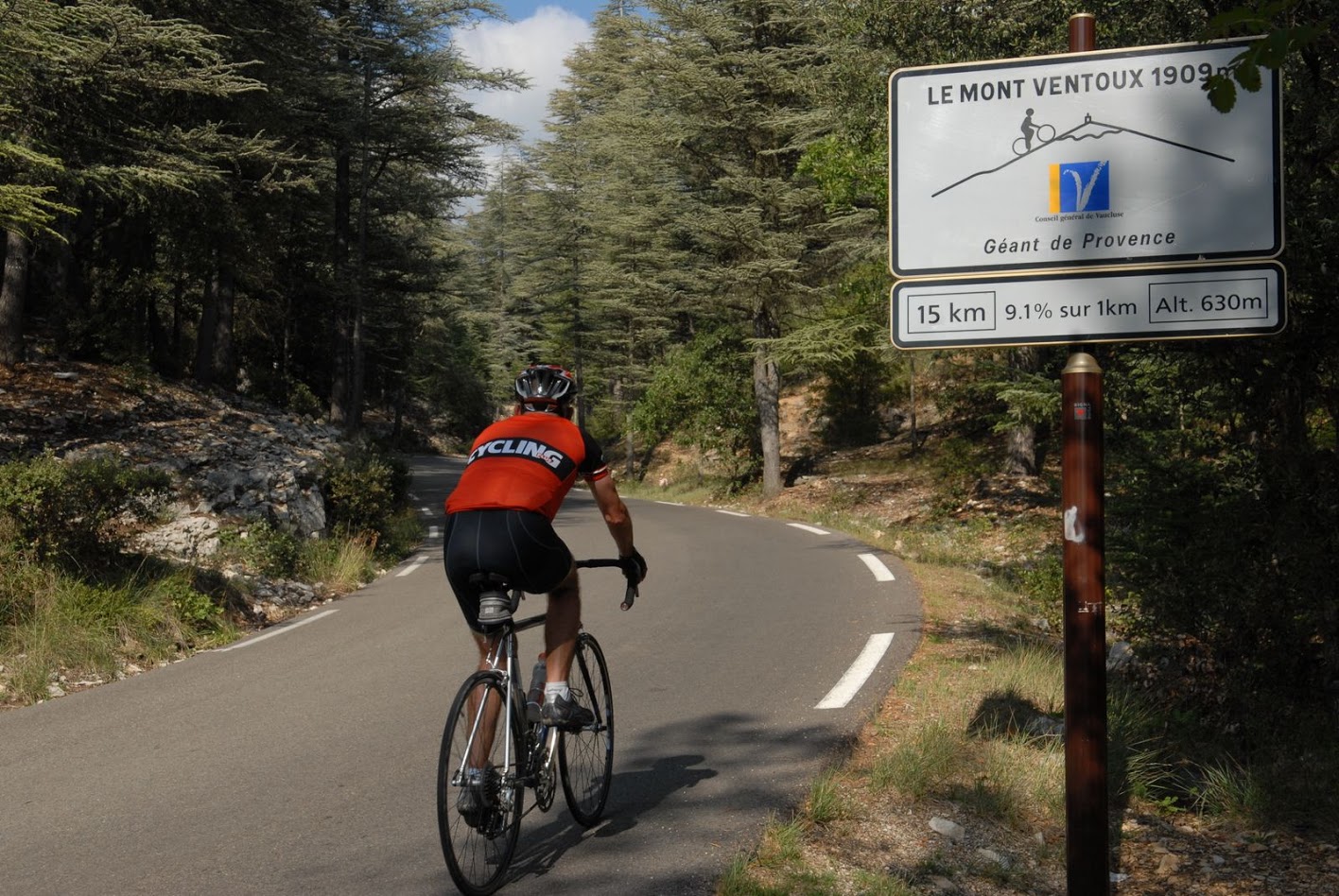 *A relatively unknown fourth route along a sometimes-unpaved path — the Route Forestière — exists as an alternate route from Bédoin, but we do not recommend following it unless you are participating in the Galérien challenge (see below).
Club des Cinglés du Mont-Ventoux
If you want to prove your mettle and cycle all three main roads to the top in one day, you might be "Crazy About Ventoux!" Yes, there's a club you can join…


The "Cinglés du Mont-Ventoux" is a group of cyclists — not elite racers, but regular people who've trained hard and love cycling — who have completed either of these physical challenges:
The Cinglé challenge requires you to cycle all the way up and down Mont Ventoux along each of the three main routes in one day (in the order you prefer, on a date of your choosing).


The Galérian challenge is the same as the Cinglé PLUS the fourth route, the Route Forestière, added into the mix.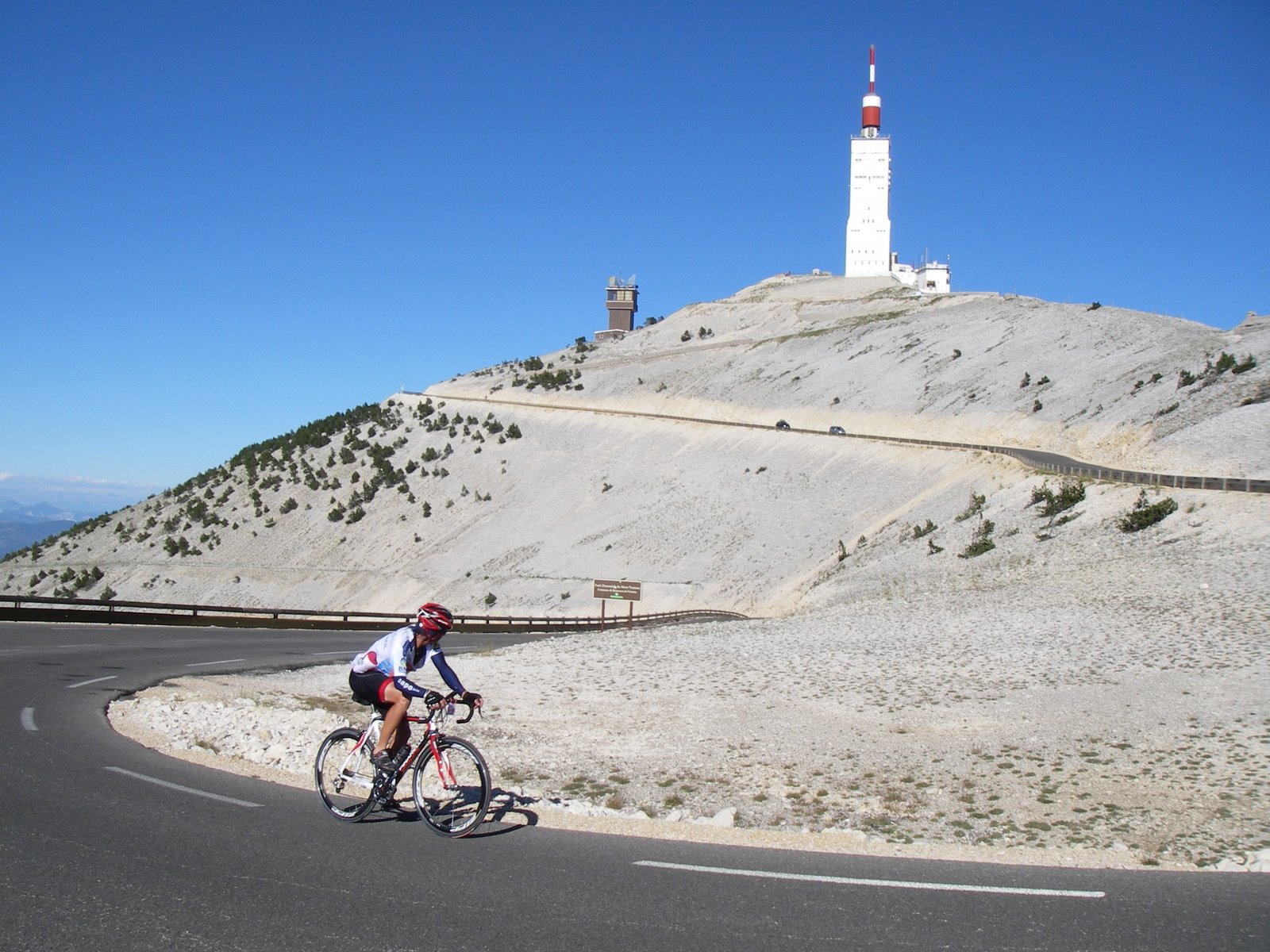 To date, about 1,000 people can say they're part of this fellowship, including some septuagenarians. If this challenge sounds like your cup of tea, review the rules in advance so that when you complete it, they'll be able to certify your craziness… we mean membership!


Getting to Mont Ventoux


Before we tell you the best ways to get there, please keep in mind that when you get there is more important! Mont Ventoux is technically part of the Alps, so expect the summit to be extremely cold during the winter. In the summer, you must be aware of the Mistral winds — they can blow at hurricane-level speeds! Check windfinder.com for an accurate forecast.


As you might imagine from a place called "the Lonely Mountain," Mont Ventoux is a bit off the beaten path. There's no quick or simple way to get there, unfortunately. See the next section "Where to Stay" to figure out your base.


First order of business: Fly to France!

Consider flying into Paris, Marseille, Lyon, or even Grenoble, depending on your provenance and budget. Since there's no airport close to Mont Ventoux (which is officially located in Bédoin), you'll have to use an additional transportation option:


Rent a Car
Get a car from the airport, or from Orange or Avignon, and drive to your chosen base. We typically use Europcar, and some of our partners use ADA.


Take a Train
From the Paris, Marseille, Lyon, or Grenoble airport, take a train to one of two places:

Avignon TGV station, which is located a short ways away outside of the city of Avignon
Orange, which is north of Avignon
Take a Bus
From either Orange (Bus #10) or Avignon (Bus #5), you can take a bus to Carpentras (Place Terradou). From Carpentras, it's probably easiest to take a taxi to your base, if you choose one other than Carpentras itself. If you'd like to travel completely by bus, you have a few buses to choose from run by Trans Dev Sud Est:
…or a Taxi
Taxis in the Vaucluse region charge a base rate plus a rate per kilometer, which changes yearly. Please note that additional baggage fees may apply.

A taxi from Avignon TGV station to Carpentras (~28 km) will cost approximately 55-70 €, and a taxi from the train station in Orange to Carpentras (~25 km) will cost approximately 50-65 €.
If you take a bus to Carpentras, depending on where your hotel is, a taxi will cost between 15€ and 80€. This, of course, depends on how far you will travel (Mazan is the closest town at 7 km from Carpentras; Sault is the farthest at 40 km from Carpentras.)
Where to Stay Near Mont Ventoux
You'll find a number of accommodations ranging from campsites and guesthouses to luxury hotels in Provence. Here are the hotels we work with and recommend:
Renting a Bike Near Mont Ventoux

If you aren't bringing your own bike with you, we highly recommend working with one of two bike renters located near the base of Mont Ventoux, both of whom speak English well:


Services we can provide
Through our sister brand, Geneva Cycling, we can also organise bike rental and other logistical support services for group trips to Mont Ventoux. We have a large fleet of road bikes, perfect for getting you up this famous climb, and can also organise other logistical support such as luggage transfers and support vehicles if you want to extend your trip.
RESOURCES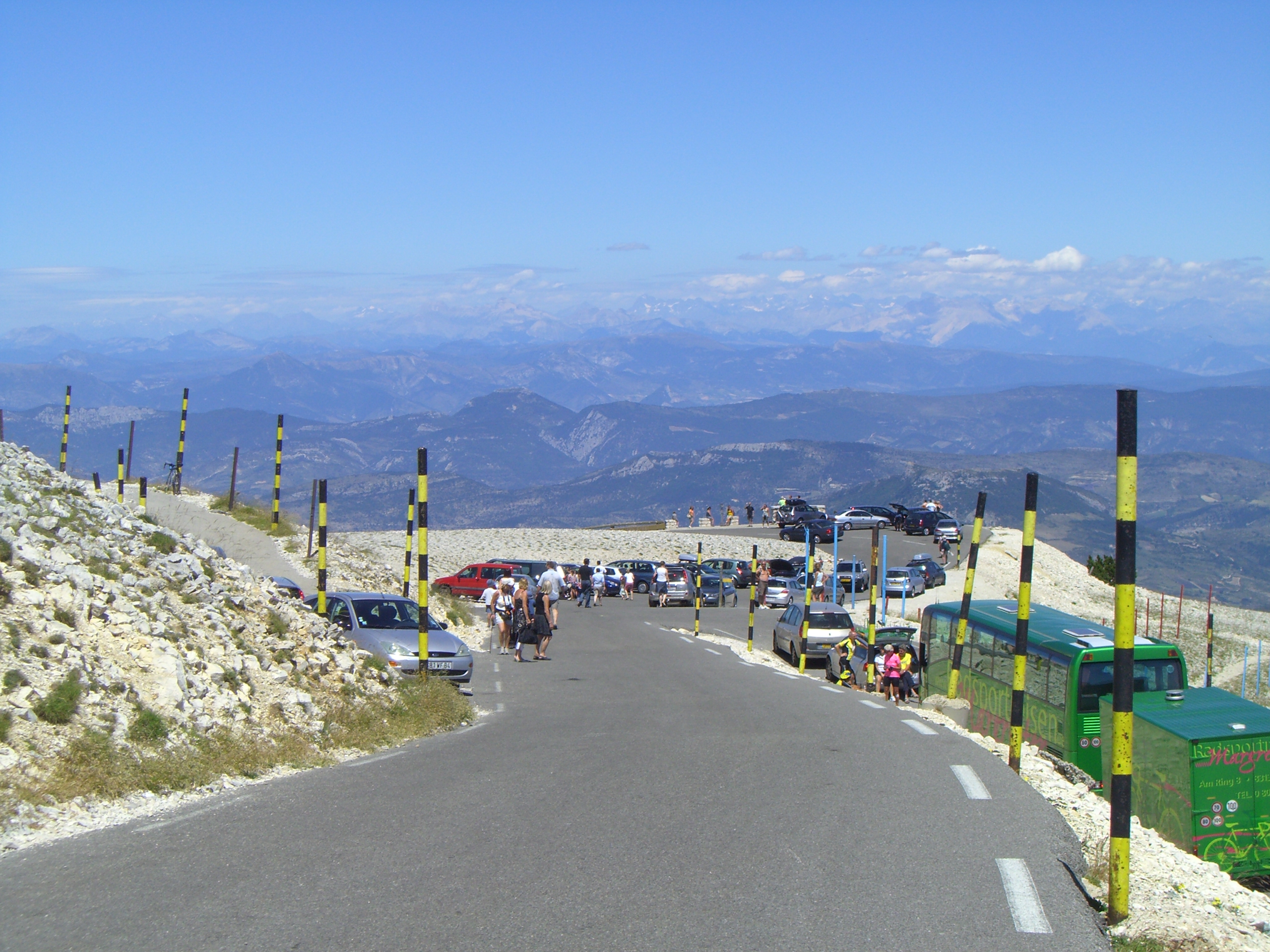 Transportation
Paris Airports: www.aeroportsdeparis.fr
Marseille Airport: www.marseille-airport.com
Lyon Airport: www.lyonaeroports.com
Grenoble Airport: www.grenoble-airport.com
Trains: www.voyages-sncf.com
Car Rental / Europcar: www.europcar.com
Car rental / ADA (in French only): www.ada.fr
Buses (in French only): https://www.voyages-arnaud.com/ and www.sudest-mobilites.fr


 Accommodations
Chateau de Mazan: www.chateaudemazan.com
Hostellerie du Val de Sault: www.valdesault.com
Domaine des Tilleuls: www.hotel-domainedestilleuls.com
Hotel des Pins: www.hoteldespins.fr
Safari Hotel: www.safarihotel.fr
Hotel Le Guintrand: www.leguintrand.fr


Bike Rentals
Ventoux Bikes official website (in French): www.ventoux-bikes.fr
Ventoux Bikes: www.bike-rental-ventoux.com
La Route du Ventoux: www.francebikerentals.com/
Albion Cycles: www.albioncycles.com


Other Information
Club des Cinglés du Mont Ventoux: www.clubcinglesventoux.org
Ventoux-en-Provence Tourism: www.ventoux-en-provence.com
Vaucluse en Provence Tourism: www.provenceguide.co.uk
af