Christmas Markets In France
08-12-2015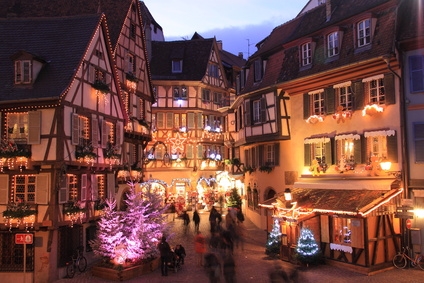 France is a fabulous place to visit all year round – after all, it is the world's most popular vacation destination. But every December, it becomes a downright winter wonderland! From the famous boulevards of Paris to the smallest hilltop village, the French pull out all the stops to produce their unique brand of Christmas cheer.


Everywhere you look, lights are strung up high above the streets; the main square has a stately Christmas tree; churches bring out their finest Nativity scenes, with both indoor and outdoor versions in every conceivable size and theme; and of course, there are the Christmas markets that bring families out by the carload to stroll, play, try local delicacies, buy last-minute gifts, and simply enjoy the lively atmosphere.


The main feature of a French Christmas market are the rows of chalets, small wooden huts from which vendors sell their wares. Even in the South of France, where some locals have never seen snowfall, these chalets are decorated with "snow" made of cotton, mylar, or other materials. Lights are strung along the roofs to give them a warm glow as night falls. There are often games for the kids, an ice skating rink, and of course, delicious things to eat and plenty of vin chaud (mulled wine) to keep parents and friends nice and toasty.


Christmas markets bring out the local pride in French cities, so even with the basics being the same, you will find that the similarities end there. Local artisans and producers dominate the scene, and you 'll be able to sample regional specialties and "hometown" wines you can't find anywhere else.


Another thing that differs from city to city is the market schedule; some locations get into the Christmas spirit in late November and go right on through to the Epiphany, while others have weeklong festivals that incorporate their markets into a whole Christmas Village, and a few are only weekends or finish up on Christmas Eve.


Reims, in the Champagne region, is generally credited with having the first citywide Christmas festival, dating back to the late 5th century. Today the Christmas market has more than a hundred vendors, and even Santa himself has a little Chalet where children can come to tell him their wishes. There is also a Christmas parade, and a couple of afternoons a week feature free open-air jazz concerts. With Reims being an easy day trip from Paris, it's a great way to get out of the city and enjoy the holiday season elsewhere in France.


Another historic market, and arguably the largest in France, is the one in Strasbourg. For more than 400 years, a Christmas Village has been set up outside the stunning Cathedral and has become a holiday destination for families from all over France. They even go a step further, with an entire neighborhood dedicated to the Christmas spirit, including a bakery that makes only gingerbread! And the market is home to the tallest Christmas tree in Europe if you like to include superlatives in your holiday fun.


If you want a full-immersion Christmas experience, then stay in the Alsace region, of which Strasbourg is the capital. This region, which shares a border with Germany, boasts no fewer than 100 Christmas markets and the "Seven Lands of Christmas": Taste in Strasbourg, Mysteries in Haguenau, Light in Wingen-sur-Moder, Stars in Colmar, Gatherings at the Ecomusée, Fabrics in Mulhouse, and Christmas Trees in Central Alsace, including a record of the first Christmas tree ever sold, in 1521 in Sélestat.


The focus of the Dijon Christmas market, in the Burgundy region, understandably centers around food – not only the dozens of different mustards to sample and buy, but honey, cured meats, foie gras, and more. One of the main squares has a skating rink that's a big hit with children of all ages.


Licques' Christmas market kicks off with the Fête de la Dinde, the Turkey Festival! A tradition dating back 400 years, the "turkey parade" is actually a mad procession of live turkeys streaking through the streets. It's not the running of the bulls, but it is one of the most amusing things you'll see this Christmas!


And, of course, we'll always have Paris Christmas markets. There are several throughout the capital, each with their own unique offerings.


One that you may not stumble upon but which should definitely be a destination is La Défense. It's enormous, and its main draw is that it features gifts and delicacies from all over France, including Corsica. There's also entertainment, rides and family events, making it a full day of fun.


If you've traveled throughout France at all, you've surely noticed that even the smaller towns have a carousel in one of their squares. There are more than a dozen in Paris alone! And at Place Saint-Sulpice, there is a Christmas-themed one that makes a perfect photo for next year's holiday cards.


Nothing says Paris more than the Eiffel Tower, and so it's no surprise that the Christmas Village and markets across the river at the Trocadéro are quintessentially Parisian. Vendors in their charming chalets abound, mulled wine flows like water, there's an ice skating rink, and the entire thing feels like an Alpine village – until you look up and see the world's most famous piece of architecture watching over the scene.


And finally, no holiday can pass by without being celebrated on the Champs-Elysées. With almost 200 vendors, rides, games, entertainment, and enough food to make you skip dinner, it's a must-see. Don't miss the Maison de l'Alsace, which sells yummy treats from the most Christmasy French region.
_____________________________________
Some Christmas markets in France
Alsace (the most Xmasy region!)
The most famous is in Strasbourg and runs from November 25 – December 31.  For more information, visit www.noel.strasbourg.eu
The market in Colmar is no less extraordinary.  It is held November 25 – December 31.  For more information, visit www.noel-colmar.com
Northern France
The market in Lille is held November 18 – December 30.  For more information, visit www.noel-a-lille.com
Southwestern France:
Toulouse: Many Christmassy events are held around Christmas time.  The market is held from November 30 to December 26. For more information, visit http://www.toulouse-visit.com.
Bordeaux: From November 27 – December 30.  For more information, visit www.marche-de-noel-bordeaux.com/
French Alps
In Lyon, the market is held November 25 – December 24.  For more information, visit https://www.lyon.fr/actualite/loisirs/marche-de-noel-de-lyon.
Lyon's extraordinary "Fetes des Lumieres" is held December 8 – 11.  For more information, be sure to check out www.fetedeslumieres.lyon.fr/
Southern France:
In Montpellier, the Chrismas market is held November 26 – December 24. For more information, visit www.ot-montpellier.fr/en/diary/christmas-market-hivernales-de-montpellier.html.