Bikeways And Cycle Routes In France
09-05-2018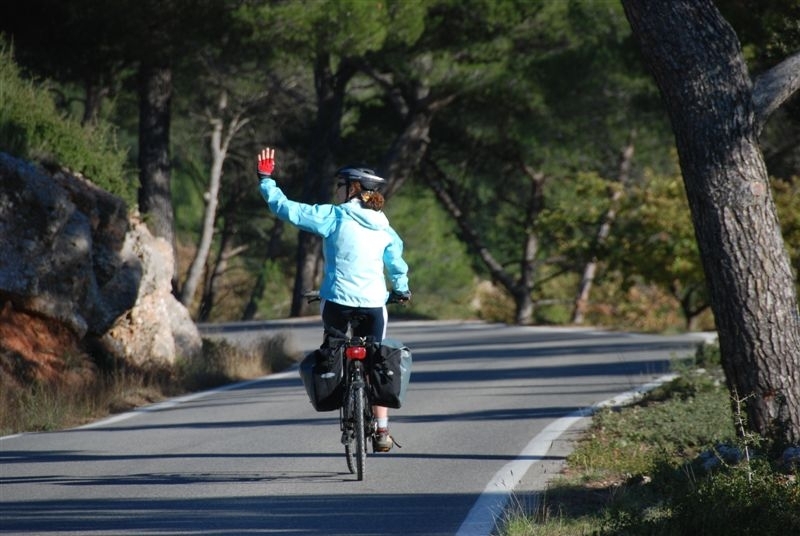 On our cycling tours, we try to make the most of traffic-free routes so that riders can enjoy to the fullest the scenery and landscapes around them. In France, this is greatly helped by a number of cycle routes that cross through the country. These official bikeways are composed of a mix of greenways, bike paths, and quiet roads that allow visitors to discover our beautiful regions at a more leisurely and intimate pace.
In the following blog post, we'll introduce you to some of the major bikeways in France, their attractions, and where they feature on our tours:
Loire à Vélo (EuroVelo 6)
The Loire à Vélo cycle route is made up of approximately 800 km (nearly 500 miles) of greenways, bike lanes, and paths, and low traffic roads taking cyclo-tourists through the Loire River Valley between Cuffy and Saint-Brevin-les-Pins (on the Atlantic coast). Crossing through the Centre and Pays de la Loire departments in central France, the route also acts as the western end of the EuroVelo 6 transeuropean cycle route.
The largely flat terrain of the region makes it perfect for leisure cyclists and families, with the average daily mileage on our tours being around 30-40 km (20-25 miles). Further, the route is not far from a regional railway line, making it easy to access; and since 2017, the cyclist-friendly Train Vélo Loire services the route between Orléans and Le Croisic during the height of the summer.
This incredible route welcomes over 800,000 cyclists a year from all over the world—and you could be one of them! All of our tours in the Loire Valley make good use of the central sections of this cycle route, from short escapes to week-long trips. Riders can visit the fairytale chateaux of Chambord and Chenonceau (among others!), savor local Vouvray and Touraine wines and stay in historic towns like Blois and Orléans.
Our tours on the Loire à Vélo:
A Royal Short Escape in the Loire Valley (Blois to Amboise)
Fairytale Castles Along the Loire River (Blois to Angers)
Cycling in the Valley of the Kings (Orleans to Tours)
Chateaux and Castles (around Tours)
Useful links:
Loire à Vélo | Getting to the Loire Valley | Castles | Wineries/Chateaux
ViaRhôna (EuroVelo 17)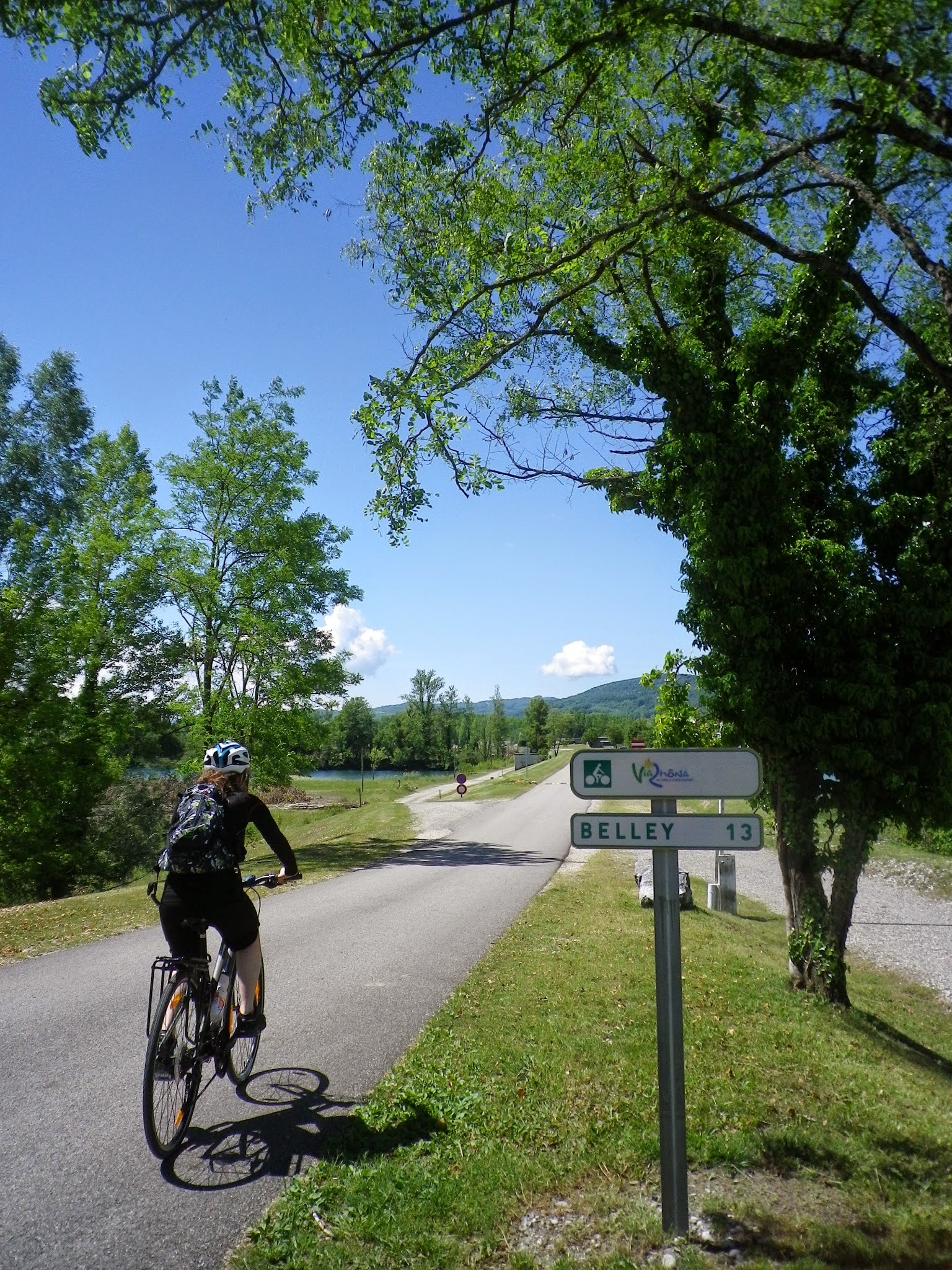 A fairly new cycle route (construction ends in 2020), the ViaRhôna is an ambitious project that, once completed, will cover approximately 815 km (506 miles) through the Auvergne-Rhone-Alpes and Provence-Cote-d'Azur regions of France. The route will take riders along a mix of greenways and shared paths, following the Rhone River from the scenic shores of Lake Geneva to its Mediterranean delta just west of Marseille. As EuroVelo 17, the ViaRhôna route will also serve as the connecting link between the Route du Rhone in Switzerland the Canal des 2 Mers à Vélo that spans southern France.
Cyclists will experience an incredible variety of terrain and sights—from Alpine landscapes and Cotes-du-Rhone vineyards to hilltop villages and the Camargue wetlands. The section from Geneva to Lyon is moderate-challenging, whereas the other sections of the ViaRhôna route are easy-moderate, making them accessible to riders of all levels. Geneva and Lyon are international hubs, and there is regional train service along parts of the route.
Many of our tours in the French Alps include sections along the Geneva – Lyon leg of the ViaRhôna route, and we currently offer one tour in Provence that makes use of the Valence – Avignon portion. Note that while the route is still in progress, there are quite a few provisional paths in place and signage may not be as clear in some areas. We think you'll agree though that it's all part of the adventure of discovering this historically significant and naturally spectacular area by bike!
Our tours on the ViaRhôna:
Rivers, Lakes, and Mountains (Around Geneva)
Three-Lake Cycling (leisurely, Geneva to Annecy) / Famous Climbs and Lesser-known Passes (challenging, Geneva to Annecy)
Via Rhona (Geneva to Lyon) / Via Rhona Custom Tour
Authentic Provence (Valence to Avignon)
Useful links:
ViaRhôna | Getting to Geneva and the French Alps | Côtes-du-Rhône wines
Canal des 2 Mers à Vélo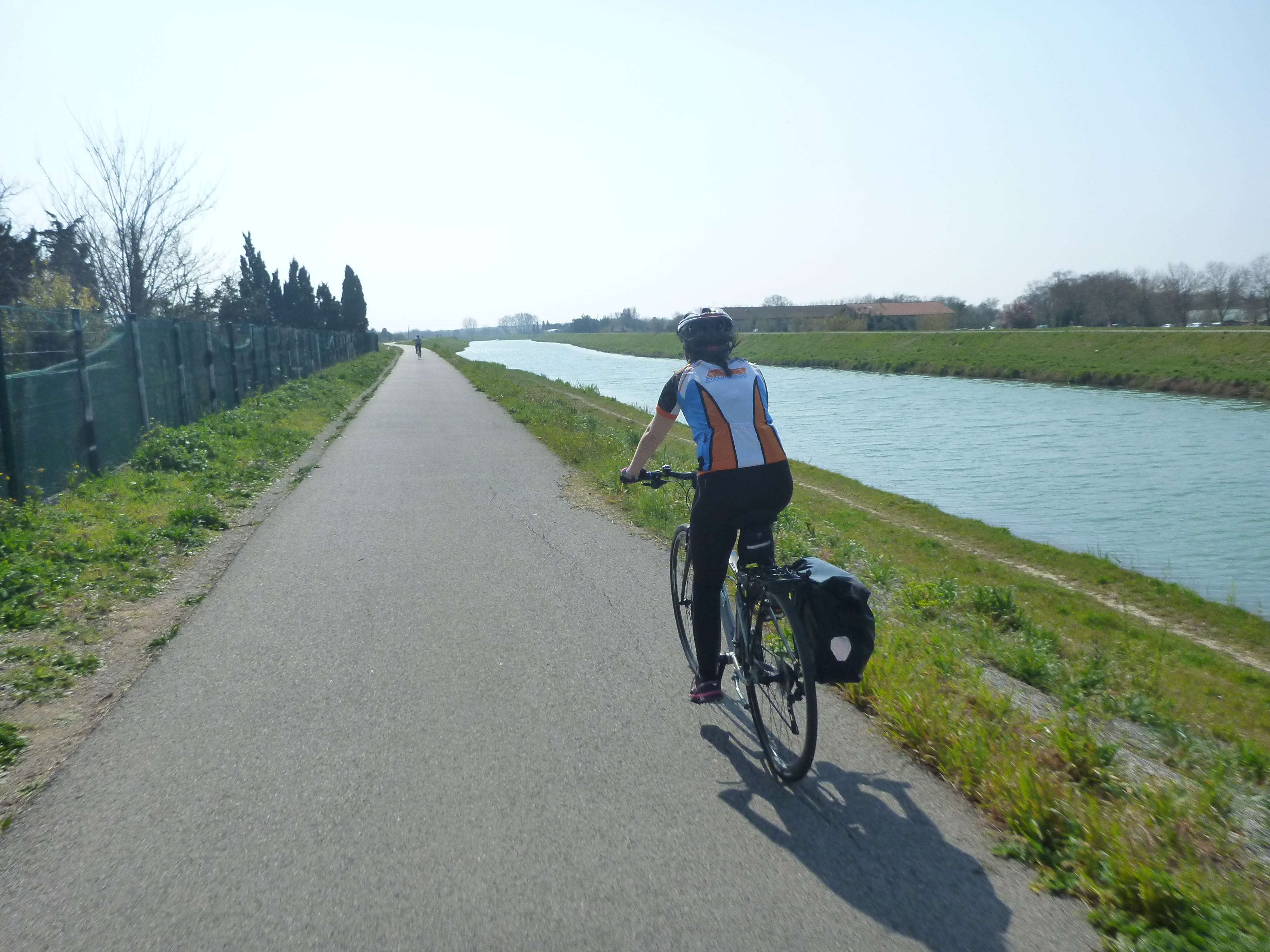 As cycle routes go, the Canal des 2 Mers à Vélo is exactly as its name suggests! Spanning approximately 700 km (435 miles), the relatively new bikeway follows a world-famous canal system between two mers, or seas—from the Atlantic Ocean to the Mediterranean. The cycle route is comprised of two main sections: the Canal de Garonne from Bordeaux to Toulouse; and the Canal du Midi (a UNESCO World Heritage Site) from Toulouse to the Mediterranean, where it then connects with the ViaRhôna (EuroVelo 17).
The route features a gentle terrain and largely avoids vehicle traffic, making it ideal for riders of all levels and families. However, there are some rougher sections along the Canal du Midi towpath to be aware of. The portion of the route that follows the Canal de Garonne is more accessible, taking place almost entirely along a well-maintained greenway. Getting to this area is easy too, thanks to the major hubs of Bordeaux and Toulouse and regional TER train service available between the main towns along the cycle route if riders need a break.
Riding under the sunshine past medieval fortified towns, lush vineyards, flourishing forests, and quaint fishing villages (with historic canals as your guide), a trip along the Canal des 2 Mers à Vélo is sure to have a relaxing effect. Our tours that follow the cycle route feature moderate distances and low climbing, allowing our cyclists to take in the beauty, history, and hearty cuisine of southern France at their leisure.
Our tours on the Canal des 2 Mers à Vélo:
Bordeaux to Toulouse along the Canal de Garonne
Canal du Midi: From Montpellier to Carcassonne (with an optional extension to Toulouse)
Useful links:
Canal des 2 Mers à Vélo | Getting to Bordeaux | Getting to Toulouse | Getting to Montpellier
Velodyssée / Velodyssey (EuroVelo 1)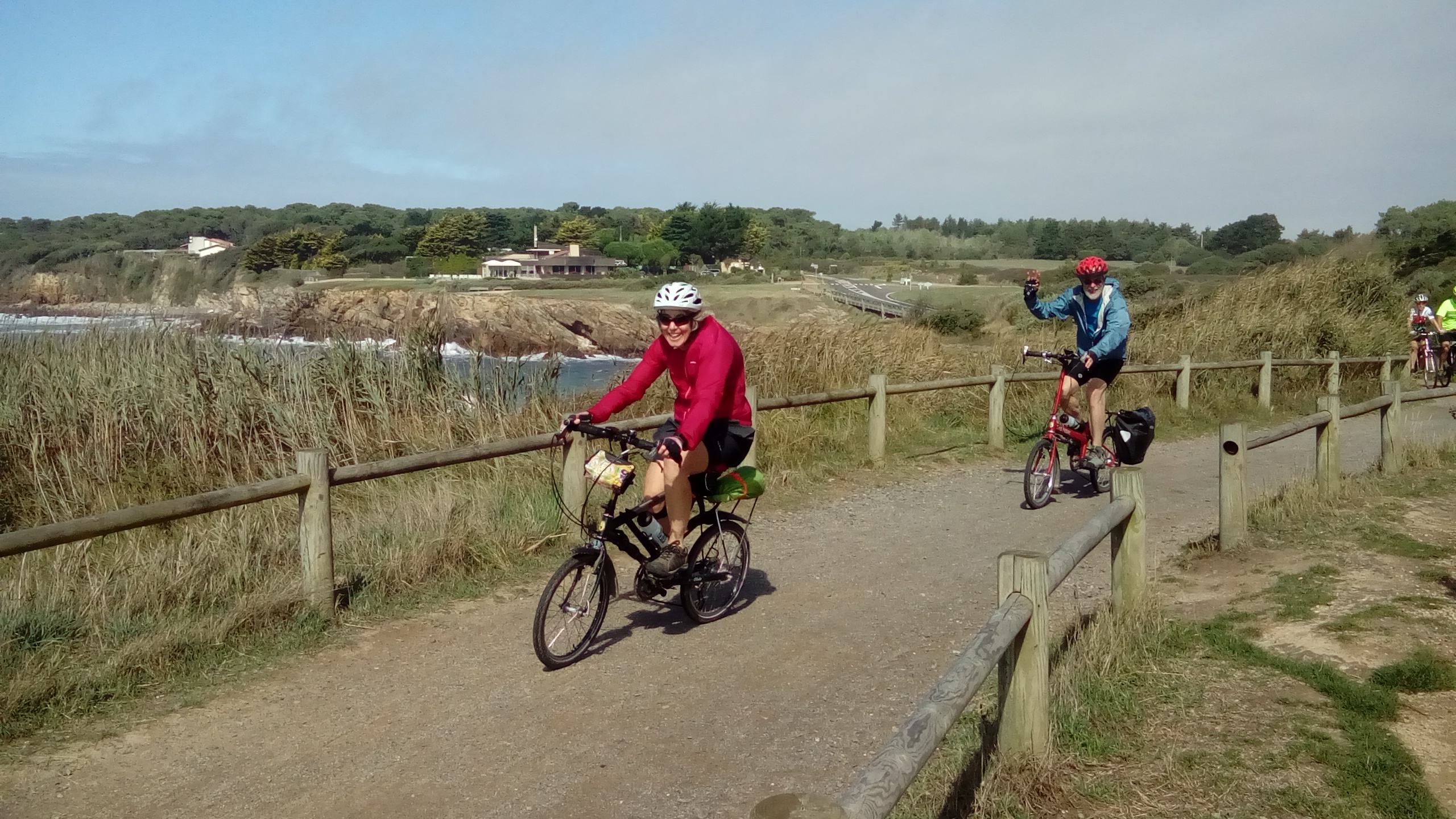 Winding approximately 1200 km (746 miles) along with France's Atlantic coast, the Velodyssey (or Vélodyssée) is celebrated not only for being an impressive achievement, but also for being the longest, fully waymarked cycle route in France (as of 2019). As the French section of the Eurovelo 1 transeuropean cycle route, the Velodyssey takes cyclists from Roscoff into northern Brittany, through the Loire and Aquitaine regions, all the way to Hendaye and the Basque Country in the south (or vice versa).
On this bikeway, cyclists are never very far from the vibrant blue of the Atlantic, which can be distracting! Fortunately, the Velodyssey primarily takes place on traffic-free routes, including greenways following canal towpaths, old railway lines, coastal paths, and forest paths. Though the Velodyssey allows for plenty of leisurely riding through the evolving marsh, woodland, and seaside landscapes and charming villages, there is also hard work in store on some steep hilly stages along the route- particularly in Brittany and the Basque Country. Should riders wish to skip a stage, regional trains operate along the route, though high passenger levels in summer often limits the number of bikes allowed on trains.
While it is possible to reach Hendaye and Roscoff directly by train and by nearby airports, visitors might find it easier to fly into Bordeaux or Paris and then connect by train, particularly if they are coming in from outside of Europe. Nantes, the biggest city along the route, is also a good arrival/departure point.
Our tours on the Velodyssey:
At this time, we organize tours along the Velodyssey on a request basis for groups of 6 or more riders only. These can be arranged through our Biking A La Carte service.
Useful links:
The Vélodyssée / Velodyssey | Getting to Hendaye | Getting to Roscoff
Véloscénie / Veloscenic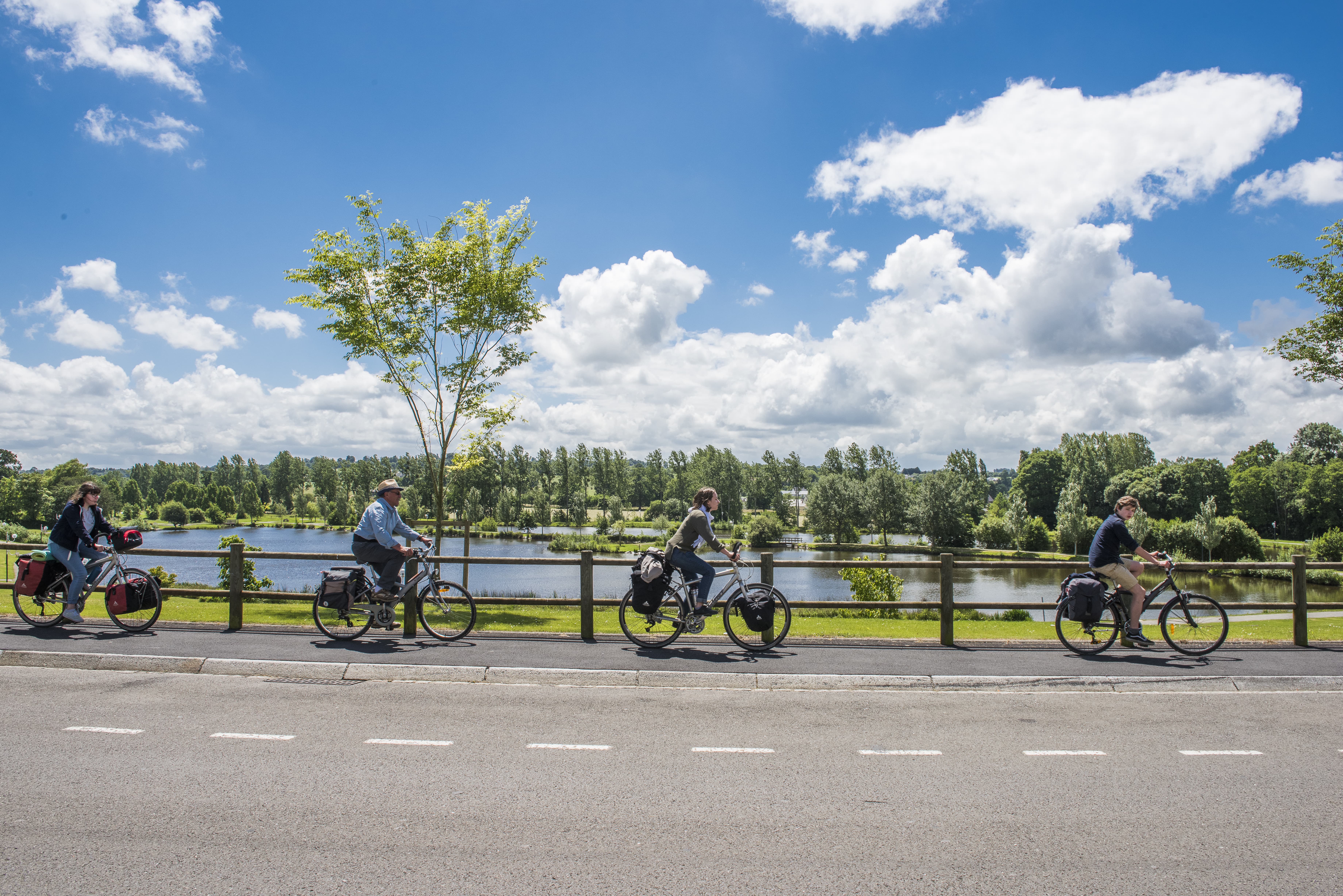 Similar to the ViaRhôna, the Veloscenic cycle route is a work in progress, and the latest to be undertaken in France. When completed, it will cover over 450 km (280 miles) from the Notre-Dame Cathedral in metropolitan Paris to the iconic Mont-Saint-Michel Abbey at the country's northern coast. The Veloscenic also connects riders to the Loire à Vélo (EuroVelo 6) and Velodyssey (EuroVelo 1) bikeways.
As cyclists follow a selection of greenways, quiet countryside roads, and cycle tracks, they'll pedal through a plethora of historic and natural sites including of course the Eiffel Tower and Mont-Saint-Michel, but also the Chevreuse Valley, Chartres Cathedral, and the idyllic Bocage Normand. The route is accessible to all riding levels, with alternative paths offered in a few sections for those who wish to take it easier or work their legs a little more.
Regional train (TER) service is available along the route, and regular trains between Paris and Mont-Saint-Michel make getting back to the start simple. Additionally, Paris' multiple airports and train stations mean that visitors have a lot of travel options, whether they're arriving from within or outside of Europe.
Our tours on the Veloscenic:
Veloscenic Normandy: the best of the Véloscénie bikeway
Useful links:
The Véloscénie / Veloscenic | Getting to Paris | About the Mont-Saint-Michel
 ___
We hope you're now ready to embark on your own adventure along one (or more) of France's bikeways! A few more general links you may find useful as you plan your trip:
EuroVelo | France Vélo Tourisme | Traveling with your bike | Understanding self-guided tours
Please contact us if you have any questions!